The Latest: DOE assessing Puerto Rico's power grid damage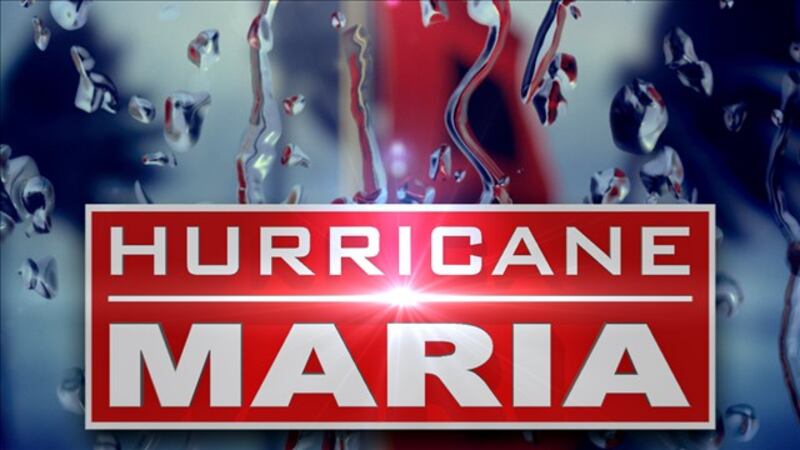 Published: Sep. 24, 2017 at 5:40 PM EDT
Sunday, Sept. 24, 2017
SAN JUAN, Puerto Rico (AP) -- The latest on Hurricane Maria and its devastation of Puerto Rico (all times local):
The U.S. Department of Energy says initial damage assessments and power restoration efforts have begun on Puerto Rico and the Virgin Islands.
The agency said Sunday that it is coordinating with the Puerto Rico Electric Power Authority, FEMA and a team from the New York Power Authority, including the use of drones and helicopters. Restoration efforts to some critical facilities are underway.
An eight-member team from the Energy Department's Western Area Power Authority that was deployed to Puerto Rico ahead of the storm and assisted with initial damage assessments has been redeployed to St. Thomas in the U.S. Virgin Islands.
The Energy Department says additional DOE responders are prepared to deploy to Puerto Rico and will do so as soon as transportation can be arranged.
A New York member of Congress who traveled to Puerto Rico with New York's governor to assess damage by Hurricane Maria says the U.S. territory and the state are inextricably linked.
Democratic Rep. Nydia Velazquez says: "For New Yorkers, Puerto Ricans are family - for some figuratively and, for many of us, literally. New Yorkers take care of their family."
She notes Puerto Rico was already struggling from a decade-long economic slump, but now "the island has been dealt a crushing blow and needs all the assistance it can get."
Velazquez has been named by New York Gov. Andrew Cuomo to co-chair a state effort to support Puerto Rico's recovery.
She says that she and others in the New York congressional delegation will be advocating for federal funding to swiftly repair and rebuild Puerto Rico's electrical grid, help small businesses recover and address other problems.
Jennifer Lopez says she's donating $1 million from the proceeds of her Las Vegas residency to relief efforts in Puerto Rico, where she has family roots.
The entertainer announced the pledge on Sunday at an event describing New York state efforts to aid the hurricane-devastated island.
She said she and former baseball player Alex Rodriguez, along with singer Marc Anthony and a range of Latino musicians, athletes and business leaders would commit to get resources and aid to Puerto Rico and the wider Caribbean region.
An emotional Lopez spoke first in Spanish, talking about how Hurricane Maria has ravaged the island, and calling on everyone to get involved in helping to rebuild.
Puerto Rico's government says engineers will inspect the Guajataca Dam on Sunday to determine the extent of damage inflicted by Hurricane Maria last week.
The dam was cracked but had not burst by late Saturday. But Public Affairs Secretary Ramon Rosario Rosario said in a statement that the dam's "fissure was big and it will collapse at any minute."
Fears that the dam would fail prompted the government to evacuate nearby residents.
The 345-yard (316-meter) dam was built around 1928. It holds back a man-made lake covering about 2 square miles (5 square kilometers).
More than 15 inches (nearly 40 centimeters) of rain from Maria fell on the surrounding mountains.
A French warship has brought reconstruction equipment to Caribbean islands slammed by hurricanes Irma and Maria as part of broader efforts to help French territories cope with extreme weather.
The Defense Ministry said Sunday the helicopter carrier Tonnerre has arrived with more than 1,000 tons of material and 300 additional military personnel for the cleanup on St. Martin and nearby islands. That brings the total French military presence to 2,000 people.
It also said Defense Minister Florence Parly is ordering a new patrol ship to be permanently stationed in the Caribbean to help with future storms and to fight trafficking.
A joint French, British and Dutch aid coordination effort is also underway for Caribbean territories with lingering ties to Europe, after criticism that governments didn't sufficiently prepare the islands for this season's hurricanes.
The U.S. National Hurricane Center says Hurricane Maria has weakened slightly as it moves northward, but it's still likely to bring increasing swells and high surf to the Southeastern U.S. coast.
Maria, which walloped Puerto Rico as a Category 4 hurricane last week, is now a Category 2 storm with maximum sustained winds of 105 mph (165 kph)
The Hurricane Center says it was centered about 475 miles (765 kilometers) south-southeast of Cape Hatteras, North Carolina before noon Sunday.
It said people along the Carolina and Mid-Atlantic coasts should monitor the storm.
(Copyright 2017. Associated Press.)