UPDATE| Parents concerned with discipline in Aiken County schools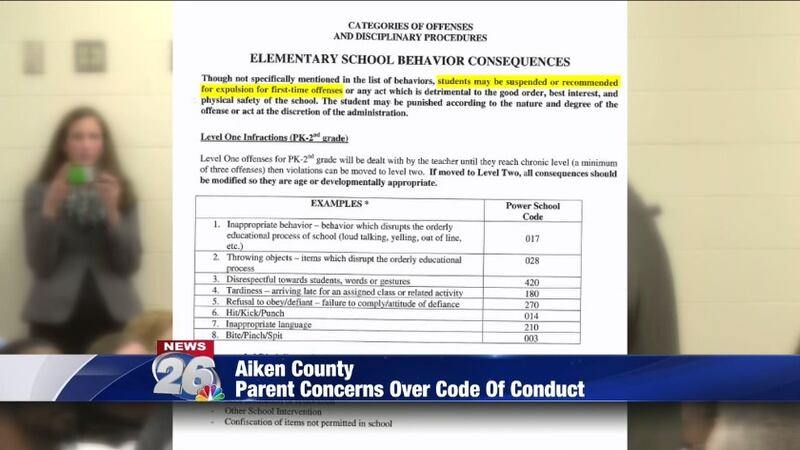 Published: Feb. 17, 2017 at 7:36 AM EST
Friday, Feb. 17, 2017 News 12 NBC 26 at 6 O'Clock
AIKEN COUNTY, S.C. (WRDW/WAGT) -- Concerns over Aiken County's discipline policy have parents worried about the big picture.
"It's not just that one child that's affected, it's everybody else in the classroom," Mary Boswell said, a parent in Aiken County.
After a packed town hall meeting asking about the district's discipline policy, some parents came away without the answers they wanted. Mary Boswell was at the meeting at South Aiken, when questions first popped up.
"Biggest thing that bothered me is not giving the option of pulling the child out of the class, that is where I really had the issue," she said.
In the elementary code of conduct, removing kids from the classroom for disruptions is not an option. Middle and High school codes of conduct call for detention or in- school suspension instead of immediately removing kids from the classroom. The district says this keeps kids in school and helps them learn the correct behavior.
"It makes sense to me that the kids would stay inside the school system so that the instruction is still there, that you have certified teachers and people who are leading and teaching them versus being expelled and out of the school system," Lorie Ann Pardue said, another Aiken County parent.
The district makes it clear it's case by case, if the behavior is bad enough, they can still suspend or even expel a student on the first offense. Last school year, the district suspended 26 students and expelled 3 for violent or drug related offenses according to numbers reported to the state. Some parents don't disagree with the policy, but they think the teachers need support when it comes to discipline.
"The teachers need a backing from the top down," Boswell said, "They need backing from the superintendent, they need backing from the school board, they need backing from their administration within the school."
Thursday, Feb. 16, 2017 News 12 NBC 26 at 11 O'Clock
AIKEN COUNTY, S.C. (WRDW/WAGT) -- Question after question looking to hear more from Aiken County school officials about student discipline.
"I'm not happy with everything I heard tonight, I realize they are making an effort in trying to inform us, but I still feel like we're not getting the whole story," Misty Mitchell said, a parent in North Augusta.
In their fourth town hall meeting, the district wanted to talk specifically about discipline after recent criticism.
"Even the harshest discipline can be administered with care and correction," Aiken County Superintendent Dr. Sean Alford said.
The district made changes to their code of conduct a year ago, but school administrators say there is not a huge difference. The biggest is being able to use different ways to discipline and doing it efficiently.
"To utilize alternative methods than just suspension or expulsion, that's been a huge option for us now, so that we can still educate kids, we have resources like maybe alternative school," Belvedere Elementary Principal Dr. Sal Minolfo said.
But parents like Mitchell are concerned that teachers will have to spend too much time focusing on students misbehaving in the classroom.
"Their job is to provide an environment that they can learn and be educated and not have to stop every 5 minutes because you've got two or three children in the classroom because the teachers can't do anything about it," Mitchell said.
The code of conduct still includes suspension and expulsion, but the district says they are able to use different forms of discipline like alternative schools without students missing an extended amount of time.
While some parents say they did not get all the answers they wanted, the district says their doors and principals doors are always open and ready to talk about problems with parents.