Family says street lighting is a problem on Mike Padgett Hwy after 2 pedestrians killed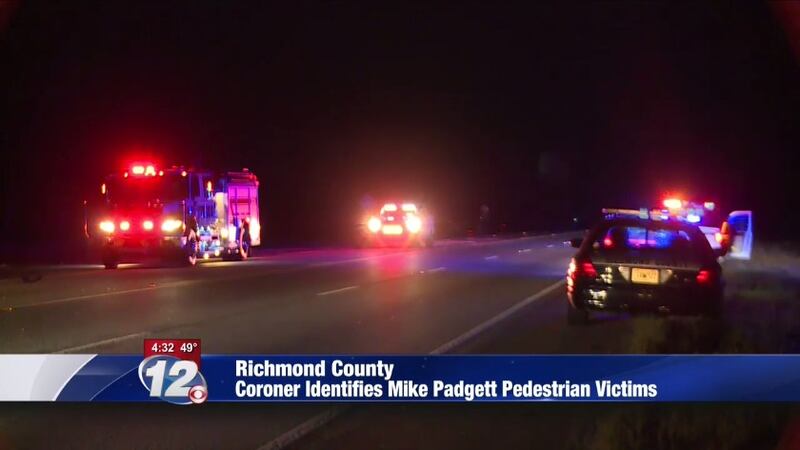 Published: May. 7, 2017 at 10:05 PM EDT
News 12 NBC 26 at 6' o Clock / Monday, May 8, 2017
AUGUSTA , Ga. (WRDW/WAGT) -- In the blink of an eye two young men were gone.
"I just spoke with him 2 hours before," said Banks. "That's a father, that's a husband," said friend Clifford Banks.
Investigators say 28-year-old Corry Dimmick and 19-year-old Michael O'Grady were hit and killed on Mike Padgett Highway.
The only light on the road that night was the blue and red coming from emergency vehicles on scene.
"I talked to the gentlemen last night. They say they did not see him until they were 10 ft away from him," said Banks.
Investigators even describe the area as "not well lit."
"It's scary, especially at night," said Banks.
.
Mike Padgett Hwy or Mike Padgett "Die-way", as the locals call it ,is a state road.
Georgia Dept. of Transportation says they usually don't light the rural sections of the roadway.
"Yes it's rural, but there are living areas out here. It's populated in this area and no lights at all," said Banks.
GDOT has no plans to change that, but whenever there are deadly accidents along one of their roads they log it into a traffic file.
Since 2007 GDOT has logged 527 nighttime accidents along State Route 56 in Richmond County.
187 of those crashes involved injuries. 10 of those crashes resulted in death.
"It's sad it's another statistic on this highway." said Banks.
He and neighbors are hoping to shed light on the problem and on their roads.
"One light a mile or half a mile. Or whatever. Some light, because this road is dangerous," said Banks.
Here's how to request more lighting along a roadway or in a neighborhood.
If it's along a state road, you can go straight to GDOT and request a light pole.
If you live in the area where you want the lights put up you can download
petition from the Augusta - Richmond County website.
The fee would be split between people in the neighborhood. So, you would need 50 percent of them to sign the petition, but the traffic and engineering division says it would cost 20-35 dollars per month per pole.
After the petition is submitted to the county the traffic and engineering department would take the plans before commission to approve.
Sunday, May 7, 2017
AUGUSTA, Ga. (WRDW/WAGT) -- Two pedestrians have been killed and a driver will not face charges after an accident on Mike Padgett Highway near Black Road, according to the Richmond County Sheriff's Office.
Deputies say they were called to the scene at 9:44 p.m. Sunday. Richmond County Coroner Mark Bowen confirms the two victims are Cory Dimmick, 28, and Michael O'Grady, 19. Both were pronounced dead about an hour after investigators received the initial call.
According to Bowen, Dimmick and O'Grady were on Mike Padgett Highway when a Nissan Maxima hit them. The cause of death has been ruled blunt force trauma.
Investigators say the area where the accident happened was not well lit. The coroner also says the pedestrians may have been under the influence of alcohol, but they are awaiting toxicology reports to confirm.
According to the sheriff's office, the driver involved will not face charges. The identity of the driver has not been released.
The Richmond County Specialized Traffic Accident Reconstruction Team was called to the scene to investigate.