Hear from the owner who reported sexual abuse to her horse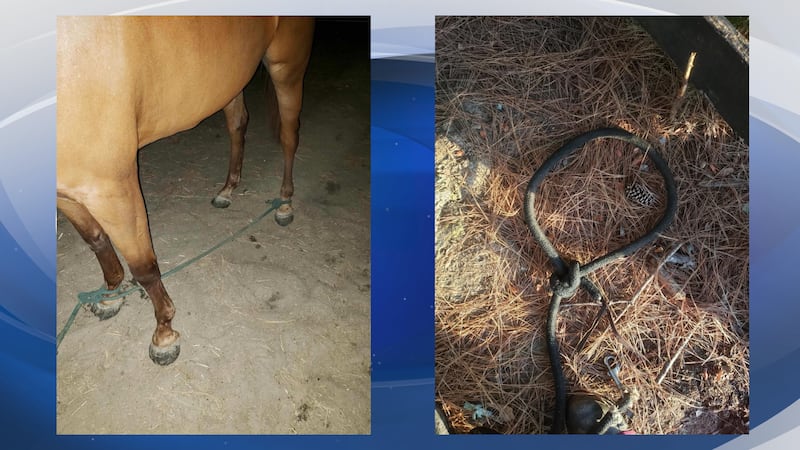 Published: Sep. 22, 2019 at 4:11 PM EDT
Sunday, Sept. 22, 2019
News 12 at 11 o'clock
AIKEN S.C. (WRDW/WAGT) -- An Aiken horse breeder is left in shock after she believes her horse was sexually abused early Saturday morning.
"It didn't feel real," said Abbey Ronco, owner of Spearhead Equines. "It just was weird."
For Ronco, Friday night was just like any other. She took care of her horses, and went to bed around 11 o'clock. When she went to feed her horses the next morning, she knew something was wrong.
Her mare, Jachin, didn't come to the gate like she normal does.
"I found her in the strand of trees...with a rope tied around her neck that was ripped," she said. "There were ropes strung between the trees and then her legs were tied opposite angles in a hobble."
A hobble is where a rope is tied around a horse's opposite legs. In Jachin's case, her front right leg was tied to her back left leg. Ronco believes whoever did this knew what they were doing because of the way Jachin's legs were tied.
Ronco said Jachin was unable to move and in a lot of pain. She called the police and her veterinarian, who found something far worse than Ronco could have imagined.
"The vet came out and confirmed that the mare had been sexually molested," Ronco said. "I mean just gross, disturbing stuff."
The vet told her there was debris and irritation in the uterus.
"Abrasions, bruising that was very abnormal," said Ronco. "There was blood, trauma that was visible. And then she had scalding down between her thighs."
Ronco said she moved to Aiken in February because she thought it was an animal utopia. After this incident, she's left questioning everything.
Following the incident, Ronco put up more cameras and signs around her property for added security. She's also keeping a closer eye on people who go past.
"We used to have people that would walk the fence line and we thought it was kind of cute that they would say hi to the horses," she said. "But now I'm going to be looking at every person with a camera and wondering if that person has another motive."
Ronco said Jachin is healing and is doing better than she was on Saturday. But the fear that whoever is responsible for this is still out there has Ronco worried.
"People who do this tend to do it again and they don't stop until they're caught," she said.
The vet took blood samples in hopes of finding more evidence. The results of those tests are expected back next week.
Copyright 2019 WRDW/WAGT. All rights reserved
AIKEN S.C (WRDW/WAGT) -- News 12 is learning about a report of sexual abuse towards a horse in Aiken.
The Aiken County Sheriff's Office responded to the property as a burglary call on Willow Run Road at 5:00 a.m. yesterday morning.
The horse owner told deputies she went to go feed her horses when she found her female horse with a green rope around the right front leg and back leg. She says the horse was holding her tail in the air and continuously squatting appearing to be uncomfortable.
The owner also found four other lead ropes in the pasture near the horse. The ropes were previously hanging inside the barn when she last saw them.
The owner told deputies that she had a veterinarian doctor come out to take a look at the horse. The veterinarian told her there was debris and irritation in the uterus and vaginal bruising and irritation up to 6-8 inches.
The veterinarian took samples for further testing.
News 12 spoke to the horse owner who found the horse who says the horse is alive, but in a lot of pain and very scared. We will have more on this story on News 12 at 11.