UPDATE | Man accused of stabbing pregnant girlfriend arrested on aggravated assault charges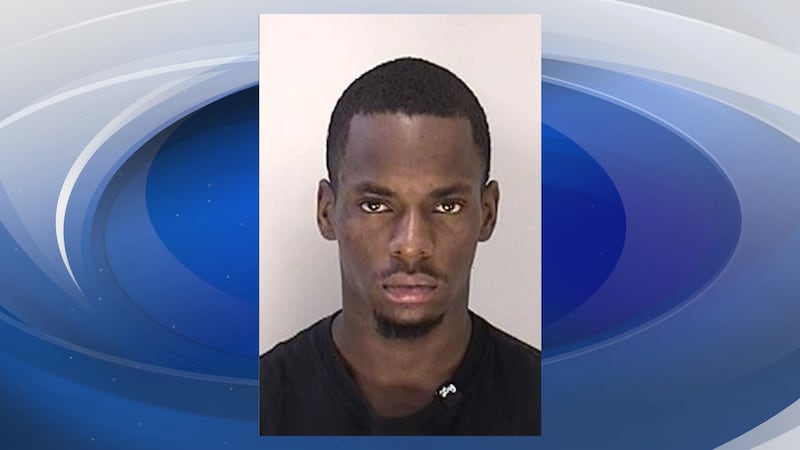 Published: Mar. 23, 2017 at 2:25 AM EDT
News 12 NBC 26 / Thursday, March 23, 2017
RICHMOND COUNTY, Ga. (WRDW/WAGT) -- A mother-to-be is in the hospital after deputies say her boyfriends stabbed her in the stomach.
It happened just before midnight at the River Ridge Apartments off 13th Street. The Sheriff's Office report says she's carrying twins.
Today I sat down with the mother of the man who's now behind bars. She didn't want to go on camera, but she tells me her son needs to answer for what he did.
Mother Mae Allen says an argument led to the fight between her son William Allen, Jr. and his pregnant girlfriend Jasmine Childs. Mae was in the room when she says her son sat on the loveseat listening to his girlfriend comlpain about allegations of abuse in their past. She says he was silent until he snapped.
The incident report says William took a butcher knife from the kitchen, acted like he was walking out the front door when his mother told him to leave, but then turned around, pushed past his mom and stabbed Jasmine in the stomach.
It's an escalation Aimee Hall sees all too often. She works at SafeHomes of Augusta, the only local domestic violence shelter.
"This is supposed to be a happy time in her life when you're going to be a new mommy. That's exciting and the fact that was taken away from her, and if something's wrong with the baby, she's going to have to live with that and there's probably going to be a lot of guilt that she's going to carry," Hall said.
Studies show murder is a leading cause of death in pregnant women. Deputies say Jasmine's injuries are not life threatening, but we don't know the condition of her twins.
There's no way to confirm past abuse in their relationship, but Hall says there are usually signs.
William's mom says he had just gotten out of jail. Court records show he served probation for a drug charge in 2012, was arrested for terroristic threats in 2014 and again for burglary in 2015. Now he's facing aggravated assault.
"She's going to need a lot of healing," Hall said.
In a very heartfelt conversation with William's mother, she said she will always love her son, but she emphasized what he did was wrong and in jail is where he needs to be. She told me she hopes he can get his life back on track.
SafeHomes of Augusta is a great resource for anyone who feels like they're in a bad situation and need some help. They have a 24-hour hotline where someone will always answer the call. They have a 24-bed shelter and provide services like counseling and legal help.
If you need help with domestic violence, call the 24-hour crisis hotline at one of these numbers:
706.736.2499
1.800.799.SAFE
Thursday, March 23, 2017
RICHMOND COUNTY, Ga. (WRDW/WAGT) -- Investigators have arrested William Allen Jr. on aggravated assault charges, accused of stabbing his pregnant girlfriend in the stomach.
Richmond County Sheriff's Office said Allen Jr. was taken into custody a short time ago by deputies in the Mill Street area. He was previously wanted and was considered extremely dangerous.
He was booked into the Richmond County jail.
RICHMOND COUNTY, Ga. (WRDW/WAGT) -- Investigators are looking for the boyfriend of a pregnant woman, who they say stabbed her during a domestic dispute overnight at River Ridge Apartments.
William Allen Jr., 21, is wanted on aggravated assault charges. Allen is described as 5' 5" and 150 pounds with black hair and brown eyes. He is known to frequent the Mill Street area. Investigators say he should be considered extremely dangerous.
According to the incident report, investigators responded to the 500 block of 13th Street and spoke with the victim, 24-year-old Jasmine Childs.
Childs told investigators that her boyfriend, Allen, took a butcher's knife from the kitchen and before he could get out of the kitchen, his mother tried to stop him and was telling him to leave.
Childs stated to investigators that as he turned to leave, he pushed past his mother. The incident report states Allen then ran toward Childs who was sitting on the couch and stabbed her once in the stomach.
Childs stated she was pregnant with twins, and that Allen was the father.
Allen's mother told investigators that she saw him bring the knife up and stabbed Childs at least once in the stomach, but saw him attempt to stab her two more times in the stomach.
Ricky Allen, Mae's brother, told investigators he came out of his bedroom and pulled Allen off Childs and threw him onto the love seat, during which time Allen ran out the door. Ricky also told investigators he found the handle to the knife on the floor and he picked it up and threw it into the trash can.
Childs was transported by Gold Cross to Augusta University Medical Center. She had non-life threatening injuries, but the condition of her babies are unknown at this time.
If you have any information regarding Allen, please contact the Richmond County Sheriff's Office at (706) 821-1020 or (706) 821-1080.
RICHMOND COUNTY, Ga. (WRDW/WAGT) -- A pregnant woman is in the hospital after being stabbed by her boyfriend who is still on the run, according to the Richmond County Sheriff's Office.
The call came in around midnight Wednesday as a domestic dispute at the River Ridge Apartment complex on 13th Street.
Deputies say the woman has non-life threatening injuries, but injuries to the baby are unknown. Investigators say the suspect fled the scene and had not been located.
The investigation is ongoing. Check back with News 12 NBC 26 for updates.