I-TEAM INVESTIGATION: Patient's First Act could greatly change Medicaid in Georgia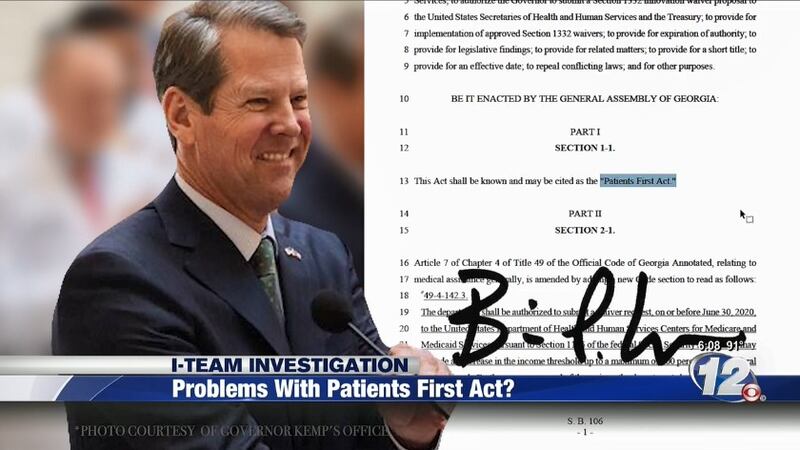 Published: May. 20, 2019 at 5:53 PM EDT
Monday, May 20, 2019
News 12 at 6 O'Clock / NBC 26 at 7
RICHMOND COUNTY, Ga. (WRDW/WAGT) - Medicaid covers nearly 75% of patients in Georgia nursing homes. Now a new law could drastically change the way our seniors and others get healthcare.
Richmond county is home to more than 200-thousand people. Nearly a quarter of them are on Medicaid. "It could make really big changes that could put coverage for low-income seniors and children and families at risk," Laura Colbert said. She is the the executive director of the non-profit group Georgians for a Healthy Future. Right now, she is very worried about the future. "The devil will be in the details but we don't know but we don't know any of the details yet," she said.
Governor Brian Kemp signed Patients First Act into law two months ago. It allows the state to apply for two federal waivers which could drastically change healthcare in Georgia.
"This could be landmark legislation for the state and our healthcare system," Colbert added.
Waiver 1332 could change the private insurance marketplace and Waiver 1115 could expand Medicaid to a new population.
Liz Owens: "Do you think there is a possibility of more seniors going into these facilities that are already are already understaffed?"
Laura Colbert: "I don't know if these waivers will have an impact on where seniors are getting care."
Patient's First Act is extremely vague. "We are a little concerned about the breadth of the legislation," Colbert said. "The waiver is very broad and contains very few details so that consultant will be very important in determining what the waivers will look like and how people will be impacted." The state is in the process of hiring a consultant to come up with the details. It could change for the 46-hundred seniors, 16-thousand adults and 26-thousand children on Medicaid in Richmond County
There will be a public comment period beginning around the end of the year for all of us to weigh in on the planned changes to Georgia's healthcare system.