Storms bring tornadoes, swath of damage to CSRA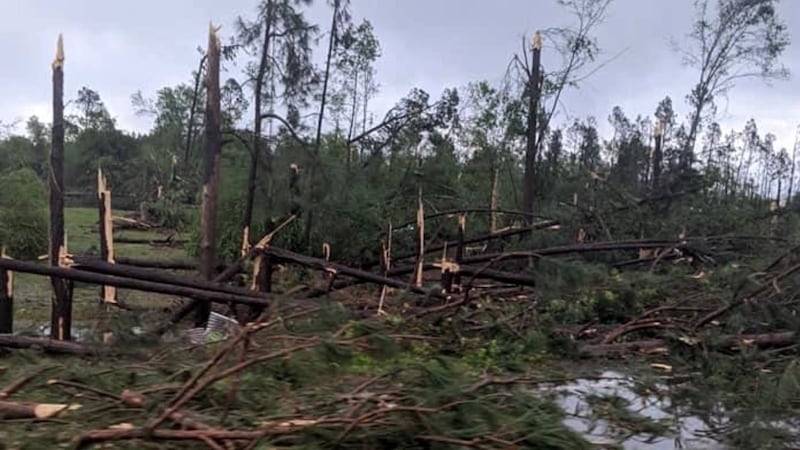 Published: Apr. 13, 2020 at 4:31 AM EDT
Monday, April 13, 2020
Severe storms ripped a path across the CSRA this morning, downing trees and power lines as residents took shelter from tornadoes before dawn.
For now, the danger of tornadoes has moved out of the Augusta metro area, although the region will continue to see rain as crews work to assess and repair damage.
Possible tornadoes were reported in places including eastern Washington County, Glascock County, Burke County and southern Richmond County in Georgia as the storm first moved into the southwestern areas of the CSRA between 4:30 and 5 a.m.
Then as the storm system continued northeast across the Savannah River and into South Carolina, at least one tornado was confirmed about halfway between New Ellenton and Williston, where extensive damage was reported around 5:40 a.m.
The National Weather Service said it planned to send damage assessment teams to Aiken, Richmond and Burke counties as soon as the storm cleared. Here's some of the damage we're learning about:
• Considerable tornado damage was reported in the area of Highway 278 and Jaywood Road between New Ellenton and Williston. Numerous pine tree trunks were snapped along Edisto Church Road, according to a damage report with the National Weather Service.
• In Burke County, Chief Deputy Lewis Blanchard reported trees down in multiple areas, power lines down, power outages, some homes with damage and trees blocking roadways. He also said there was an unconfirmed report of a tornado around 5:30 a.m. near the 5400 block of Story Mill Road and near Allen Road at Duckhead Road, where trees were down. Officers were working at intersections where traffic signals were out, the most dangerous one being on Highway 25 near Walmart.
• Numerous trees were reported down in places including Aiken County and McDuffie County.
• In Columbia County, trees and power lines were down at Washington Road and Highway 221. A power line was down in the roadway at Clifden Avenue and North Old Belair Road. A power line was in the roadway 6500 block of Campbells Way.
• In Swainsboro, utility lines were down in roadways, and there was a good amount of debris from wind scattered throughout the city. Outages were affecting 3,310 customers. Georgia Power serves about 4,800 people there.
• At least one tree was down in a roadway in Glascock County, authorities reported.
• There were reports of unspecified damage in Thomson in McDuffie County.
• The South Carolina Highway Patrol reported trees down at Howells Mill Road and Hunters Chapel Road in Bamberg County.
Here are some of the power outages and number of affected customers we're learning about:
• Georgia Power: 249 in Burke County, 1,120 in Columbia County, 13 in Emanuel County, fewer than five in Glascock County, 22 in Hancock County, fewer than five in Jefferson County, six in Jenkins County, 105 in Lincoln County, 235 in McDuffie County, 43 in Richmond County, 216 in Taliaferro County, six in Warren County, 23 in Washington County and 10 in Wilkes County.
• Jefferson Energy: 436 in Burke County, 200 in Glascock County, 132 in Warren County, 128 in Jefferson County, 122 in McDuffie County, 69 in Jenkins County, 57 in Columbia County and one in Emanuel County.
• Dominion South Carolina: 846 in Aiken County, 28 in Allendale County, 3,171 in Bamberg County, 3,810 in Barnwell County, 472 in Edgefield County, 197 in McCormick County, 3,296 in Orangeburg County and 1,022 in Saluda County.
• Electric Cooperatives of South Carolina: Aiken, 4,457; Edisto, 6,403; Little River, 687; Mid-Carolina, 5,616; and Tri-County, 1,318.
How the damage unfolded
Before dawn Monday, tornado and severe storm warnings were issued in rapid fire as the storm system stretched in a southwest to northeast line from Waynesboro to Aiken.
The storm system was part of a very large squall line moving eastward that stretched from the Gulf of Mexico all the way north to Virginia. It maintained its strength as it moved east across the South, starting on Saturday.
Debris clouds were caught on radar as the National Weather Service issued confirmations of tornadoes on the ground in the Georgia and South Carolina portions of the CSRA — all but confirming that some of the damage was from twisters. But some of the damage could have come from the straight-line winds up to 70 mph that the storm system was expected to produce.
Throughout the twister outbreak, meteorologists implored the public to take shelter in an interior windowless room on the lowest level of their home. The experts were concerned that the tornadoes could be hard for people to spot because the twisters were wrapped in rain and cloaked in predawn darkness.
Among the earliest reports of local trouble the storm was a tornado moving at about 55 mph through Glascock County soon after 4 a.m. as lightning lit up the sky, rain spattered windshields and winds buffeted the sparse vehicles on roadways. Warnings were soon issued for southern Jefferson County, all of Glascock County, parts of Warren County and portions of Lincoln and McCormick counties.
Then a tornado was confirmed on the ground at 4:30 a.m. in eastern Washington County.
By 4:51, a strong cell with rotation was moving east toward Waynesboro, and soon all of Burke County, southern Richmond County and Aiken County were under a tornado warning. At 5:05 a.m., a tornado was confirmed by radar debris signatures in the McBean area of southern Richmond County, rapidly moving to the east-northeast.
Soon, the storm system had crossed into South Carolina, taking aim at the Department of Energy's Savannah River Site.
A tornado was on the ground in the New Ellenton area around 5:30 a.m., with radar showing a debris cloud being kicked up by the winds. Then the National Weather Service warned at 5:40 a.m. that the large and extremely dangerous tornado was confirmed on the ground 7 miles southwest of Williston, moving northeast at 45 mph. At 5:53 a.m., radar showed the possible tornado in the Springfield area.
The last portions of the CSRA to get warnings about the storm system were eastern Barnwell County and the Denmark area, where residents were warned to take shelter just before 6 a.m. from a tornado moving northeast at 60 mph. Around the same time, radar indicated a tornado in southern Screven County in Georgia.
Also included in a tornado warning around that time were Bamberg County and parts of Orangeburg County.
Soon, the danger had passed for the CSRA, although forecasters said there was a chance that rain could continue.
Copyright 2020 WRDW/WAGT. All rights reserved.