McDuffie PFA producing 750,000 catfish for Georgia waters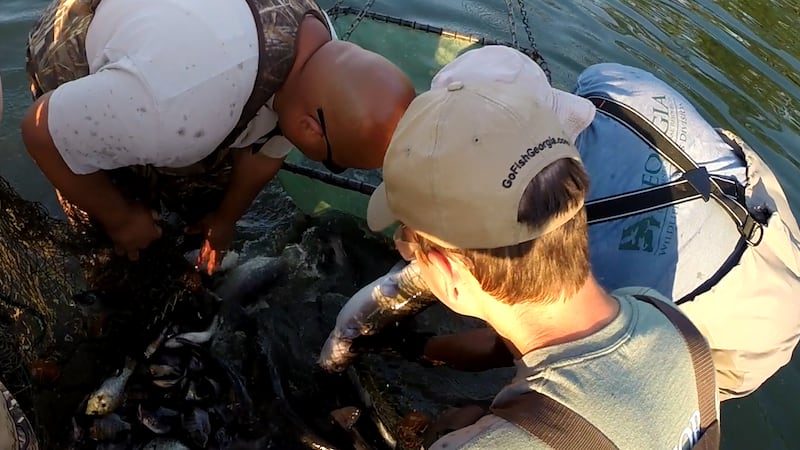 Published: May. 4, 2018 at 2:52 PM EDT
Friday, May 4, 2018
DEARING, Ga. (WRDW/WAGT) -- It's springtime and that means one thing at the McDuffie Public Fishing Area (PFA), catfish production. The Georgia Department of Natural Resources hopes to produce 750,000 catfish over the next 17 days that will eventually be distributed across the state.
The first step in the process is dragging a seining net through the hatchery pond to catch females for broodstock.
Lewis Boykin, a fisheries tech IV for Georgia DNR, says, "the general rule is bigger's always better, and that's the case when you're looking for broodstock. You want bigger females because they're going to produce the most eggs".
From there, the females will be transported to holding troughs where they will be matched with a proper male. It is important that the male be bigger than the female to prevent the female from eating the eggs.
Boykin explains, "the male is the keeper of the eggs. Once she's laid her eggs, he kicks her out, and he's laying watch over the eggs; protecting the eggs".
The pair then goes to hatching pens where the female lays eggs in designated submerged buckets.
After five days, the bucket is checked for eggs. If there are eggs then they will be transported to hatching troughs and stay for 6 days to hatch.
Once they've hatched, they will be moved again to a rearing trough until they're picked up to be distributed across the state.
The success rate is around 50%, which is much better than the 1-5% success rate in nature.