Local hospitals overcrowding with flu patients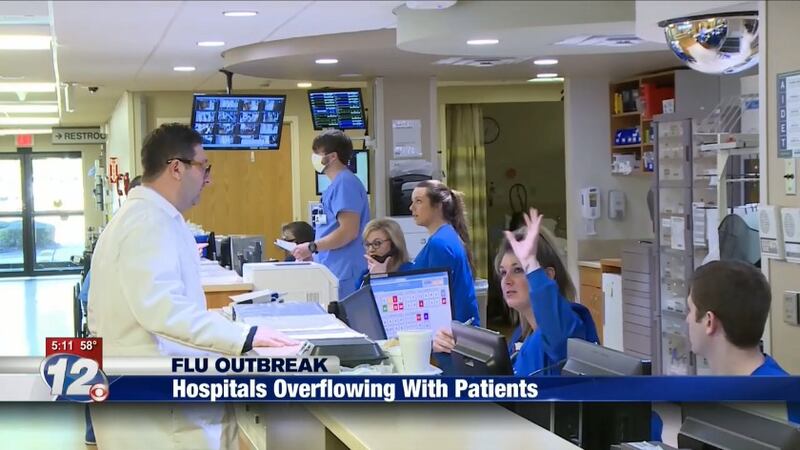 Published: Jan. 25, 2018 at 6:29 PM EST
Thursday, Jan. 25, 2018
(News 12 First at Five)
AUGUSTA, Ga. (WRDW/WAGT) -- Flu is one word James Overton is tired of hearing.
"...One of the little ones spread it to me and spread it to the whole house and everyone got sick."
He's spent several hours in hospital waiting rooms these past few weeks
"All of the local hospitals they're full of flu victims, needing medicine and stuff like that so it's like a 6-8 hour wait when you go to the emergency room....cause everyone is there and everyone has the flu especially the kids."
Doctors Hospital says since December they have seen hundreds of cases of the flu.
"I haven't seen it this bad since 2009, so since December 1st we have processed 663 positive flu tests and currently we have about 19 inpatients with the flu."
So many cases that Doctors Hospital has had to call in
staff members to take care of flu patients.
"We've called people in who are scheduled to be off to come in and help augment our staffing, that's been done both on the physician side and on the nursing side."
The increase in patients isn't only causing a need for more staff,
"Areas that have been reserved for radiology patients, they've had to make changes in their schedules so they can open up spaces for us to bring in more patients there, we've considered using other areas of the hospital."
Like Doctors Hospital, University Hospital is also seeing a need for more space.
"We're seeing a lot more patients in our emergency department and many of them are needing to be emitted. Our hospital has opened up extra nursing areas so we're trying to accommodate and do the very best job."
Hospitals say they are trying their best, and even with a wait, Overton says each time they have helped him.
"They got us in and got us out with the medicine we needed."