Local fundamental groups pushing voters to the polls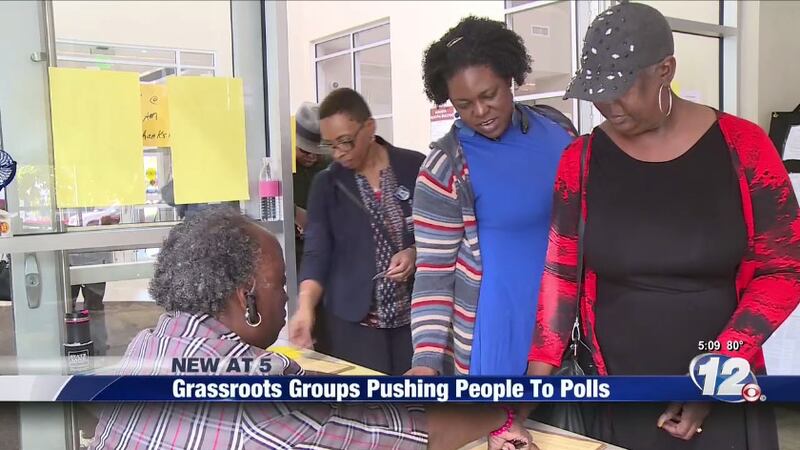 Published: Nov. 1, 2018 at 5:52 PM EDT
Thursday, Nov. 1, 2018
News 12 First at Five
AUGUSTA, Ga. (WRDW/WAGT) -- The Georgia Shift has been knocking on doors talking to young voters about what's on the ballot. The Board of Education says those kinds of efforts are bringing more people through these doors.
With only two days left to vote, lines are forming at the polls.
"It tells us we can expect an overall very good turnout, and I think that that will hold true for this election," said Lynn Bailey, Richmond County Board of Elections.
Lynn Bailey with the Board of Elections says the increase in voters and people registering to vote is partly because of grassroots efforts.
"Another method of increase has come through the work of third-party groups that have been very active throughout the state of Georgia."
Ian Bridgeforth has been passing out pamphlets for months. He is the founder of Georgia Shift urging young people to get out and vote.
"It really is going door to door and talking about the issues they care about and giving them their information as far as their polling place, asking if they need a ride to the polls things like that," he said.
And Bailey says it's making a difference.
"We've received thousands of applications through the mail and over the counter from groups like the League of Women Voters, New Georgia Project Voter Participation Center and Georgia Shift who are all working actively across the state of Georgia and certainly in this area."
Georgia Shift has even made it easier for some students at Augusta University to vote.
"We've been on Augusta University's campus as well requesting absentee ballots...as of now, over 300 absentee ballot requests from Augusta University,"
And their work will continue right through election day.
"We'll be giving rides to the polls on elections day.
Friday, November 2nd is the last day to early vote and to vote at any of the early locations. Come election day you have to vote at your assigned precinct.