UPDATE | Hephzibah man accused of releasing 14 pet pythons charged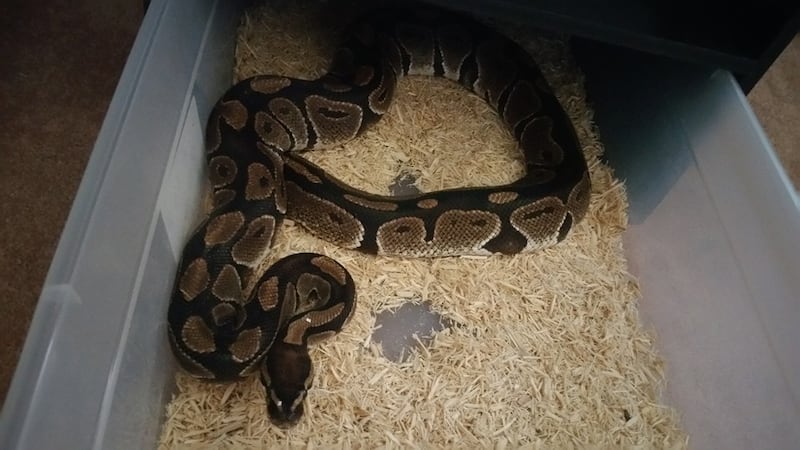 Published: Sep. 14, 2016 at 8:07 AM EDT
Tuesday, Sept. 20, 2016
HEPHZIBAH, Ga. (WRDW/WAGT) -- A man accused of releasing more than a dozen ball pythons has been identified by the Georgia Department of Natural Resources.
Ernest Eldridge, of Hephzibah, has been charged with one count of unlawful release/escape of a wild animal in Richmond County.
The pythons' owner Jackie Heim was told by DNR that the pythons were released in an unpopulated area off I-20 in South Carolina.
Wednesday, Sept. 14, 2016 | UPDATE: 6:45 p.m.
HEPHZIBAH, Ga. (WRDW/WAGT) -- A woman who said her ball pythons were set loose in Hephzibah has learned from the Department of Natural Resources that the person accused of releasing the snakes has been interviewed.
The person told DNR the two pythons they already found were the only two he released in this area. He told DNR the others were released in an unpopulated area off I-20 in South Carolina, according to Jackie Heim.
Jackie said he's fully cooperating with authorities and DNR told her this has nothing to do with her now and they can move forward without her. Even if she doesn't want to press charges, DNR still has to handle any lawbreaking from their end.
News 12 NBC 26 / Wednesday, Sept. 14, 2016
HEPHZIBAH, Ga. (WRDW/WAGT) -- Animal Control is investigating after a complaint 14 ball pythons were set loose in a Hephzibah neighborhood.
A Facebook post from the owner circulated quickly about snakes asking for help finding in the Woodlake Subdivision off Windsor Spring Road. Fourteen free-roaming pythons is an ever-growing fear for the neighbors, but for Jacqueline Heim, it's not fear she's feeling. Heim is the snakes owner.
"Oh I'm very upset. I had my few hours of tears already over my snakes. I'm not sure if I'm going to get them back," she said.
She says these snakes aren't harmful; they're her pets.
"It's a different kind of pet, but you do grow attached to them. You do grow affectionate for them," Heim said.
She says they stay in very secured cages, so for them to get out, it had to be deliberate.
"I was in the middle of moving and a person I'm just not going to mention right now was upset at me and did it, just kind of a childish thing, and let them out," she said.
Sixteen total snakes were released, but Heim says she found two when she was out looking for them. Animal Control is now investigating and responding to any calls. They were out canvassing the subdivision earlier today.
Tricia Herrington lives in the Woodlake subdivision with her little dog Sadie. Today they're being very careful where they step.
When asked if she knew what to do if she saw one, Herrington said, "Run. I'm on the other end of the spectrum. I don't like snakes. I'm scared of them, highly scared of them."
Animal Control says you don't have to run from or kill these snakes. They're not venomous and will probably run away from you first.
"They typically are very docile. They're not fast to bite. They're more likely to ball up in a ball like the name suggests and hide than anything else," Kennel Operations Manager Priscilla Crisler said, Augusta Animal Services.
So little dogs and children are safe. While the snakes may hang out in the bushes or under a porch, your biggest defense is the phone.
If you see a snake, call Animal Control at (706) 790-6836. They'll come take care of it. The after hours number is (706) 821-1080.
These particular snakes are not naturally found in Georgia, so deliberately releasing them in the wild is actually illegal. Heim says she has spoken to the police and Animal Control, and they're doing what they can.
A most recent tip she received suggested the person who let the snakes out only released a few in the neighborhood and is hiding the rest at someone's house.
Wednesday, Sept. 14, 2016
HEPHZIBAH, Ga. (WRDW/WAGT) -- A Hephzibah woman is desperate for help after her pet snakes were let loose by an 'irresponsible party'.
According to a Facebook post posted to a lost and found animals page, Jackie Heim said her 14 ball python snakes are nonvenomous and harmless, but she says they do bite.
Several viewers contacted the News 12 NBC 26 newsroom about the post. Heim claims that animal control was contacted.
Richmond County dispatch said they did get a call about the snakes being loose, but no deputies or animal control officers were doing any sort of search, and that the county is not involved in any search for the pythons.
Heim said in the post that if you see them, it is best to cover them up and call Richmond County Animal Control.
Heim claims a reward is being offered if the snakes are found.
To read the original post and view pictures of the snakes,