UPDATE | President grants Governor Nikki Haley's request for federal aid after Hurricane Matthew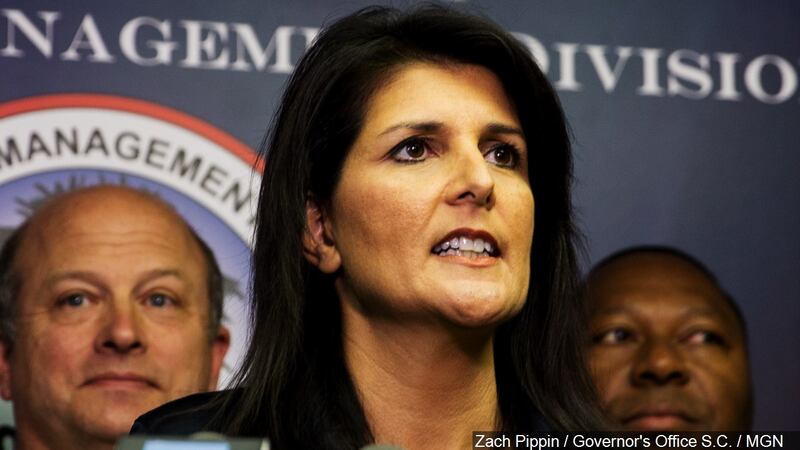 Published: Oct. 10, 2016 at 9:28 AM EDT
Tuesday, Oct. 11, 2016
COLUMBIA, S.C. (WRDW/WAGT) -- A decision by President Barack Obama has opened up federal money to help South Carolina the clean up and recovery effort after a deadly hurricane.
President Obama issued a declaration of a major disaster for 13 counties in the state after the deaths and damage caused by Hurricane Matthew.
Governor Nikki Haley asked for that declaration on October 10, 2016. It included: Beaufort, Berkeley, Charleston, Colleton, Darlington, Dillon, Dorchester, Florence, Georgetown, Horry, Jasper, Marion, and Williamsburg counties.
The move allows local and state government agencies to apply for money from the federal government.
COLUMBIA, S.C. (AP) — The Latest on the impact of Hurricane Matthew on South Carolina (all times local):
South Carolina Gov. Nikki Haley says that the state is going from dealing with a hurricane to now dealing with floods.
And she told a midday news conference Tuesday that it may take days until the flooding threat completely subsides. The highest water is in the Pee Dee in the northeast corner of the state where some areas received upward to 15 inches of rain.
The Department of Natural Resources says that the Pee Dee River in the Florence area is expected to crest in the next day or so. But it could be a week to 10 days before the flooding threat from the Waccamaw River farther east subsides.
State officials say 434 state roads and bridges across South Carolina are closed because of the storm as is a section of Interstate 95 in Jasper County.
At midday about 290,000 electric customers in the state were still without power.
For 41-year-old Natalie McDowell, the third generation of her family to live in Nichols in Marion County, South Carolina, the flooding from Hurricane Matthew is like nothing in memory.
The rains of the hurricane had largely passed and that's why what happened next was so unexpected. In a less than two hours, McDowell and her husband Tim went from thinking they had safely weathered the storm to fleeing for their lives as the Lumber River washed over its banks.
They packed some things and fled to a nearby hospital Sunday where they spent the night with their two sons.
This week about 150 people from the hamlet were rescued from rising waters. On Tuesday the National Guard was blocking all the roads into downtown where buildings stood in several feet of water.
The storm dropped about 15 inches of rain in the area.
National Guardsmen have cordoned off all roads leading into the hamlet of Nichols, South Carolina where flood waters from Hurricane Matthew have left the downtown under several feet of water.
Travelers heading to the town in Marion County about 10 miles from the North Carolina state line were being redirected on Tuesday morning.
And now, for the town's 400 or so residents, it's a matter of waiting for the waters of the Lumber River to crest and the floodwaters to recede.
About 150 people were evacuated earlier this week as the swollen river overflowed its banks and spilled into the city streets. The area received as much as 15 inches of rain during Hurricane Matthew.
Duke Energy crews drove past the National Guard barricades Tuesday morning heading into the town to work on flooded power substations. The community has been without power since Saturday.
An animal rescue group from North Carolina has workers in the flood-ravaged community of Nichols helping rescue cats and dogs from homes and other buildings in town.
Eric Phelps of the Brother Wolf organization based in Ashville, North Carolina, says shelters in northeastern South Carolina have been filling up and the group wants to rescue the animals so they are not euthanized.
The organization's web site says Brother Wolf was founded almost a decade ago as a no kill animal rescue organization. The group works to find homes for all the animals it rescues.
Phelps says that workers from Brother Wolf are using two battery-powered inflatable boats and have a supply of crates to help rescue pets stranded in the flooding in South Carolina.
Residents of Hilton Head Island, the first area in South Carolina to feel the effects of Hurricane Matthew as it approached last week, are finally getting a chance to return to their homes three days after the storm passed.
Officials have kept people off the resort island on the state's southern tip saying standing water and downed trees made if unsafe for people to return. The island has one bridge to the mainland.
Hilton Head Mayor David Bennett announced on Monday night that the island would reopen on Tuesday afternoon.
He said, though, that some neighborhoods and gated subdivisions might still restrict entry based on the damage in those locations.
The state Department of Motor Vehicles is dispatching mobile vans to areas of the state affected by Hurricane Matthew. Drivers whose vehicles were damaged or destroyed on the storm can get duplicate titles and registrations.
DMV Director Kevin Shwedo says the vans will be in Charleston, Florence and Jasper counties beginning Tuesday. No driver tests are being offered.
The vans will be located at the North Charleston Coliseum, outside the Florence DMV office on East Palmetto St. and outside the Jasper County DMV office in Ridgeland.
The offices will help motorists who need documents to file insurance claims.
The flooding from Hurricane Matthew has been capricious in northeastern South Carolina. Along state Route 41 near Lake View in Dillon County rising water has entered the ground floor of some homes. But then homes next door, on ground that is a bit higher, appear untouched.
The trees along the highway took a hit from the storm and people have been out with chain saws clearing the way to driveways along the highway near the community of 800 people which is not far from Nichols.
About 150 people were rescued from rising flood waters in Nichols on Monday. And it wasn't just people who were rescued.
Local resident Kathy Finger provided a video of rescuers saving Boots the cat. The black-and-white cat is seen on the roof of a white car in a garage as a rescuer stood in waist-deep water coaxing Boots into a cage.
Just as things were starting to return to normal after a hurricane buffeted the city, some motorists in Charleston found they had to deal with unexpected parking tickets.
It seems an overzealous parking enforcement officer wrote a number of tickets for vehicles parked near the city's popular open-air City Market on Monday as the market prepared to reopen after Hurricane Matthew.
City spokesman Jack O'Toole says the tickets were a mistake and those who received them can call the city and the tickets will be dismissed. But amnesty for parking tickets won't last long. Normal parking rules - tickets and all - are being enforced beginning Tuesday.
The City Market, where visitors can buy everything from original art and T-shirts to sweetgrass baskets woven by the descendants of slaves, is a popular stop for the millions of tourists who visit Charleston each year.
South Carolina officials are warning people to ask for official identification to avoid being victimized by scammers in the wake of Hurricane Matthew.
Derrec Becker of the South Carolina Emergency Management Division says residents should be aware some individuals may try to take advantage of storm victims. He says those who provide legitimate services won't ask for personal information such as social security numbers, bank information or other personal information.
Becker says if you feel unsafe if a stranger comes to your property, call 911. Residents with questions can toll-free 1-866-246-0133. More information is available at the Emergency Management Division web site www.scemd.org .
The National Weather Service has posted flood warnings for rivers in northeastern South Carolina after Hurricane Matthew dumped as much as 15 inches of rain.
Forecasters said that as of Monday night the Little Pee Dee River at Gallivants Ferry in Horry County was seven feet above flood stage and record flooding is predicted there. Major flooding is also forecast along the Waccamaw River in Conway.
The Lynches River at Effingham in Florence County was more than three feet above flood stage while the Black River at Kingstree was more than four feet above flood and extensive flooding is forecast in both areas.
Forecasters say people along the rivers should take precautions to protect life and property.
Flood warnings have been issued for rivers in the Charleston and Orangeburg areas although flooding is not expected to be as extensive.
Gov. Nikki Haley plans a noon news conference to update South Carolina residents on the recovery from Hurricane Matthew.
She will be speaking to reporters at the state's Emergency Management Division headquarters Tuesday.
All coastal evacuations have been lifted and people are returning to counties along the coast, but hundreds of thousands of electric customers remain without power.
The attention now is turning to the Pee Dee where rising flood waters have forced people from their homes and are blocking roads and streets.
Most schools and government offices in that region remain closed.
Power is slowly flowing back to South Carolina homes and businesses left in the dark after Hurricane Matthew hammered the state.
Utility company outage maps show that as of early Tuesday, just over 300,000 customers across the state remain without power. That's down from about 400,000 late Monday and down from the total of about 850,000 customers who lost power during last weekend's storm.
It's expected to be several days before power is restored.
In the Pee Dee, rising flood waters are hampering efforts to get electricity flowing.
Things are returning to normal in South Carolina following Hurricane Matthew - in some places.
Rush hour traffic was busy as usual in Charleston for the first time since last week. Most Charleston County schools are reopening, although some won't open until later this week because of power and other problems. A school on Edisto Island may be closed for up to 10 days.
But other schools, including those in Beaufort and Horry counties, remain closed as do a number of school districts in the Pee Dee where rivers are overflowing their banks because of the torrential rains from Matthew. Some areas in the Pee Dee received as much as 15 inches of rain.
State government offices in nine counties in the Pee Dee and Beaufort area remain closed.
Monday, Oct. 10, 2016
COLUMBIA, S.C. (AP) — The Latest on South Carolina's recovery from Hurricane Matthew (all times local):
Just over 400,000 customers remain without power in South Carolina after massive outages this weekend because of Hurricane Matthew.
Utility crews have cut the outages down more than half of the 850,000 customer peak at the height of the storm Saturday.
But utility officials warn the rate of fixing outages may slow significantly as they get to the hardest hit coastal areas where there was major damage to the power grid.
Officials don't have an estimate on when most everyone should have their electricity back.
Officials at Edisto Beach say Hurricane Matthew dealt the beach community its worst hit since Hurricane David back in 1979.
The storm surge from Matthew destroyed one house on the island and ate away at the foundations of a number of others. Between 3 and 4 feet of sand has been washed up on the four-lane avenue along the beachfront.
Mayor Jane Darby says there's no power on the island and limited water. Residents will be allowed to go back to the island beginning on Tuesday to check on their property.
The island has only about 400 permanent residents, but on busy summer weekends the population can swell to 30,000.
Congressman Mark Sanford says it's the worst damage he's seen from Matthew in his district - the coastal First District which reaches from the Charleston area south to Hilton Head Island.
South Carolina officials say they are dealing with river flooding after Hurricane Matthew pounded the Southeast over the weekend.
Crews worked Monday to rescue about 150 people from the third floor of the town hall in the community of Nichols in Marion County.
State Law Enforcement Division Chief Mark Keel says more problems are expected along the Little Pee Dee River, the Lumber River, the Waccamaw River and the Black River.
Keel is working with the Department of Natural Resources to put river patrols out to make sure that the property of those forced to evacuate is safe from looters.
Three people have been killed in the storm.
State transportation officials say there have been about 300 road and bridge closures because of the storm.
About 475,000 customers are without electricity. That's down from more than 850,000 at the height of the storm.
Gov. Nikki Haley says she expected to fly over flood damaged sections of Beaufort County in her first trip after Hurricane Matthew pounded the state last weekend.
Instead, the governor on Monday headed to the Pee Dee, where she was the effects of flooding on the Lumber and Little Pee Dee River.
The governor says 150 people crowded the town hall in the small community of Nichols in Marion County, waiting for help and rescue. The governor says good word by the Department of Natural Resources, law enforcement and the National Guard helped the people to safety.
Haley said while evacuation orders have been lifted for the state, residents are not being allowed on Hilton Head Island, Harbor Island, Fripp Island and Hunting Island because of continued problems with downed trees and storm damage.
Edisto Beach is still blocked off two days after Hurricane Matthew. Police have a checkpoint about two miles from the beach in front of a convenience store and are not letting residents or sightseers in.
Several homes on the island were destroyed or damaged in the storm and power is out to the island and seems to be out for miles up the rural road leading to the town. About a dozen residents were waiting with a group of reporters at the checkpoint at midday Monday.
The mayor, police chief and other town officials planned an early afternoon news conference to discuss the damage in the community and the recovery effort. The town has only about 400 permanent residents but is a popular vacation spot for visitors who rent homes on the island during the summer.
Emergency officials say rescue crews are responding to bring out residents from a small community in Marion County where homes are threatened by the rising waters of the Lumber River.
County Emergency Management Division Director Jerry Williams said Monday morning the floods are threatening homes in Nichols. He did not have details immediately.
Nichols is in the northeastern corner of South Carolina about 10 miles from the North Carolina state line.
The Marion County area was hard hit by rains from Hurricane Matthew. More than 15 inches of rain fell in nearby Mullins while more than 14 inches was recorded in Marion.
Heavy rains that fell farther north in North Carolina have also swelled the Lumber River.
A fundraising effort started to help victims of last year's historic floods in South Carolina is being extended to help victims of Hurricane Matthew.
Gov. Nikki Haley and officials from the Central Carolina Community Foundation say that the One SC Fund is now accepting donations to help hurricane victims.
The fund was started last year in the wake of what's been called a 1,000-year flood in South Carolina.
To date, One SC has distributed $2 million in grants to nonprofit organizations supporting flood recovery projects. Officials say it has helped 1,500 South Carolina families get back in their homes.
Donations for hurricane victims can be made online at www.onescfund.org .
All hurricane evacuation orders have now been lifted for the South Carolina coast.
Gov. Nikki Haley announced Monday that those who evacuated in Horry and Georgetown counties may now return home. Evacuation orders for the state's other coastal counties were lifted on Sunday.
State officials are urging those returning to the coast to have patience because they may encounter traffic jams heading home. And while most areas that were closed before and during the storm have been reopened, some local areas may remain closed because of flooding or other issues.
Those returning may still encounter downed trees and limbs, downed power lines and flooding and are urged not to drive around traffic barricades.
Power outages in some areas may last several days. As of early Monday about a half-million electric customers in the state remained without power.
South Carolina Gov. Nikki Haley is taking an aerial tour of the damage in South Carolina caused by Hurricane Matthew.
Haley is going up Monday morning in a National Guard helicopter to get a look at the state, particularly focusing on flooding in the Pee Dee caused by the storm. She is to meet with reporters in Columbia after making the assessment.
The storm dropped more than 15 inches of rain in some areas of the Pee Dee and about a half million electric customers in the state remain without power.
For those in South Carolina who evacuated inland as Hurricane Matthew approached it may take some time to return to the Charleston area.
The state Department of Transportation reports that traffic was heavy on Interstate 26 heading to Charleston on Sunday and at one point traffic from Interstate 95 was not being allowed to exit and go east on I-26. Media outlets report that traffic was again heavy Sunday night, in part because some motorists were returning from the Georgia-South Carolina football game.
Traffic is expected to build again on Monday as coastal residents return. While the eastbound lanes on the interstate were reversed for the Matthew evacuation, they are not being reversed for re-entry. Gov. Nikki Haley says the lanes are only reversed for safety, not for comfort.
The state Department of Transportation has a link on its web site listing coastal re-entry routes and the travel times. As of 8:30 a.m. Monday, the site listed the normal I-26 travel time between Columbia and Charleston of about an hour and 30 minutes.
The heaviest rains from Hurricane Matthew which swept through South Carolina over the weekend were in the Pee Dee and the Beaufort areas.
Figures from the National Weather Service show that more than 15 inches of rain fell in Mullins while more than 14 inches was recorded in Marion in the Pee Dee. More than 13 inches was reported in Kingstree.
More than a foot of rain fell in the Gallivants Ferry and Conway areas of Horry County while nearly 12 inches fell in Florence County.
The Beaufort Marine Corps Air Station received 14 inches and Hilton Head Island received 11.
Between 10 and 11 inches were recorded at locations in the Charleston area.
Power is slowly being restored to the hundreds of thousands of South Carolinians left without power when Hurricane Matthew hit the state over the weekend.
As of early Monday utility outage maps show that just 500,000 customers across the state were still in the dark.
That's down from 625,000 on Sunday and about 825,000 at the height of the storm.
Power companies say it may be several days before power can be restored to all electric customers across South Carolina.
South Carolina Gov. Nikki Haley will update the state's residents on the recovery effort from Hurricane Matthew.
Haley is to meet with reporters Monday at 1 p.m. to review efforts to clean up after the storm.
At least three people have died two in Florence County and one in Richland County.
Two victims in Florence County were caught in vehicles that were swept off of roads by floodwaters.
A man in Columbia died when he was pinned beneath his electric wheelchair at a nursing home and drowned in standing water.
Evacuation orders were lifted in Beaufort and Jasper County late Sunday. The evacuation orders were still in effect for Georgetown and Horry counties, the last counties on the South Carolina coast to experience the storm Saturday evening.
(Copyright 2016. The Associated Press.)