Fort Gordon breaks ground on world-class Cyber Command headquarters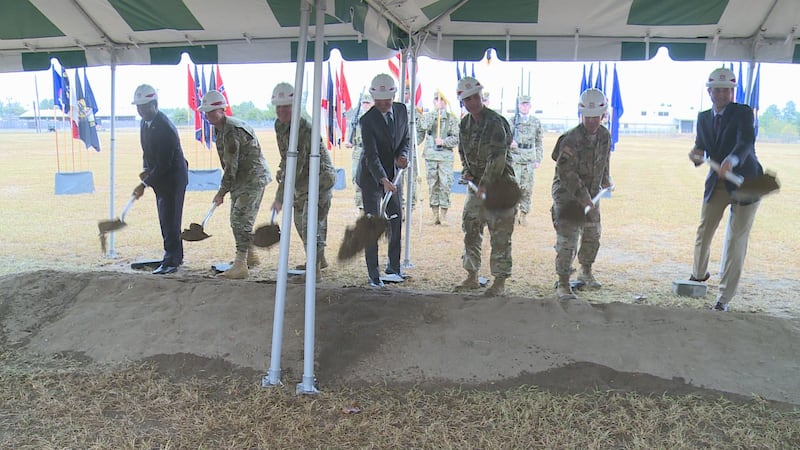 Published: Nov. 29, 2016 at 6:09 PM EST
News 12 NBC 26 / Tuesday, November 29, 2016
FORT GORDON, Ga. (WRDW/WAGT) -- The future of cyber in Augusta is taking a big step forward at Fort Gordon.
Seven shovels broke ground for the new U.S. Army Cyber Command center on post. Even the rain couldn't dampen the excitement around a new $180 million world-class cyber facility that will be built on Fort Gordon.
"This is arguable the nation's most important future fox hole. This we pray as we break this ground," Chaplain Col. Michael D. Charles said.
A couple pounds of dirt mark a new era in the critical 5th dimension, the one beyond the physical world, what we know as cyber.
"It's not the battlefield of the future. It's the battlefield of today. So what we're building here won't be the typical government facility. It will be the U.S. Army's premier world fighting platform for cyber space operations," Secretary of the Army Eric K. Fanning said.
In four short years, that dirt will become the new command complex for 1,200 soldiers, civilians and top-tier cyber-space thinkers, and we will be the hub.
"It established a single location for multiple cyber organizations in the 2nd Army that are currently split across nine locations," Fanning said.
That means more than half of the Army's cyber missions teams will be stationed at Fort Gordon. Leaders on post say this building is just the first change of many.
"Certainly it'll be physical changes to the post, but I would also tell you it's going to change the post in the sense of this will be a place where people will want to come," Commanding General of U.S. Cyber Command Lt. Gen. Paul M. Naksone said. "This will change and really I think develop a culture here at Fort Gordon in a different way."
Eventually the entire building will run by power generated at the solar project they finished earlier this month. That will make them completely energy independent.
All of this is leading to one end goal: to make sure we're number one.
"We are demonstrating to our adversaries that no matter how warfare may change, we intend to fight, win, and dominate," Fanning said.
The building will be finished by 2020. Leaders say the need for this building was clear because when troops were in Iraq and Afghanistan, they knew our enemies were studying our capabilities and looking for where we are vulnerable, so staying on top of cyber warfare is critical.