Evans Towne Center Plaza officially opens doors, downtown taking shape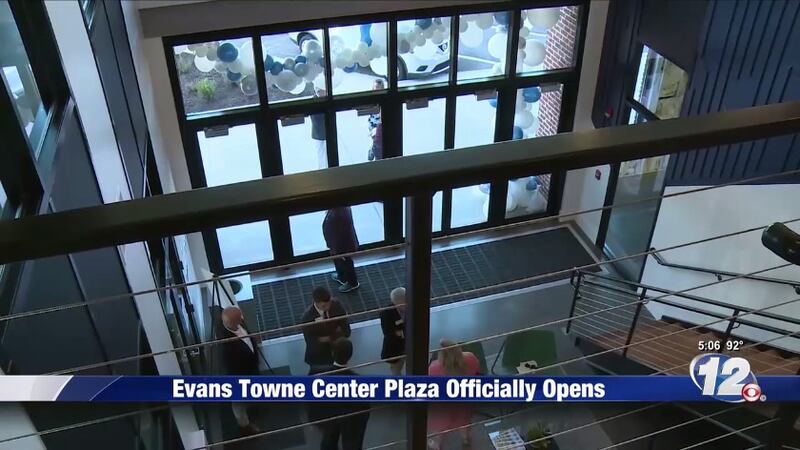 Published: Sep. 19, 2018 at 1:48 PM EDT
Wednesday, Sept. 19, 2018
News 12 First at Five
COLUMBIA COUNTY, Ga. (WRDW/WAGT) -- Wednesday morning marked the official opening of The Plaza at Evans Towne Center.
The lobby of The Plaza will be/start on the second floor, it will house a few restaurants and shops. The third floor and first floor will be reserved for Meybohm Real Estate and other offices that will be available for lease.
The fourth floor, which boasts a spectacular view, will be reserved as an event space for parties and other occasions. The owners say that not long from now you'll see a lot more buildings like this one out there. They say that this is one of seven new buildings that they have in plan for this new downtown Evans.
President & CEO of Meybohm Realtors, Mike Polatty explains Evans Towne Center is a downtown in the making. "It's more than just this building. It's a downtown being built from the ground up."
As the downtown area grows, patrons who visit will be free to walk a short distance from concerts to restaurants and to shopping. A true downtown. A Performing Arts Center next to a Plaza and right next to Lady A.
"People will come down and they'll talk and they'll enjoy meeting and greeting and talking to each other. Hopefully, we'll have a real true downtown," said E.G. Meybohm, CEO of Meybohm Real Estate.
This 60 million dollar investment will last generations.
The inside of the Plaza is slated to be up and running within a weeks time and all other spaces inside the building are open for lease and ready to be filled.
The downtown area is still under construction but the Performing Arts Center is anticipated to open in late 2019.
News 12 Midday
COLUMBIA COUNTY, Ga. (WRDW/WAGT) -- The Evans Towne Center Plaza opened it's doors today.
Officials cut the ribbon to the new modern building.
The Plaza has been a long time coming and it's the first of 7 buildings they have in mind for what will be a downtown in Evans. The price tag for the 7 projects is roughly 60 million dollars.
Evans Towne Center Plaza will be a space for restaurants, shops, and workspaces.
Work is anticipated to continue next week and open spaces are ready to be filled and leased.
The rooftop is a space that will be available for events and parties.