UPDATE | Man who shot and killed 6-year-old charged with murder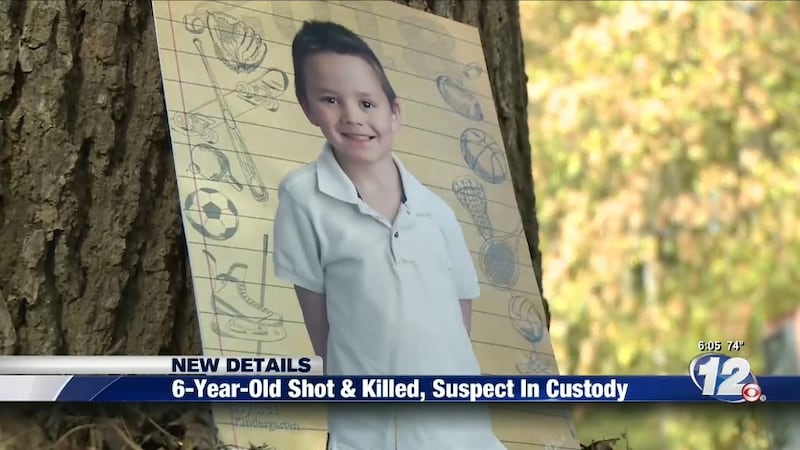 Published: Nov. 5, 2018 at 8:45 PM EST
Wednesday, December 19, 2018
RICHMOND COUNTY, Ga. (WRDW/WAGT) -- The man who allegedly shot and killed a 6-year-old boy has been charged with multiple murder charges.
Benjamin Goodson is charged with Malice Murder, two counts of Felony Murder, Possession of a Firearm During the Commission of a Felony, Cruelty to Children in the First Degree, and Aggravated Assault.
6-year-old Ryder was allegedly playing a game with Goodson when the gun went off.
Check back for the latest on this developing story.
Friday, November 16, 2018
RICHMOND COUNTY, Ga. (WRDW/WAGT) -- Benjamin Goodson was granted $130,000 bond Friday.
Prosecutors interviewed an 8-year-old witness Friday and the day of the shooting, and his accounts matched.
Goodson was granted bail, but he's not allowed to come into contact with the family of the victim or the witness, who is also his nephew.
Tuesday, Nov. 6, 2018
News 12 at 6 o'clock/NBC 26 at 7
RICHMOND COUNTY, Ga. (WRDW/WAGT) -- Benjamin Goodson is behind bars, facing several charges including murder and cruelty to children for allegedly shooting a 6-year-old boy.
The little boy's name is Ryder. His mother says she was in the house, washing her hair in the shower at the time of the shooting. She stated that her 6-year-old son, her boyfriend and another little boy were playing zombies in the house. The next thing she heard was a gun shot.
"As you can see he was adorable as ever," said Laura Stamey, Ryder's grandmother as she looks at him cheesing hard in his picture day best.
Laura Stamey never thought this would be the last school picture her grandson would ever smile for.
"How do you suppose you're doing when you're fixing to take a 6 year old child and put him in the ground," said Stamey.
Laura has been crying her way through it.
"I never in a million years thought someone shot my grandson," said Stamey. "A man that he thought loved him, a man that he loved."
This is the man who confessed to investigators.
It's her daughter's live-in boyfriend of nearly a year. Investigators say at a home down this dirt road in Hephzibah, Benjamin Goodson pointed a shotgun at 6-year-old Ryder and pulled the trigger. The gun did not fire. But, then Goodson pulled the hammer back and fired again at Ryder, shooting him in the chest.
"My grandson did not deserve to die, he didn't," said Stamey. "There's nothing this little boy could've ever done wrong in his life for anybody to have ever done anything to him to hurt him."
Intentional or not Benjamin Goodson is facing charges of murder.
All of this happened at the suspect's mother's house in Hephzibah. The mother stated she was actually pulling into her driveway when she heard the gun go off.
She stated that it was an accident and Ryder, her 8-year-old grandson and her son were playing "zombies" with Nerf guns when he got what he thought was an older, broken gun.
The incident report says that alcohol might have been involved. Ryder's mom stated that Goodson had one beer and two shots before it happened.
RICHMOND COUNTY, Ga. (WRDW/WAGT) -- The Richmond County Sheriff's Office is providing more details in the shooting death of a 6-year-old boy.
Investigators confirm the suspect, Benjamin Goodson, is the live-in boyfriend and that alcohol was present the night the shooting happened.
Richmond County authorities say, Goodson, pointed a shotgun at 6-year-old Eugene Stamey and pulled the trigger, but the gun did not go off. Goodson then pulled the hammer back on the shotgun, pulled the trigger again, striking him in the chest, police say. Arrest warrants originally stated that Goodson pointed the gun at himself and then pointed it at the child, but the Sheriff's Office says that was a mistake.
Goodson is scheduled to appear in court on Wednesday. He faces multiple charges including murder.
Stamey died at a home in Hephzibah after being shot in the chest on Monday, the Coroner says.
RICHMOND COUNTY, Ga. (WRDW/WAGT) -- News 12 has learned that a suspect connected to a shooting death is in custody.
Reports indicate that 32-year-old Benjamin Wesley Goodson is facing multiple charges, Murder (Family Violence Act), Aggravated Assault (FVA), Cruelty to Children in the 1st Degree and Possession of a Firearm during the Commission of a Crime.
The coroner says 6-year-old Eugene Ryder Stamey died of a single gunshot wound to the chest.
He died at the home on Keron Way in Hephzibah.
News 12 is looking into this developing story and we will continue to update you with the latest as it becomes available.
November 5, 2018
HEPHZIBAH, Ga. -- (WRDW/WAGT) A six-year-old is dead after being shot in the chest with a shotgun, according to a spokesman with the Richmond County Sheriff's Office.
Coroner Mark Bowen confirms he is on the scene, along with Richmond County Sheriff's Office investigators after a young child was shot in the chest in Hephzibah.
Investigators do have a family member in custody and are questioning them. They are investigating to determine if this was accidental or otherwise.
It happened on Keron Way near Old Waynesboro Road. We have a crew on the scene.