Sketches detail accident of child being hit by car after getting off school bus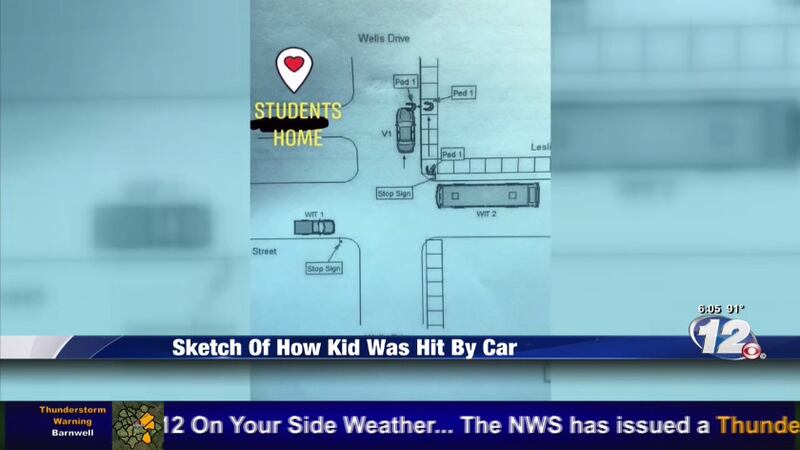 Published: Aug. 8, 2018 at 3:15 PM EDT
Thursday, Aug. 9, 2018
News 12 @ 6 O'clock / NBC 26 at 7
AUGUSTA, Ga. (WRDW/WAGT) -- An incident report says the school bus was parked on Leslie Circle. Cars traveling along this road are not obligated to stop.
After a long day at school, 10-year-old Ortez Johnson got off the school bus.
Ortez could see his front door, as he stepped off the sidewalk when a white Sonata coming down Wells Dr, hit him.
"He was like, mama as soon as I got off the bus about to cross the street I stepped off the curb and tried to step back and she hit me," Sonette Johnson said.
His mom, Sonette, came out when she saw the bus parked outside.
"His head was on the concrete and his body was hanging off the concrete," she recalls.
His mom took pictures of the bruises and cuts over his face and body and the stitches on the back of Ortez's head.
She can't capture how relieved she is he's alive and not more severely hurt.
"I could have lost my son right there," she said.
The driver, investigators say, who hit the 4th grader is facing no charges.
They say because the bus parked along Leslie Circle, only drivers moving in either direction on Leslie Circle weren't legally required to stop.
Ortez was crossing along Wells Drive, so drivers didn't have to follow the bus stop sign.
Wednesday, August 8, 2018
News 12 at 11
AUGUSTA, Ga. (WRDW/WAGT) -- New details tonight on the 10-year-old boy hit by a car in South Augusta on Wednesday.
He was released from the hospital and is back home.
After getting off the school bus he crossed the street towards his house when he stepped in front of a car.
It happened at Leslie Circle and Wells Drive.
He was taken to AU. We're told, the boy had minor injuries.
Some of his teachers even went to the hospital to make sure he was okay.
Kaden Jacobs, the spokesman for Richmond County Schools, says that's not unusual for school leaders to do.
"That doesn't surprise me. We have great administrators and teachers who really care about our kids. We all try to do everything we can to keep them safe."
Deputies say the driver of the car that hit the boy is not at fault because they didn't have to stop for the bus. They also say there are no stop signs on Wells Drive and the bus had stopped on a side street.
AUGUSTA, Ga. (WRDW/WAGT) -- Deputies in Richmond County say a 10-year-old was hit by a vehicle after exiting the school bus.
The accident happened at 3:00 p.m. at Lesley Circle and Wells Drive. The bus was said to be at a complete stop with the stop bars out and flashing lights for traffic on Leslie Circle.
The 10-year-old ran across Wells Drive and was hit.
EMS took the child to a hospital for observation. Officials say the injuries appear to be minor.
The driver is not at fault based on their direction of travel and they did not have to stop for the school bus, deputies say.
News 12 is still looking into this developing story. We will continue to update you with the latest information as it becomes available.
AUGUSTA, Ga. (WRDW/WAGT) -- A child from Glenn Hills Elementary was hit by a car Wednesday afternoon in Augusta.
It happened around 3:03 p.m. on Leslie Circle and Wells Drive.
The Richmond County Sheriff's Office says the child has been transported to Augusta University Medical Center.