CCSO wants tactical throwable cameras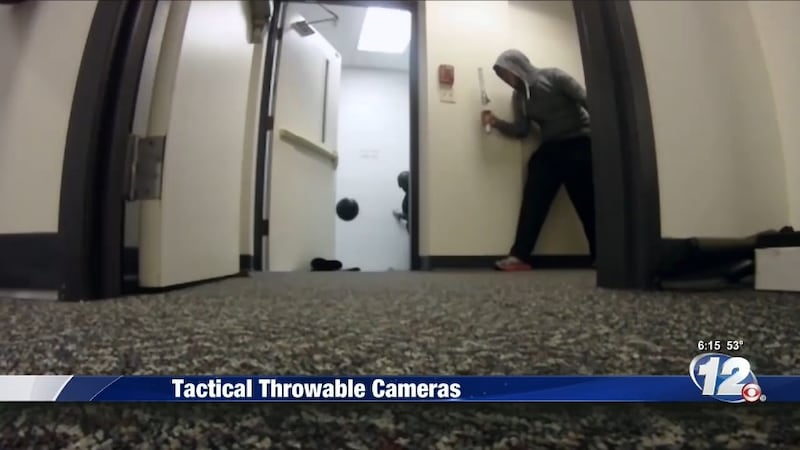 Published: Dec. 17, 2018 at 7:14 PM EST
Monday, December 17, 2018
News 12 at 6/NBC at 7
COLUMBIA COUNTY, Ga. (WRDW/WAGT) -- Officers are tossing what looks like a ball with several little cameras on the outside.
It's designed to help catch the bad guys while keeping our good guys safe.
The Bounce Imaging tactical throwable cameras would come in use for public safety here. The sheriff's office wants to get 3, EMA wants to get 1 and fire rescue wants to get one as well.
Collapsed buildings, active shooters, hostage situations, every single day, public safety officers run into danger.
But what if a robot camera went in first?
"Rescuers may be at risk to save lives," said Major Sharif Chochol, an investigator with the CCSO. "Any kind of entrapment, any kind of hostage situation, any kind of situation really where it may be dangerous to go inside we can send this ball in first."
Columbia County is looking to buy 5 of these and they're called tactical throwable cameras.
"They give you a 360 picture of what's going on inside around the camera," said Chochol. "You can hear and see what's happening without having to be in harm's way."
The sheriff's office says the camera can change the game in emergencies.
"Say you've got a gunman in a building or a certain room, you can drop this ball in there and see where that person is in the building before you make entry," said Chochol.
It goes straight into the action, streaming video from the scene to their phone, tablet or command center.
"They can be deployed on a K-9, they can be deployed on UAV's," said Chochol. "Anything you can attach them to that you think you can deploy them on, you pretty much can."
Major Chochol says he's seen it in action.
"They had a lot of different rescue situations set up, they had hostage situations, active shooter situations, flooded situations, building collapses," said Chochol.
And knew it was the future, a set of eyes where eyes can't be.
The cameras will be presented to commission tomorrow night and if they approve it, the county will go ahead and purchase them, so you could potentially see these cameras in action in just a few weeks.