UPDATE | Army deactivating Signal Corps Band at Ft. Gordon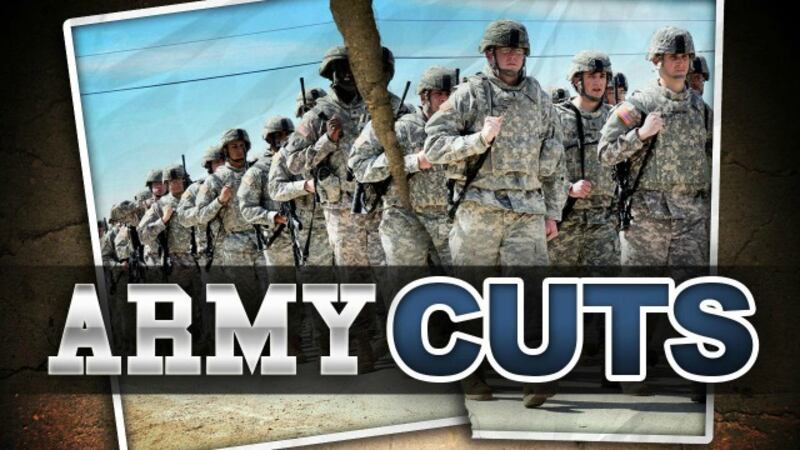 Published: Dec. 2, 2015 at 2:29 PM EST
News 12 NBC 26 / Friday, Sept. 30, 2016
FT. GORDON, Ga. (WRDW/WAGT) -- It's the end of an era at Ft. Gordon.
Budget cuts are forcing the inactivation of the local signal corps band. Friday morning, they held a casing of the colors and repatching ceremony on post.
The band has had a long history on the post boosting the morale of soldiers and citizens since the '50s.
The day feels like a minor chord, a little somber and just a touch reminiscent to the days when this band was 40 people strong.
"Music has that universal language, that intangible that is so hard to describe, but it can communicate emotion and ideas beyond words even without understanding of the language," Chief Warrant Officer 2 Thomas Jackson said.
Jackson is the Commander of the 282nd Army Band. He says that's why many of these musicians joined the band in the first place.
"The camaraderie, the group team work as well as just the ability to speak to someone else without necessarily using the words that so many of us trip over all the time," he said.
The 282nd Signal Corps Band dates back to 1958. It's original purpose was to instill the will to fight and win, but it's also been a symbol of honor, like at a soldier's funeral, or a symbol of hope. Sometimes words just aren't enough.
"At every post in which I've ever served, the Army band has held a special place in the hearts of all the soldiers whether down range where we provide morale and a taste of home to the soldiers that are deployed," Chief Warrant Officer Jackson said.
The band has also been a bridge to the community. You may have seen them on a Saturday morning by the river.
"This is an Army community, so we have a lot of children when we play in the schools they get to see their uniform doing something different from war," First Sgt. Lori Nix said, Acting Commander.
The unit has been splintered down to 12, serving on post as a detachment of the Fort Jackson band. But, since most members will be reassigned within two years, by 2018 it could be gone completely.
So as they play their last note, their place in history is secure until one day in the future when they can breathe new life into the instruments again.
The Signal Corps Band is the longest continually serving unit at Fort Gordon. Many band members have music degrees and Masters.
Traditionally the band would play a yearly holiday concert at First Baptist Church. They say this year they plan to come back and play again. It won't be the Signal Corps Band, but it will be talented musicians from Fort Gordon.
In the past News 12 has aired the concert live on My12. We'll let you know if that happens again this year.
Friday, Sept. 30, 2016
FORT GORDON (WRDW/WAGT) -- The Army Signal Corps Band stationed at Fort Gordon is being deactivated at a ceremony on base Friday.
Some of the band members will be displaced to other places, while others will be retiring. Some Fort Gordon band members will go to a nearby unit, the 282nd U.S. Army Band, stationed at Fort Jackson in South Carolina.
The 434th Army Band moved to Fort Gordon in 1955, and received distinctive designation as the United States Army Signal Corps Band in 1985.
The band performed for military ceremonies, formal concerts, and official events all over the country.
When a unit is deactivated and consigned to history, a "Casing of the Colors" ceremony is performed where the unit flag or colors, are rolled up and "cased" in a protective sheath. At this solemn and formal ceremony the history of the unit is read.
News 12 at 6 o'clock / Monday, December 7, 2015
AUGUSTA, Ga. (WRDW) -- The Signal Corps Band will be reduced as the Army continues to make cuts.
From concerts to parades, the Signal Corps Band raises morale all over the region, but it's about to lose half its members.
For Karen Gordon, music is her life. She's the Director of Garden City Jazz.
So, when she heard the Army Signal Corps Band was getting cut, she took it personally.
"Just feels like part of my family is leaving," she said through tears.
If you've ever heard them play, you might understand.
Because of Army cuts, their concert on Friday may have been your last chance to see the full concert band together.
Soon, they'll be reduced from their full 39 to a detachment of 12.
"This band leaving, it means more than just these guys won't be around anymore because they represent something greater than themselves, greater than just the music they're playing," Gordon said.
A stark contrast to the battlefield, their music represents a bright spot of beauty, or even humor, in a time that needs it.
"Having them around boosts morale. They're part of the community," Gordon said.
They're a reminder in combat -- or in a church-- that everything will be alright, like on a random Saturday morning down by the river.
"There were little kids dancing around and playing," Gordon said.
The cuts could impact more than a concert. These guys don't just play for the community; they live here, too.
Their spouses live and work in the community as well. One of them in particular owns an art gallery right around the corner," Gordon said.
The detachment of 12 will stay at Fort Gordon, but they will report to Fort Jackson in South Carolina.
The others will leave, meaning their families and roots likely will, too.
"Support the things you appreciate now not later, because there may not be a later," Gordon said.
The cuts will happen by attrition, meaning the soldiers who are getting cut will either get a change of duty station, get out of the military or retire.
The cuts are happening Army-wide. The ones here at Fort Gordon should be complete by 2016.
Wednesday, Dec. 2, 2015
FORT GORDON, Ga. (WRDW) -- The Signal Corps Band will be reduced as the Army continues to make cuts.
According to Buzz Yarnell with Fort Gordon, this comes as the Army is working to meet its end-strength requirement of 980,000 soldiers in the total Army by fiscal year 2018. After examining its institutional capacity and its combat capacity, with the goal of preserving as much combat power as possible, the decision was made to reduce the size of Army bands.
Yarnell says the Signal Corps Band will be reduced from 39 soldiers to 12 soldiers, who will remain at Fort Gordon but report to report to the 282nd Army Band at Fort Jackson, S.C., for command and control.
"Although it is too soon to evaluate what impact this will have on the band's public appearances, we remain committed to their role as musical ambassadors," Yarnell said.
According to Yarnell, reductions will be done gradually and should be complete by Oct. 2016.