UPDATE | Abrams' campaign files new lawsuit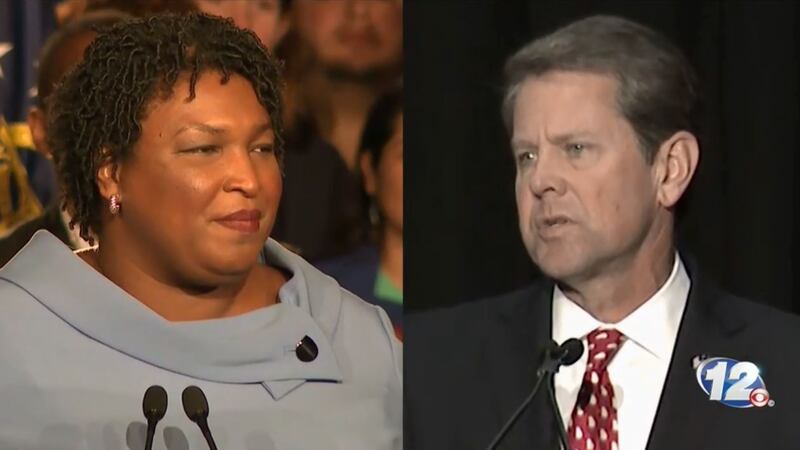 Published: Nov. 9, 2018 at 12:01 AM EST
Sunday, November 11, 2018
(News 12 at 11)
GEORGIA (WRDW/WAGT)-- Cheers and screams on Tuesday night marked a race that gained national attention. Now, even five days later, it is the fallout that still takes the center stage.
The Democratic Party filed a lawsuit asking for the federal courts to include ballots that Stacey Abrams' campaign alleges are being overlooked. In a press conference call Sunday at 5 p.m., Abrams' legal team said they've found discrepancies within the total number of reported Georgia ballots.
"So one, they are not only dramatically under-counting provisional ballots," a rep with the data team said. "But, they're also failing to report the other ballots that exist." He explained through teams, the campaign traveled county to county to do its own investigation.
While the suit covers Georgia's 159 counties, it specifically cites example in Gwinnett and DeKalb counties. Examples, the campaign says gives them reason to believe it has happened statewide.
The Gwinnett claim focuses on absentee ballots and some provisional ballots with minor issues. The legal team says where voters were supposed to put their date of birth, they mistakenly put the date they were filling out the ballot. Ballots like these were thrown out, says the Democratic Party.
Over in DeKalb, voters claim once they moved to DeKalb they registered to vote there. But once they got to the polls, voters say they were told they were still registered to vote in their hometown.
In any case, the lawsuit outlines many, if not all, of those ballots were not counted.
"We are going to the courts, to ask them for relief as Secretary of State Brian Kemp placed undo-burden on the constitutional right on Georgians in the casting of their ballots."
According to the latest results from the Secretary of State's Office, Kemp is ahead by 58,875 votes. The Brian Kemp campaign maintains that even the remaining ballots are unlikely to trigger a run-off. As a result, Kemp says he is moving forward as Governor-elect.
Abrams is preparing for both a recount and run-off because according to the lawsuit, the numbers provided by the Secretary of State's Office are not true.
Thursday, November 8, 2018
WRDW News 12 at 11
AUGUSTA, Ga. (WRDW/WAGT) -- Think of the race for Georgia's next governor as a football game. Brian Kemp's campaign is trying to hurry up and snap the ball with the clock running, and Stacey Abrams' campaign is throwing flag after flag.
"It's my honor to introduce you to Georgia's next governor,"... That's the introduction Governor Nathan Deal gave to Brian Kemp at a press conference on Thursday morning. Kemp later stepped up to resign as Secretary of State. He said he's hoping to move forward, while Stacey Abrams is taking the election to the courthouse.
"We will litigate until we determine that every persons' vote has been counted," said an attorney for Abrams' campaign.
Her attorneys say they're planning on filing as many lawsuits as they need. The first was filed in Dougherty County on Thursday. Court documents say "not all violations of the United States Constitution are intentional, but all are insidious". In the suit, they're demanding all ballots in Dougherty County postmarked by November 6 be counted. Dougherty County had issues receiving ballots on time due to a previous injunction, and then Hurricane Michael impacting the delivery of mail.
We went looking to see how long all of this could take.
"We are not going to file hyperbolic, erroneous lawsuits," said Lauren Groh-Wargo, Abrams' campaign manager.
With similar lawsuits, it can take a few days before the judge or defendant even issues a response, let alone a decision.
In one lawsuit filed against Kemp's office the day before the election by Common Cause Georgia, the judge asked the group to submit more evidence three days after it was filed.
Lawsuits or not, Kemp's plan is to keep moving forward. He said even if Abrams were to win every outstanding vote, it wouldn't be enough to force a runoff. Abrams' campaign says they won't be convinced until every vote is counted.