AR Workshop in Evans bringing your Pinterest board to life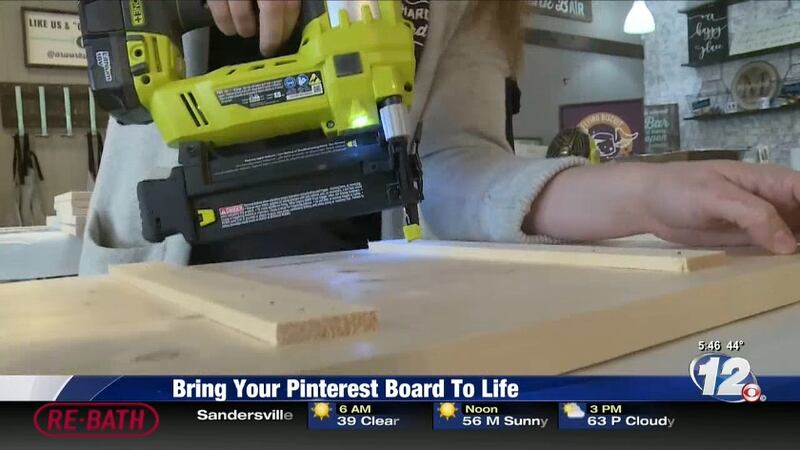 Published: Feb. 25, 2019 at 8:08 AM EST
February 25, 2019
News 12 this Morning
EVANS, Ga. (WRDW/WAGT) -- Get out your power tools and roll up your sleeves. A DIY workshop is helping your Pinterest board come to life.
"People will do everything themselves, and I think there's a sense of accomplishment they feel," said Brandi Collins, Manager of AR Workshop in Evans.
Next time you think you can't create something yourself, think again. Walking inside AR Workshop in Evans, it's like stepping into a Pinterest board.
"It's right up my alley. I've always been very crafty," explained Collins, "I do graphic design, so that portion of it was very easy for me to pick up on."
Her mom is the one who suggested she open a location in Evans.
"She's like 'I want to open one,' and I'm like 'OK, are you serious right now?'" said Collins.
Less than a year in, AR Workshop has created a unique bond. Collins and several of her employees are military spouses.
"A lot of my employees became friends, and that's kind of how I met my friend group is through the workshop," said Collins.
Everything inside the shop you can create yourself. From hand-painted signs, clocks, and centerpieces.
"We can cut individualized stencils to whatever design you chose," said Collins.
Since opening, the store has also created its own spin on Augusta landmarks.
"I have submitted golf designs. Everyone keeps asking, yes I know the Masters are coming up, so I've created some golf designs," said Collins.
So even if you're not a fixer-upper, it could still be a place for you.
For information on classes,