UPDATE | Dozens indicted in Hilltop gang bust, investigation continues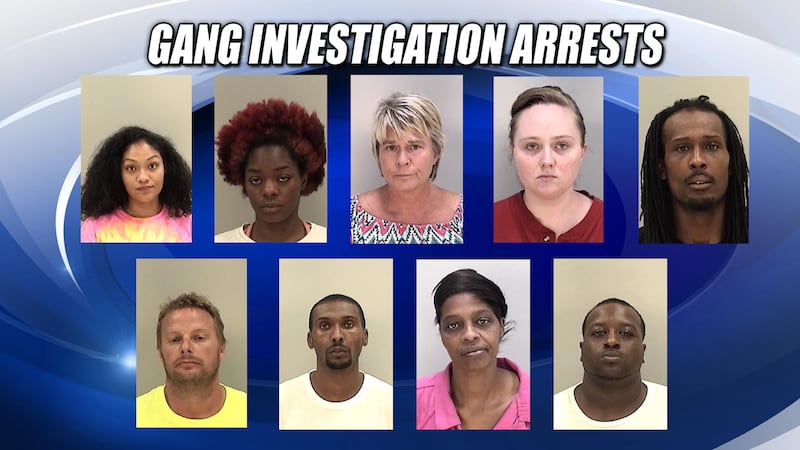 Published: Jun. 7, 2017 at 1:39 PM EDT
News 12 NBC 26 News At 11 | Thursday, June 8, 2017
AUGUSTA, Ga. (WRDW/WAGT) -- This is a first look at a few of the faces investigators say make up Augusta's Hilltop gang.
Richmond County Sheriffs Office, partnered with the DEA and district attorney, has put 34 alleged gang members and co-conspirators behind bars on state and federal felony charges and the investigation is still on-going.
The arrests a result of a 2-year undercover investigation of a gang that's spent at least a decade in Augusta.
"It probably made the media a couple times. They were on the sheriffs office radar. The hilltop boys or the hilltop posse. That was years ago, the last time I heard about that was years ago from Ronnie Strength back in the day," said Harris.
The Hilltop gang is back in the spotlight as a continuation of Sheriff Roundtree's "commitment to dismantle Augusta's criminal street gangs. "
Back in January 17 indictments came down on members of another decades old organization Augusta's LOE gang.
Devon Harris , the director of a youth offender ministry, remembers a time when major busts ,like this, were frequent in Augusta.
"Remember when you are dealing with gang members you are trying to get it to the point that it applies under the RICO law. You are putting in work for the set. It's like the mafia mentality. It will stick for a long time," said Harris.
Harris warns while the sheriffs office can arrest some without educating the community the gangs will re-appear.
"In that same community where that major bust happened is back active again and because when you chop the head off It will be quiet on the streets for a while, but if you are not educating that little fella or that guy that thinks he is going to make a name for himself they will be back in business again," said Harris.
AUGUSTA, Ga. (WRDW/WAGT) -- A gang bust 2 years in the making puts 34 people behind bars. Neighbors say it's a step in the right direction, but more needs to be done.
The Richmond County Sheriff's Office and DEA spent 2 years getting 34 alleged members and co-conspirators of the Hill Top Boys gang off the street. During the undercover drug and gang operation, 100,000 dollars in cash and other assets was swept up as those suspects face indictments on several charges.
Investigators say the bulk of the arrests happened between March 2016 to May 2017. Eight of those 34 suspects face federal charges while the 26 others face state charges.
Several folks living in the same neighborhood say they just want to see those committing violence must be taken off the streets before more lives are put in danger.
"Terrifying. And in your own house."
It's a night this Augusta woman will never forget.
She asked us not to show her face or reveal her name, but she shared her memories of one night last year when she nearly lost her life.
"I thought it was coming through the window," she says. "But then when I come and look, it came through the wall."
A fight outside her home involving several gang members from Augusta's Hilltop neighborhood ended with a bullet ripping through her wall. She said a man with a problem with other members came from Atlanta to settle a score when her home was caught in the crossfire.
"When it hit over there," she says, "I said, 'My gosh, what was that?' One second later, this wall and bam! I fell backwards and crawled on the floor."
She crawled to her kitchen for safety and made it through the night.
Now she's hoping with Wednesday's arrest of 32 alleged members and co-conspirators of the Hilltop Boys gang, no one else will have to go through that. The arrest comes just a few months after 17 members of another gang called LOE were indicted.
"It used to be a lot worse," we asked her about the area she calls home.
"Oh gosh, yes," she says. "I asked my daughter, I said, 'Why would you want a house in this neighborhood?' She said, 'Oh, it's going to change. It's going to change.' How do you know it's going to change?"
Now, as several alleged members sit behind bars, she says she's already seeing that change.
"Put it this way - they are cleaning up the city," she says. "The police come out and sit here at nighttime even now. I saw them the other night sitting in front of the community center. Hopefully it will get better."
She and her neighbors say their neighborhood has gotten quieter in recent months, but they still hear the occasional gunshot.
So far, ten of those suspects have been booked into the Richmond County Detention Center. But there's still no word on how soon the rest will be booked.
Wednesday, June 7, 2017
AUGUSTA, Ga. (WRDW/WAGT) --- The Richmond County Sheriff's Office Narcotics Unit and the Drug Enforcement Administration have finished a two-year long undercover drug and gang operation.
During the course of the investigation, 34 people were indicted and $100,000 in money and other assets were taken. The first wave of arrests happened between March 2016 and May 2017. Eight suspects face federal charges and 26 face state felony charges. We are working to get the names of all suspects in the investigation.
These are the 18 defendants facing a state charge of Use of Communication Facility to Facility the Commission of a Felony: JaJuan Marquette Hardy, Audra Elise Thomas, Harper Deaner, Solomon Navara Lanham, Raicole Laporte Sparks, Melissa Regina Blackwell, Jennifer Carissa Lakeman, Tracie Lachan Dent, Corinthians Clarke Bussey, Anne Mueller Lester, Latalia Nichole Hoskins, Michael Todd Jones, Gabriel Wallace, Dewayne Robert Bussey, James Wiggie Davison, Tristan Ryan Jackson, Donnie Oliver McMickens, Rashad Jamal Merrit.
This is part of a plan with the Richmond County Sheriff's Office and the District Attorney's Office to combat the issues of street gangs in the community.