Weeknight Anchor/Investigative Journalist
Augusta, GA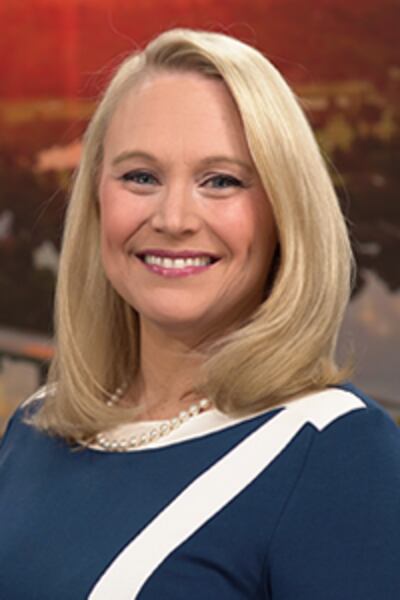 Meredith was only 10 years old when Hurricane Hugo slammed into the South Carolina coastline. She and her family huddled inside their Summerville home as the trees fell on the house and windows exploded all around them. Their only lifeline to the world was a small, battery operated television tuned to a local news station.
That night, Meredith learned the power and importance of information, and a journalist was born.
Fast forward 22 years, and Meredith found herself in New York, accepting one of journalism's most prestigious honors: a National Edward R. Murrow Award. She was honored for her News 12 investigation into an alleged black market for babies in Augusta. She proved a juvenile court officer was working with juvenile judges to steal and sell babies. In the process, she was able to connect the dots to reunite two families. Hundreds of other victims now have the tools they need to find theirs, too.
Augusta is only three hours from Meredith's hometown, but the route she followed to get here is much longer than that. Meredith's journalism career started when she was just 16 years old during an internship at WCBD in Charleston, S.C. She graduated from the University of Georgia with a degree in broadcast news from the Grady College of Journalism and Mass Communication.
After college, Meredith accepted a reporter position at KCAU-TV in Sioux City, Iowa. She packed a U-Haul and moved half-way across the country to join the Channel 9 Eyewitness News team. Within three months, she was promoted to Morning and Midday anchor, where, on the side, she filed award-winning reports. There, Meredith was part of an improv comedy troupe. The snow, ice and subzero wind chills eventually weren't funny anymore, so Meredith traded in her winter coat for sunscreen. She worked in sunny Fort Myers, Fla., as a weekend anchor and reporter for WZVN. The weather was perfect, until the worst hurricane season in Florida history blew ashore.
Meredith found herself covering Hurricane Wilma, a storm similar to the one that first introduced her to journalism. Meredith also traveled to New Orleans to cover Hurricane Katrina. What she saw there and what she experienced will be with Meredith for the rest of her life.
Meredith joined the News 12 team in January 2007 as the anchor for News 12 This Morning. Less than a year later, she was promoted to anchor News 12 at 6 o'clock and News 12 at 11. The schedule was perfect, until it was not. That's when Meredith jumped on the opportunity to return to morning news when her daughter started kindergarten. In 2018, she returned to the evening schedule to anchor the 5 and 5:30 newscasts and to focus on her I-Team reporting.
When Meredith isn't working on investigations, she's traveling with her family, volunteering with the Augusta Jr. Players, cheering on the Dawgs, or loving on her pack of rescue pups.
AWARDS AND HONORS:
2023 Edward R. Murrow Awards
* Investigative reporting – REGIONAL AWARD
2023 Georgia Association of Broadcasters Gabby Awards:
* Best Reporter
* Best Investigative Reporting Series
2023 Emmys:
National Academy Of Television Arts and Sciences:
* Health/Medical – Nomination
* Military News – Nomination
* Talent – Reporter Investigative – Nomination
* Societal Concerns - Nomination
2022 Emmys:
National Academy Of Television Arts and Sciences:
*Health/Medical – EMMY WINNER
* Talent – Reporter Investigative – Nomination
* Military News – Nomination
* Hard News Report - Nomination
2021 Emmys:
National Academy Of Television Arts and Sciences
*Religion: Southeastern Nomination
2020 Georgia Association of Broadcasters Gabby Awards:
* Best News Anchor
* Best Investigative Series
2020 National Academy Of Television Arts and Sciences - EMMA Awards
* On Camera Talent - Anchor News - EMMA winner
* Writer: EMMA winner
* Feature Report: Honorable Mention
* Sports Reporting: Honorable Mention
* Reporter - Specialty Assignment/Investigative: Honorable Mention
2020 Emmys:
National Academy Of Television Arts and Sciences
* Journalistic Enterprise: Southeastern Nomination
* Writer - News: Southeastern Nomination
* Military: Southeastern Nomination
* Producer: Southeastern Nomination
2019 Georgia Association of Broadcasters Gabby Awards:
* Best Reporter
2019 Georgia Associated Press Awards:
* Best Reporter and/or Anchor - winner
* Public Service Award (I-Team) - winner
* Best Specialized Reporting (second place)
* Best Investigative Reporting (second place)
* Best Feature Reporting (second place)
2019 National Academy Of Television Arts and Sciences - EMMA Awards
* On-Camera Talent-Anchor-News - winner
* On-Camera Talent-Reporter Investigative - winner
* Investigative Report - winner
2019 National Academy Of Television Arts and Sciences - EMMY Awards
* On-Camera Talent-Anchor-News - nominee
* On-Camera Talent-Reporter Investigative - nominee
2018 Georgia Associated Press Awards:
* Best Reporter and/or Anchor
* Best Documentary/News Special Programming
* Freedom of Information Award
* Best Specialized Reporting (Honorable mention)
2018 National Academy Of Television Arts and Sciences - EMMA Awards
*Best Anchor-news: honorable mention
* Investigative report - honorable mention
* Writer: honorable mention​
2017 National Academy Of Television Arts and Sciences - EMMA Awards
* Best Anchor-news: winner
* Investigative report - honoree
2017 Georgia Association of Broadcasters Gabby Awards:
* Best On-Air Personality
2017 Georgia Associated Press Awards:
* Best Reporter and/or anchor
* Best Series Reporting
* Best Use of Sound - 2nd place​
2016 Emmys:
* Journalistic Enterprise: National Academy Of Television Arts and Sciences: Southeastern Nomination
* Investigative report: EMMA award winner (plus also received an honorable mention in the same category for another entry)
* Sports reporting: EMMA award winner
* On-Camera Talent- Reporter: EMMA award winner
* Promotion: EMMA honorable mention
2016 Georgia Associated Press Awards:
* Best Investigative Reporting
2015 Emmys
* Best On-camera talent: anchor: National Academy Of Television Arts and Sciences: Southeastern Nomination
* Best Documentary-Topical: National Academy Of Television Arts and Sciences: Southeastern Nomination
2015 Georgia Associated Press Awards:
* Best Sports Feature Reporting - swept the category by receiving both the award and honorable mention
* Best Documentary or News Special Programming (Honorable Mention)
* Best Investigative Reporting (Honorable mention)
2014 Emmys
*Best On-camera talent: anchor: National Academy Of Television Arts and Sciences: Southeastern Nomination
2014 Georgia Association of Broadcasters Gabby Awards:
*Best Sports Reporter Merit Award
2014 Georgia Associated Press Awards:
*Best Investigative Story (Honorable Mention)
2013 Emmys
*Best Public/Current/Community Affairs Programming - National Academy Of Television Arts and Sciences: Southeastern Nomination
2013 Edward R. Murrow Awards
* Best Writing - Regional Winner (5 states)
2013 Georgia Association of Broadcasters Gabby Awards:
* Best TV Personality
* Best Investigative Reporting
* Best Locally Produced Program
2013 Georgia Associated Press Awards:
*Best Series Reporting
* Best Reporter/Anchor (Honorable mention)
2012 Georgia Association of Broadcasters GABBY Awards
* Best TV On-Air Personality Merit Award
2012 Georgia Associated Press Broadcast Awards
* Best Specialized Reporting
2011 Edward R. Murrow Awards
*Best Video News Documentary - Regional Winner (5 states)
* Best Video News Documentary - National Winner
2011 Georgia Association of Broadcasters GABBY Merit Awards
* Best Feature Story/Series/Documentary
* Best On-Air Personality: Anchor/reporter Meredith Anderson
2011 Emmys
* Best Topical News Documentary - National Academy Of Television Arts and Sciences: Southeastern Nomination
2011 Georgia Associated Press Broadcast Awards
* Best Investigative Reporting
* Best Documentary/News Special Programming
2010 Georgia Associated Press Broadcast Awards
* Best Investigative Reporting
2009 Georgia Association of Broadcasters GABBY Merit Awards
* Best On-Air Personality: Anchor/reporter Meredith Anderson
2009 Georgia Associated Press Broadcast Awards
* Best Series Reporting
* Best Spot News
2008 Georgia Association of Broadcasters GABBY Award
* Best On-Air Personality: Anchor/reporter Meredith Anderson