Weekend Anchor
WRDW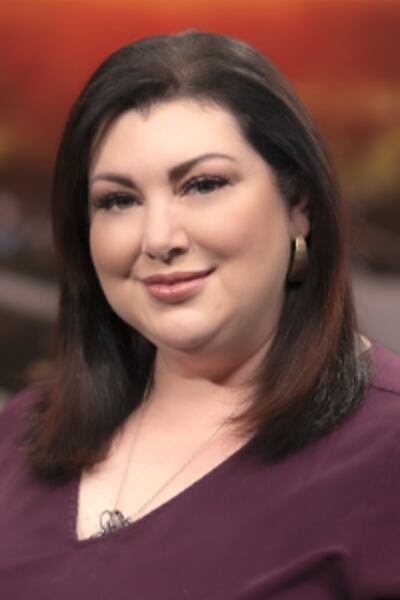 Ashley Campbell is Weekend Anchor and Producer at NEWS 12/ NBC 26.
She started as Producer full-time in August of 2022.
Ashley is no stranger to Augusta. She was born and raised in the Columbia County town of Appling. She graduated from Greenbrier High School in 1999 and went on to get her BA in Mass Communications with a Minor in Theatre at Augusta University.
Her job as a reporter started in fourth grade for a book project. She got creative and became a journalist for WCAT Action News, interviewing the witnesses of the cat that saved the day (hence the call letters). She made a microphone out of construction paper and aluminum foil and got to work, recording the story, which she still has on VHS tape.
In 2007, Ashley landed a job at NBC Augusta as an Associate Producer. On the fast track, Ashley was soon hired as a reporter and Weekend Anchor. During that time, she launched a popular known segment, "Restaurant Report Card", showcasing new restaurants while also dishing out the high and low health scores of local eateries throughout Georgia Carolina.
After almost ten years at Augusta's NBC affiliate, Ashley was hired as Weekend Anchor/Reporter for WJBF NewsChannel 6 where she won first place for "Best Series Reporting" by the Georgia Associated Press. It was the first and only time she has ever entered her work as a journalist for an award and ended up winning first place. Other awards include the 2016 GSNA Media Award from the Georgia School Nutrition Association, Augusta's Best Weekend Anchor in 2014, 2015 and 2016 along with Augusta's Best Reporter in 2016, as voted by the community.
Several of the stories Ashley has covered have been made into short films or documentaries. Ashley has been featured on, "Dateline NBC", the Oxygen Channel's "Snapped," a crime documentary on the I.D. Channel, and a Canadian crime docuseries.
Ashley has had the honor of walking the hallowed grounds of the Augusta National Golf Club for several years, covering The Masters Golf Tournament and interviewing one of her favorite golfers, Phil Mickelson.
In 2018, Ashley decided to take a break from the news business to focus on her family, particularly her daughter, McKenna, who has autism.
Now, Ashley is excited to be back on the anchor desk, weekends from 6-8 a.m. and producing News 12 First at Four, bringing you the news that matters to the community she calls home.
Ashley is a graduate of the Leadership Columbia County Class of 2022, is on the Columbia County Emergency Planning Committee, was on the Board of Directors for SafeHomes Domestic Violence from 2016-2018, was a member of Martinez Rotary Club from 2018-2022 during which she served as Public Relations Coordinator and President-Elect.
If you have a story idea, please send it Ashley's way at ashley.campbell@wrdw.com.