S.C. officials leap into action to halt invasive yellow-legged hornets
Published: Nov. 21, 2023 at 11:58 AM EST
|
Updated: Nov. 24, 2023 at 3:01 PM EST
CLEMSON, S.C. (WRDW/WAGT) - Like their counterparts in Georgia, officials in South Carolina are doing what they can to halt the spread of the invasive yellow-legged hornet.
For the first time, an invasive yellow-legged hornet has been found in South Carolina, officials said this week.
The first U.S. nest was discovered in August in the Savannah area, followed by three more in the same area in following weeks – sparking an all-out effort across the Peach State to eradicate them.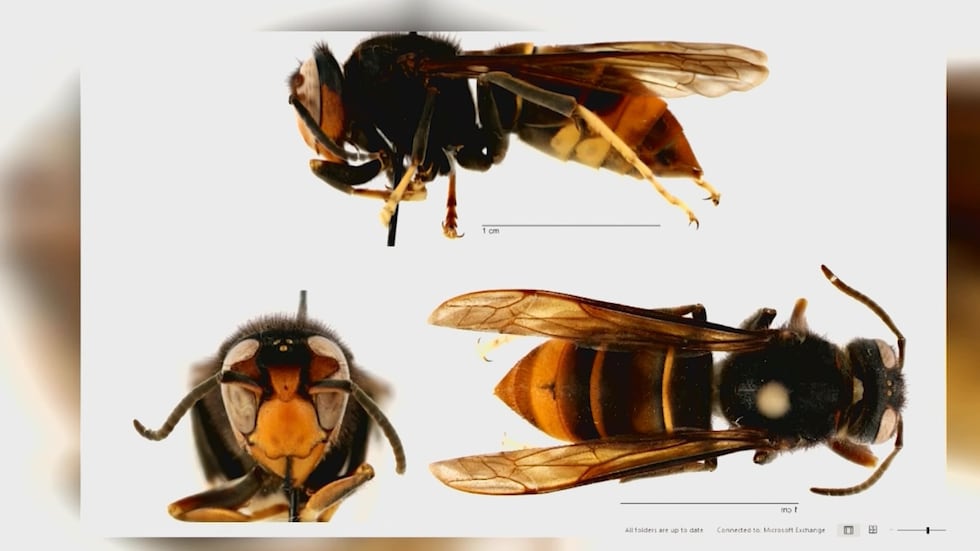 The South Carolina hornet was captured Nov. 9 in Jasper County, and the finding was confirmed by the U.S. Department of Agriculture's Animal and Plant Health Inspection Service on Nov. 16.
The hornets, which feed on bees and are seen as a threat to agricultural pollination and honey production, are thought to have hitched a ride on a ship into the Savannah area.
The hornets are not a direct threat to humans, but they are a threat to the agriculture industry since the invasive species eats pollinators like honeybees.
ABOUT THE HORNETS:
The yellow-legged hornet is native to Southeast Asia and has established itself in most of Europe and areas of the Middle East and Asia. The hornet builds egg-shaped paper nests above ground and often in trees. The nest can be large and house an average of 6,000 workers.
Clemson's Department of Plant Industry is planning to increase the number of traps in the Lowcountry during the winter, which is when the hornets are less active.
"Until this detection, we were optimistic that Georgia had caught it really early, and that there were no nests on our side," said Clemson's Steven Long. "Now there's the real possibility of a nest on our side of the border"
One yellow-legged hornet is capable of killing an entire colony of honey bees.
Anyone who suspects they have spotted a yellow-legged hornet should report it at www.clemson.edu/public/regulatory/plant-industry/invasive/ylh.html.
"It is so important that South Carolina citizens remain vigilant and report sightings," Long said.
In Georgia, officials are discovering the hornets through reports from beekeepers.
From there, teams track individual hornets with a radio backpack.
A lone hornet can lead a team to a hive of thousands.
"Now it's up to the beekeepers of Georgia," researcher Lewis Bartlett said. "They are the No. 1 weapon for next year."
Copyright 2023 WRDW/WAGT. All rights reserved.