Daily forecast | From First Alert Meteorologist Mikel Hannah-Harding
Rain returns Tuesday - Wednesday. Cooler than average highs into Thanksgiving with a drier outlook.
Published: Nov. 20, 2023 at 5:24 PM EST
|
Updated: Nov. 20, 2023 at 11:20 PM EST
AUGUSTA, Ga. (WRDW/WAGT) - Cloud cover will continue to build this evening ahead of our next rainmaker. An isolated shower cannot be ruled out before midnight. Lows tonight will be in the 50s.
The heaviest and most widespread rain arrives Tuesday morning into Tuesday afternoon lasting through early Wednesday. There is a low-level marginal risk for severe weather Tuesday afternoon and evening with the highest threats being damaging winds and a small threat for an isolated, brief tornado.
It is important to note that severe chances are HIGHLY dependent on how much the atmosphere can destabilize. If we see a decent amount of cloud cover and rainfall for the first half of Tuesday, that would limit the severe threat later into the day. Also, if the front is slow moving and doesn't show up until Tuesday evening/night, that would also limit our severe threat.
Rain totals look to fall between 0.75″ and 1.50″. Winds will also be breezy out of the south between 10-15 MPH with gusts over 20 MPH possible.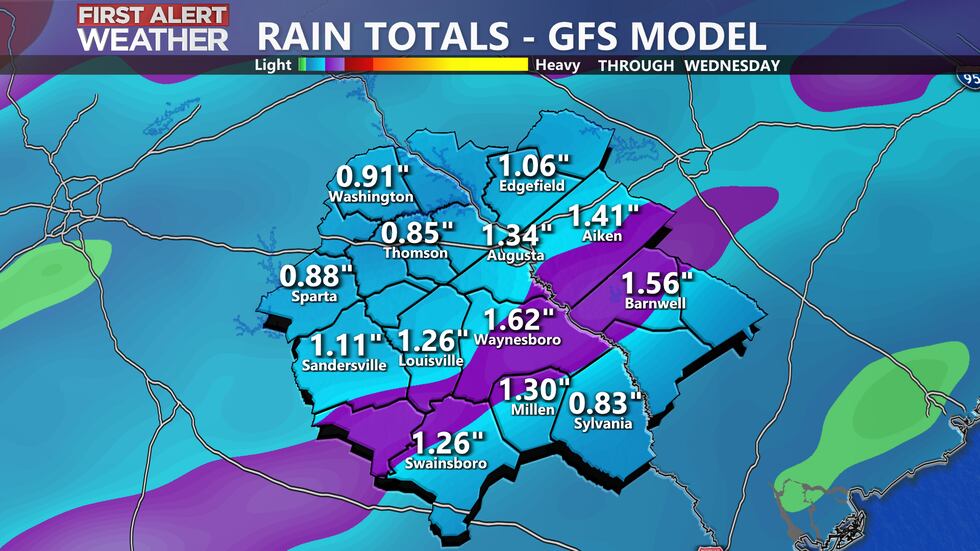 Dry skies return just in time for Thanksgiving Thursday. Expect a chilly start in the upper 30s and low 40s with partly cloudy skies for Thanksgiving Day. High temperatures will be on the cool side right around 60 degrees.
For Black Friday, expect a chilly start with morning temperatures in the upper 30s, an isolated shower is possible throughout the day Friday. Keep it here for updates throughout the week!
Copyright 2023 WRDW/WAGT. All rights reserved.