Flu is soaring in Georgia and South Carolina, latest stats show
Published: Nov. 17, 2023 at 5:56 PM EST
AUGUSTA, Ga. - The U.S. flu season is underway, and Georgia and South Carolina are close to the top of the list for activity.
The Centers for Disease Control and Prevention posted new flu data on Friday, showing "very high" activity last week in Louisiana.
The agency found "high" activity in Alabama, Florida, Georgia, Mississippi, New Mexico, South Carolina and the District of Columbia. It was also high in Puerto Rico, where health officials declared an epidemic earlier this month.
MORE FROM NEWS 12:
"We're off to the races," said Dr. William Schaffner, a Vanderbilt University infectious diseases expert.
Traditionally, the winter flu season ramps up in December or January. But it took off in October last year, and is making a November entrance this year.
Flu activity was moderate but rising in New York City, Arkansas, California, Maryland, New Jersey, North Carolina, Tennessee and Texas. And while flu activity has been high in Alaska for weeks, the state did not report data last week, so it wasn't part of the latest count.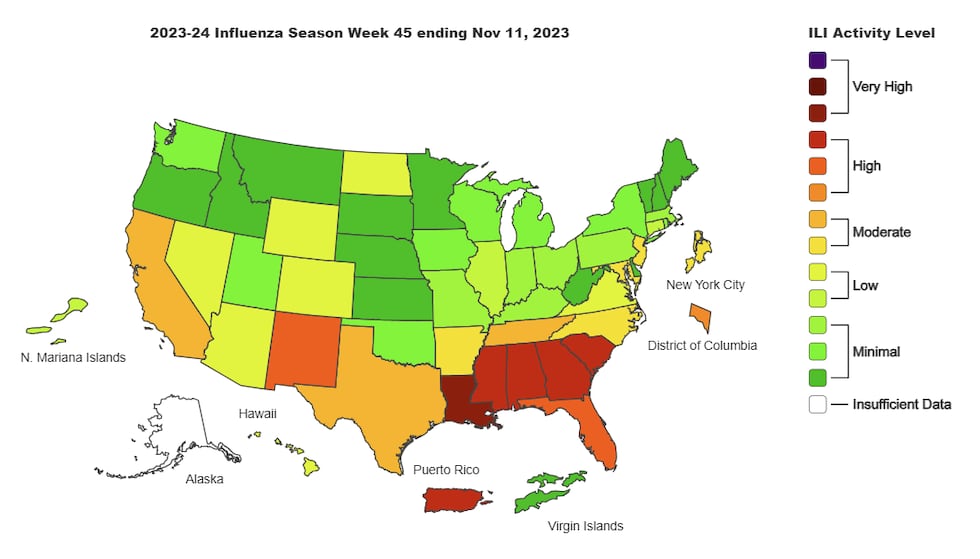 The situation has caught the attention of the Georgia Department of Public Health, which points out the holiday gatherings, crowded travel, and more time indoors make it easier for germs to spread.
Vaccination is the most important step you can take to protect yourself and your loved ones, the agency said.
To hinder the spread of germs, cover your coughs, sneeze into your elbow, throw away used tissues, wash your hands frequently with soap and water and stay home if you're sick, health experts said.
Alicia Budd, who leads the CDC's flu surveillance team, said several indicators are showing "continued increases" in flu.
There are different kinds of flu viruses, and the version that's been spreading the most so far this year usually leads to a lesser amount of hospitalizations and deaths in the elderly — the group on whom flu tends to take the largest toll.
So far this fall, the CDC estimates at least 780,000 flu illnesses, at least 8,000 hospitalizations and at least 490 flu-related deaths — including at least one child.
Budd said it's not yet clear exactly how effective the current flu vaccines are, but the shots are well-matched to the flu strains that are showing up. In the U.S., about 35% of U.S. adults and 33% of children have been vaccinated against flu, current CDC data indicates. That's down compared to last year in both categories.
Flu vaccination rates are better than rates for the other two main respiratory viruses — COVID-19 and RSV. About 14% of adults and 5% of children have gotten the currently recommended COVID-19 shot, and about 13.5% of adults 60 and older have gotten one of the RSV shots that became available earlier this year.
Copyright 2023 WRDW/WAGT. All rights reserved.