2 accused of helping escapee who was caught in Augusta
Published: Nov. 15, 2023 at 9:17 AM EST
|
Updated: Nov. 15, 2023 at 9:26 AM EST
MACON, Ga. (WRDW/WAGT) - The Bibb County Sheriff's Office has arrested two suspects for aiding the inmate who was captured in Augusta after escaping last month, according to authorities.
On Tuesday, the Bibb County Sheriff's Office Gang Unit, Special Response Team, and the FBI arrested Jacorshia Smith, 30, and Janecia Green, 30, at 6 a.m. on the 1700 block of Campbell Avenue.
Smith and Green were arrested for helping one of the four inmates who escaped from Bibb County Detention Center back on Oct. 16, according to authorities.
The escapee, 37-year-old Johnifer Dernard Barnwell, is back in Bibb County after being captured over the weekend in a raid that shook an Augusta neighborhood and shocked neighbors.
Smith was transported to the Bibb County Law Enforcement Center and charged (state) aiding and abetting. Charges for additional federal charges are forthcoming. She is currently being held without bond.
Green was transported to the Butts County jail and charged (state and federally) with aiding and abetting. She is currently being held without bond.
Three out of 4 escapees have now been caught.
On Oct. 26, Chavis Demaryo Stokes, 29, was arrested at a home in Montezuma, about 50 miles from the jail.
Marc Kerry Anderson was found at the Huntley Apartments located at 1000 Park Drive in Atlanta just before 3 p.m. Nov. 3.
One inmate still remains at-large: 52-year-old Joey Fournier, who is accused of murder.
Anyone with information on the possible location of 52-year-old Joey Fournier should call the FBI's tip line at 1-800-CALL-FBI (1-800-225-5324), the USMS at 1-877-WANTED2. Tips may also be submitted online at tips.fbi.gov or the USMS Tips App.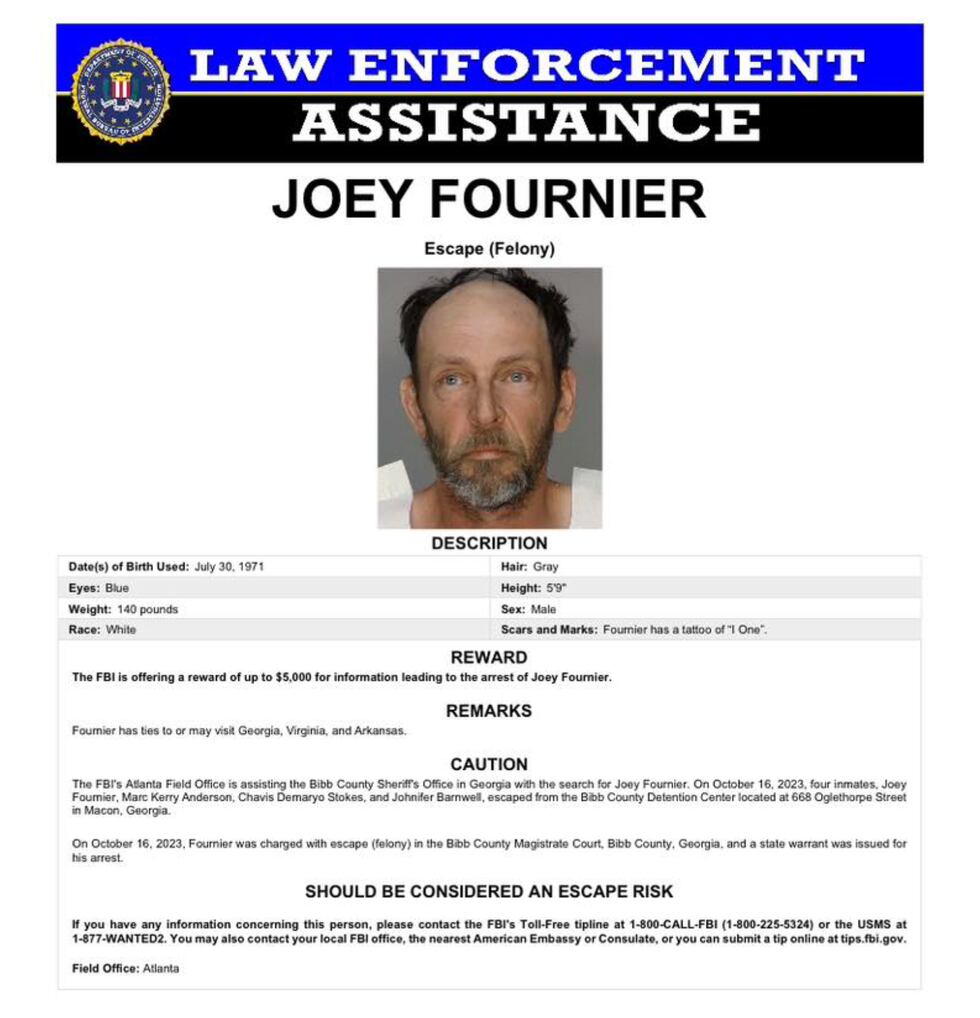 Copyright 2023 WRDW/WAGT. All rights reserved.