S.C. man convicted of felony in Jan. 6, 2021, Capitol riot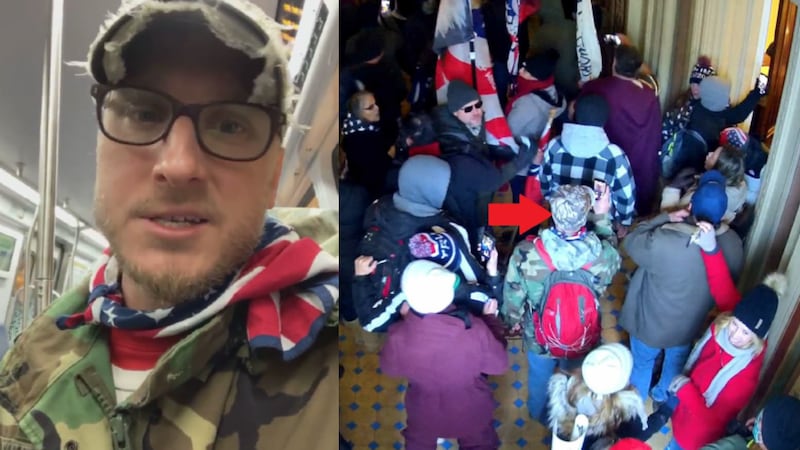 Published: Nov. 14, 2023 at 11:21 AM EST
ANDERSON, S.C. (FOX Carolina) - An Upstate man was convicted of charges after his conduct during the breach at the U.S. Capitol to disrupt vote counting on Jan. 6, 2021.
A federal jury on Monday found 43-year-old Derek Cooper Gunby from Anderson guilty of obstruction of an official proceeding, entering and remaining in a restricted building or grounds, disorderly and disruptive conduct in a restricted building or grounds, disorderly conduct in a Capitol building, and parading, demonstrating, or picketing in a Capitol building.
Gunby drove from Anderson to Washington, D.C., to attend the "Stop the Steal" rally. He posted pictures of himself in military fatigues and an American flag bandana around his neck on social media with the caption, "Up at Zero Dark Thirty to stop this steal."
After the rally at the Ellipse park near the White House, Gunby went to the Capitol and entered restricted grounds around 2:15 p.m. He started recording on his phone, narrating the scene. Below are excerpts:
"I think that the building's been breached. . . . We're trying to head up and get in there. The scaffolding up there is just crawling with people and these steps, they've already made it up all the way up the stairs. And tear gas has been deployed over here."
...
"We're on the Capitol steps… and we are trying to storm the Capitol building. We're taking the country back. You don't get to do this to my country and not suffer consequences."
...
"We've got some breaches in the Capitol building… in which I'm about to go, because enough is enough… We're depending on Mike Pence to do the right thing in certifying this vote? No."
...
"Push forward! Push forward!"
Gunby pushed his way into the Capitol building through the Senate Parliamentarian Door with a group of rioters, but was pushed back out by officers around 3 p.m.
After being expelled from the building, Gunby stayed on the grounds of the Capitol for more than two hours.
He moved to the Upper West Terrance where he chanted "Police stand down!" while officers clashed with rioters and recorded confrontations.
Gunby was arrested in August 2021 and is among more than 1,200 people who have been charged with crimes related to the Capitol breach.
He has not yet been sentenced.
Copyright 2023 WRDW/WAGT. All rights reserved.