Who is Johnifer Barnwell, the escapee captured in Augusta?
Published: Nov. 13, 2023 at 3:45 PM EST
AUGUSTA, Ga. (WRDW/WAGT) - An escapee is back in Bibb County after being captured over the weekend in a raid that shook an Augusta neighborhood and shocked neighbors.
Just after 8 a.m. Sunday at a home in the 3000 block of Alpine Road in Augusta, authorities captured 37-year-old Johnifer Dernard Barnwell in a raid that shocked many of the neighbors.
Our cameras were the only ones rolling while deputies searched for evidence.
Large amounts of drugs were also found inside the house, according to authorities.
By Monday morning, he'd been transferred back to Bibb County.
His capture was the third out of four inmates who escaped from the Bibb County Detention Center on Oct. 16.
The four inmates originally escaped from the Bibb County Detention Center on Oct. 16. Officials said the men climbed through a damaged window and fence before driving away in a blue Dodge Challenger.
Bibb County is roughly a 100 mile drive to Augusta. Its unclear what or if Barnwell had ties to the area.
According to CBS affiliate WMAZ in Macon, Barnwell had three convictions prior to the most recent one that landed him in the Bibb County jail:
In January 2005, he was convicted of purchase, possession, manufacture, distribution or sale of marijuana, a misdemeanor.

In November 2009, an Ohio court found him guilty of possession of crack cocaine and he served 15 months in jail.

In March 2015, he was convicted in Bibb County of aggravated assault and violation of Georgia street gang laws and sentenced to six years in jail and nine years of probation.
His most recent conviction came Oct. 2 in federal court, where he was found guilty of six counts related to drug trafficking involving a conspiracy to possess with intent to distribute drugs like fentanyl, heroin and methamphetamine.
Two of his fellow escapees had already been caught:
One inmate still remains at-large: 52-year-old Joey Fournier, who is accused of murder.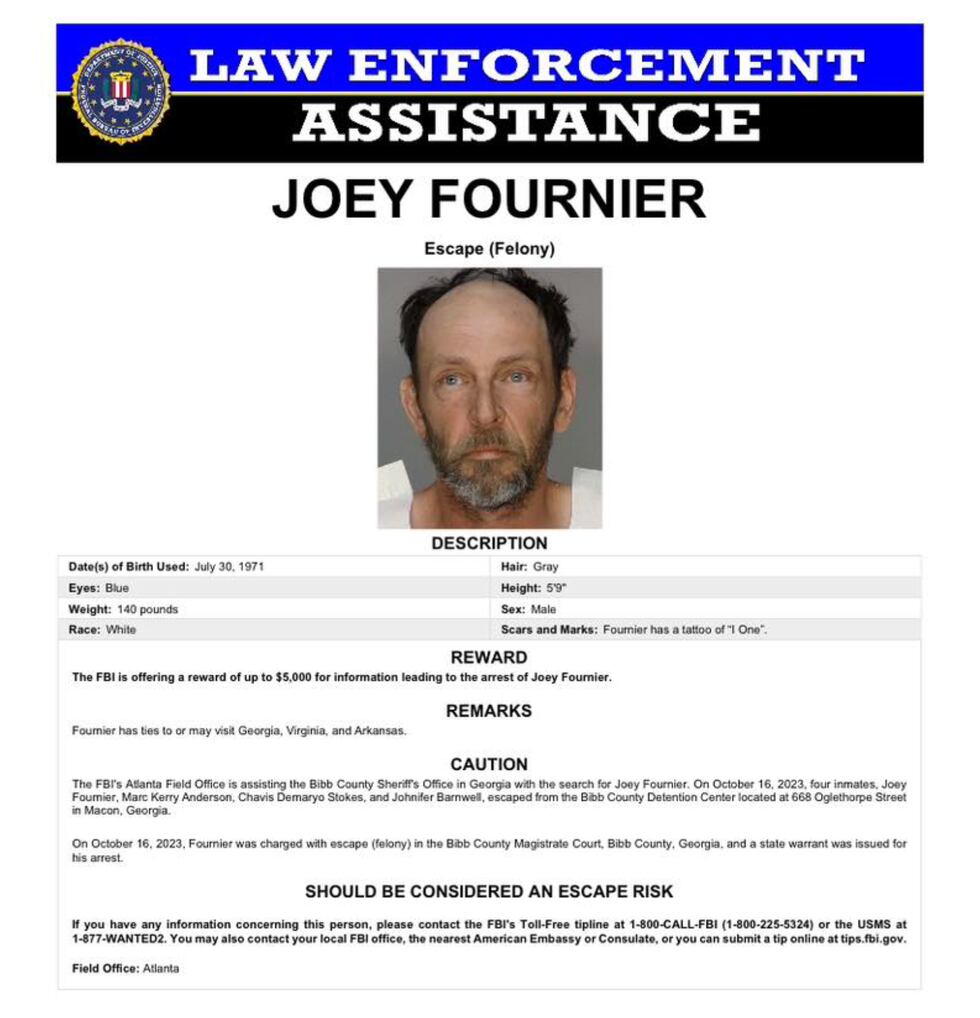 Copyright 2023 WRDW/WAGT. All rights reserved.