Falcons unable to answer lingering quarterback questions in loss to Cardinals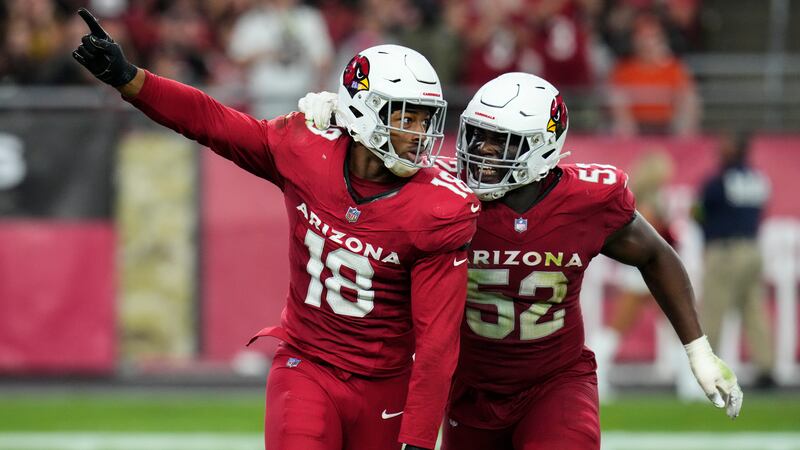 Published: Nov. 12, 2023 at 11:50 PM EST
(AP) -The Atlanta Falcons are still searching for answers at quarterback — and time is running out.
Taylor Heinicke was mostly ineffective before leaving with a hamstring injury and Atlanta's offense sputtered in a 25-23 loss to the Arizona Cardinals on Sunday that ended with Matt Prater's 23-yard field goal as time expired.
"The way these games are, most of them come down to one possession, and it's those small, little things that make a big difference," Falcons coach Arthur Smith said. "Unfortunately, it's been a few plays here and there. We have to close it out."
Smith said this week he wanted to firm up the quarterback position so there wasn't any uncertainty the rest of the season.
Heinicke's middling performance and injury, coupled with Desmond Ridder leading the Falcons (4-6) on a late scoring drive, will keep the quarterback quandary in place, at least in the near future.
Atlanta needs something to click. Once leading the NFC South, the Falcons have lost three of four by a combined 11 points, putting their hopes for a first playoff appearance since 2017 in jeopardy.
"All three phases, there's just little things here and there that we take those away or be better on one play here and there, it's a completely different outcome for a lot of those games," Ridder said.
Heinicke got his first start for Atlanta last week amid Ridder's struggles, throwing for 268 yards and a touchdown with an interception in a loss to Minnesota.
Atlanta's early game plan against Arizona featured a heavy dose of running — namely rookie Bijan Robinson — so Heinicke had limited chances to throw the ball downfield.
Heinicke threw a 2-yard touchdown pass to Jonnu Smith and Robinson scored on a 5-yard run to put the Falcons up 14-12 at halftime. The Cardinals adjusted to Atlanta's run-first scheme after halftime, and the Falcons had no answer, finishing the third quarter with minus-2 yards.
Heinicke injured his hamstring in the fourth quarter after trying to scramble for extra yards, finishing 8-of-15 passing for 53 yards.
"We felt really confident in the way we were running the ball and we did early," Smith said. "They made some adjustments and we got off track, so it's not on him."
Ridder gave the Falcons a lift after Heinicke went down.
The starter the first seven weeks of the season before struggling with turnovers, Ridder hit 4 of 6 passes for 39 yards and capped the drive with a go-ahead 9-yard TD run.
Kyler Murray answered, leading the Cardinals down the field to set up Prater's winning back.
"Des came in and does a really nice job and gave us a chance," Smith said. "Unfortunately, we came up short."
Atlanta has a bye week to sort out some of its issues before facing New Orleans in a critical NFC South game.
Figuring out the quarterback situation will be a top priority.
Copyright 2023 The Associated Press. All rights reserved.