SRS contractor gives $5,000 donation to Golden Harvest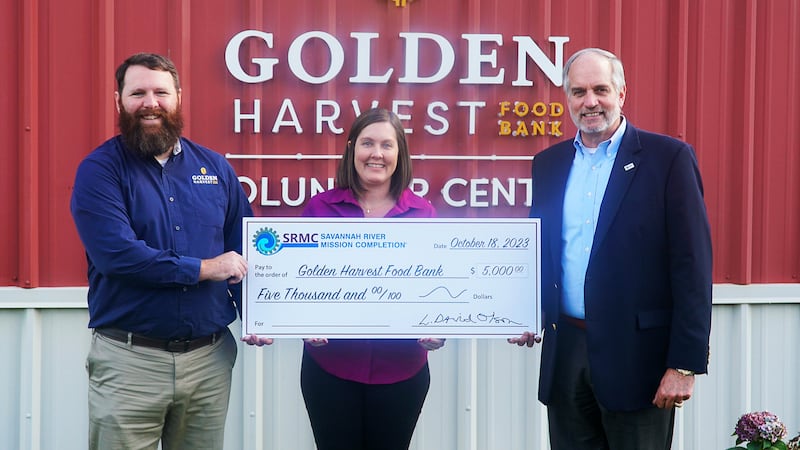 Published: Nov. 7, 2023 at 2:17 PM EST
AIKEN, S.C. (WRDW/WAGT) - Savannah River Mission Completion has provided a $5,000 donation to Golden Harvest Food Bank for local families in need of food.
The donation will help Golden Harvest serve communities in South Carolina and Georgia by sourcing healthy food and distributing it to those in need.
There are 350 partner agencies and programs under its umbrella, and the food bank has 17,300 volunteer hours each year.
According to the U.S. Department of Agriculture's annual report, household food security in the United States in 2022, 12.8% of households – equivalent to 17 million households – experienced hunger in 2022, up from 10.2% or 13.5 million households in 2021. In addition, food insecurity affected 3.3 million households with children, up from 2.3 million in 2021.
SRMC Chief Administrative Officer Mark Barth made the check presentation to Golden Harvest.
"Savannah River Mission Completion is honored to support numerous non-profit organizations that are making meaningful impacts in the region, such as Golden Harvest," Barth said. "It is sobering to know that so many Americans go hungry every day, even the neighbors in our communities. SRMC is thankful for everything that Golden Harvest is doing to help our neighbors in need."
Golden Harvest Food Bank Major Gifts Officer Melissa Osborne was thankful for the donation.
"In our area, one in nine people struggle with hunger, and many are one job loss or medical crisis away from food insecurity," Osborne said. "We are so grateful for SRMC's partnership to help us feed families who are struggling in the community."
SRMC is the liquid waste contractor at the Savannah River Site.
Also in the news ...
Savannah River Mission Completion has provided $5,000 and temporary office space to the Savannah River Site Retiree Association to help the organization meet the needs of many post-career retirees. The monetary donation offsets some of the SRSRA Resource Center's operating costs.
Copyright 2023 WRDW/WAGT. All rights reserved.