Georgia education chief calls for a $3,000 raise for teachers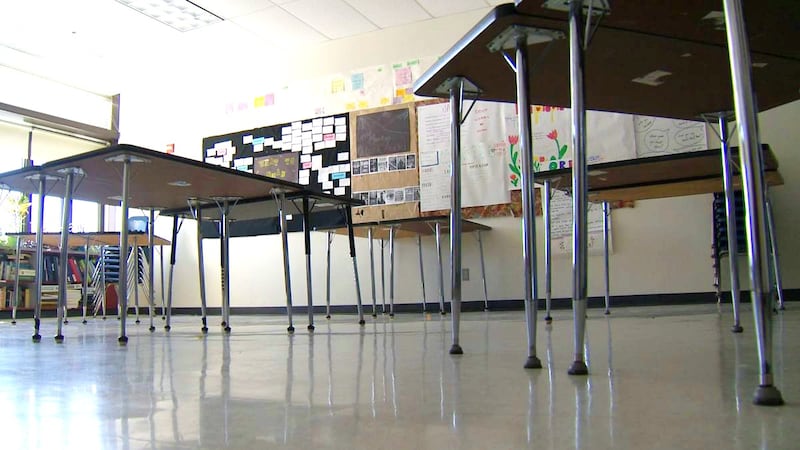 Published: Nov. 3, 2023 at 9:13 AM EDT
ATLANTA (AP) — Georgia state School Superintendent Richard Woods is calling on Gov. Brian Kemp and lawmakers to give teachers a $3,000 raise next year.
Woods, a Republican elected statewide, made the proposal Thursday in an opinion column that he co-authored with 2024 Georgia Teacher of the Year Christy Todd, a music technology teacher at Rising Starr Middle School in suburban Atlanta's Fayette County.
"The most important thing we can do to improve the quality of K-12 education in our state is to recruit our best and brightest to become teachers – and make it viable for them to stay," the pair wrote.
Garrison Douglas, a spokesperson for Kemp, declined comment, noting the governor would release his next budget proposal in January.
MORE FROM NEWS 12:
Woods also called for lawmakers to rewrite the state's school funding formula to provide more money for pupil transportation and to give districts extra money for students in poverty. Education advocates have long complained that the amount that the state pays for buses and fuel falls far short of costs. Democrats, in particular, have said Georgia should recognize that students in poverty have extra needs that cost more. Georgia's formula does seek to give more state aid to districts that have low property wealth.
The state Department of Education couldn't provide an immediate estimate of how much a pay raise would cost, but based on past pay raises, it could be between $400 million and $500 million. A report from the Governor's Office of Student Achievement says Georgia schools employed almost 150,000 people with teaching, administrative or support personnel certificates in the 2021-2022 school year.
One factor in favor of teacher pay raises is that 2024 is an election year for all 180 state House members and 56 state senators. Those important players in the state budget process may want to deliver for a key interest group to win their votes. Kemp and Woods do not face reelection next year.
Although state tax collections have cooled in recent months, Georgia could probably afford such a raise. Georgia plans to spend $32.5 billion in state revenue — or $55.9 billion overall once federal and other revenue is included — in the budget year that began July 1. But the state actually collected $37.7 billion last year, meaning revenue must fall by more than 15% for the state to run a deficit.
One real question is what other plans Kemp has for the money. He's currently suspended state gasoline and diesel taxes, which subtracts about $180 million a month from projected revenue. Woods and Todd also called for Kemp to maintain rebates that are cutting local property tax bills by about $500 for taxpayers with homestead exemptions, a move that's costing the state about $950 million.
Kemp may also want to extend his program of income tax refunds of $250 to $500 per taxpayer, which costs $1 billion a year.
Kemp has pushed through a total of $7,000 in teacher pay raises since he was first elected in 2018. He ran that year on a pledge to deliver a $5,000 raise, which he did in two steps. Then after winning reelection, he delivered another $2,000. State and university employees have gotten equivalent amounts.
On average, teachers earn more in Georgia than in any other southeastern state — an average of $62,240 in the 2021-22 school year, according to data from the National Education Association teachers union. That ranked 22nd nationwide, behind the $91,097 average that teachers make in New York state.
Georgia's statewide salary schedule went up by $2,000 in July and some local districts have paid additional raises or bonuses.
Georgia fares more poorly on starting salary, with first-year teachers making an average of $38,926 in the 2021-22 school year. That was 41st nationwide according to NEA, behind every neighboring state.
Woods said Georgia should work on raising base pay, as well as ensure teachers with long careers keep getting annual raises. Annual raises on the state's salary ladder, separate from statewide pay increases, stop for teachers after 21 years of experience.
Copyright 2023 WRDW/WAGT. All rights reserved.