I-TEAM UPDATE: Ossoff launches inquiry into long wait times for VA appeals
Published: Oct. 11, 2023 at 6:00 AM EDT
|
Updated: Oct. 11, 2023 at 11:15 AM EDT
WASHINGTON, D.C. (WRDW/WAGT) - Hundreds of thousands of those who fought for our country are fighting another battle: one for benefits.
New numbers show the Department of Veterans Affairs' backlog of claims has surpassed 300,000. This number represents claims that have been pending for more than 125 days, so we aren't talking about the ones that are brand new.
For years, the I-Team has been tracking problems with claims related to Agent Orange taking years to go through the system.
Some call it a "deny 'til they die" mentality. Some vets never live long enough to see their claim approved.
Now there could be new hope for those fighting some of the oldest claims. These are often the claims that end up on appeal- which a lot of these claims do.
New data the I-Team uncovered shows if the appeal needs a hearing, the average wait time is 847 days.
That's more than 2 years, and it has the attention of a U.S. Senator from Georgia. Sen. Jon Ossoff is pressing the U.S. Department of Veterans Affairs for answers on unacceptable wait times to access veterans' benefits.
Ossoff launched an inquiry Wednesday into excessive delays with the VA Board of Veterans Appeals, which decides whether veterans are entitled to the benefits and services they're seeking.
Ossoff, D-Ga., is demanding answers from the VA on what is causing lengthy delays for decisions and why there is a lack of communication with veterans on their pending benefits claims.
"Our veterans have earned efficient and effective service from their government," Ossoff wrote to VA Secretary Denis McDonough. "Waiting years to appeal for — let alone receive — benefits to which they may be entitled betrays the sacred compact we make with those who wear the uniform and undermines faith in our institutions."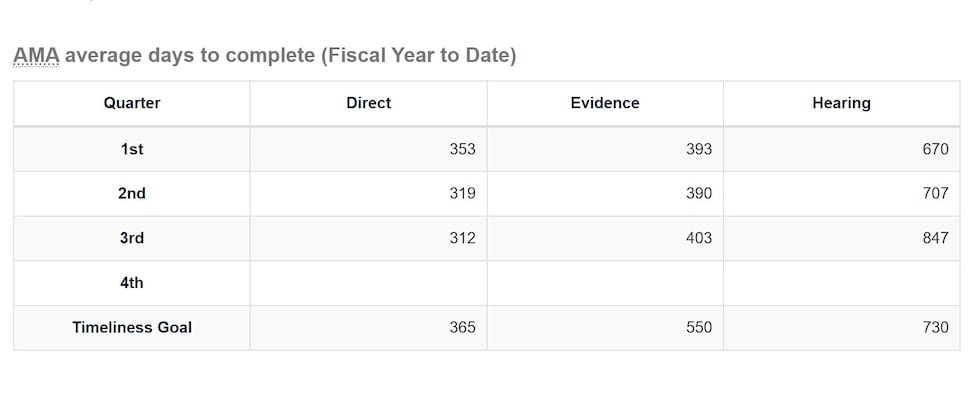 Just days ago, the VA released its quarterly report for 2023, and here are the current average wait times on appeals:
Direct Appeal (VA takes another look and no new info is provided) -- 312 days (Goal is 365)

Evidence Appeal (Veteran sends in more documentation) -- 403 days (Goal is 550 days)

Hearing Appeal (Court decision) -- 847 days (Goal is 730 days)
MORE FROM NEWS 12:
Ossoff has a record of making things happen with his investigations.
After at least a decade of problems like mold and leaks at privatized family housing at Fort Gordon, Ossoff launched an eight-month investigation demanding answers from contractor Balfour Beatty as well as the Army.
After getting reassurances of changes, an effort was launched to inspect all the privatized housing on post.
FORT GORDON HOUSING WOES:
The new investigation comes after Ossoff and Sen. Mike Braun, R-Ind., led a bipartisan coalition of 20 senators in a follow-up inquiry to the National Archives of the United States into the backlog of veterans' record requests, requesting updated information on the status of reducing the backlog of record requests.
Two weeks ago, Ossoff, Braun and Sen. Thom Tillis, R-N.C., introduced a bipartisan amendment to the Senate's Military Construction and Veterans Affairs appropriations bill that would help expand breast cancer screenings for veterans.
Over the summer, Ossoff and Joni Ernst, R-Iowa, passed their bipartisan Investing in VETS Act as part of this year's National Defense Authorization Act to help service-disabled veteran business owners compete for Federal government contracts, helping expand their business opportunities to new markets.
Click here to read Ossoff's inquiry.
Copyright 2023 WRDW/WAGT. All rights reserved.