Evans boy, 79 others make 2024 Drive, Chip and Putt National Finals
Published: Oct. 3, 2023 at 10:19 AM EDT
AUGUSTA, Ga. (WRDW/WAGT) - Eighty junior golfers representing 31 U.S. states, one Canadian province and Australia have earned an invitation to compete at Augusta National Golf Club in the 10th annual Drive, Chip and Putt National Finals.
Among them will be Kipp Madison of Evans, who traveled across Georgia and up to Tennessee for the regional qualifier at The Golf Club of Tennessee.
Next spring, he'll be riding just 15 minutes from his home to Augusta National for the 2024 National Finals.
MORE FROM NEWS 12:
With a total score of 160, he placed first overall in the Boys 12-13 division.
After his younger brother, Zane, competed in the 2022 National Finals, Kipp said, "I knew that soon enough it was going to be my time."
The finals will be April 7, 2024, prior to the start of the 88th Masters Tournament.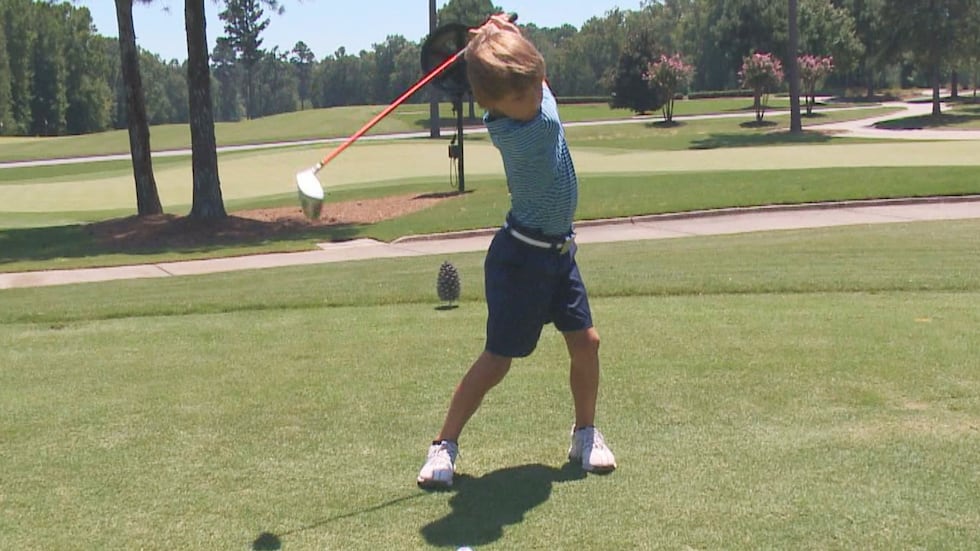 FULL LIST OF FINALISTS:
Conducted in partnership with the U.S. Golf Association, the Masters Tournament and the PGA of America, Drive, Chip and Putt is a free, nationwide youth golf development program open to boys and girls, ages 7-15, in four age divisions.
The three-prong competition tests the skills essential to playing the game – accuracy in driving, chipping and putting.
Results of the 10 regional qualifiers – the third and final stage leading to the 2024 National Finals at Augusta National Golf Club – yielded seven returning competitors, including three-time National Finalist Champa Visetsin and 2022 National Champion Hudson Knapp.
Returning finalists are:
Champa Visetsin (2021, 2022 National Finalist), of Sudbury, Mass.
Calista Han (2022 National Finalist), of Lewis Center, Ohio
Hudson Knapp (2022 National Finalist), of Marietta, Ga.
Anna Midyett (2023 National Finalist), of Bennington, Neb.
Emory Munoz (2023 National Finalist), of Lockport, Ill.
McKenna Nelson (2021 National Finalist), of Beaver Dam, Wisc.
Lily Wachter (2023 National Finalist), of St. Augustine, Fla.
Local qualifying for the 10th season of Drive, Chip and Putt began in May and was held at hundreds of sites across the country this past summer. The top three scorers per venue, in each of the four age categories in separate boys and girls divisions, advanced to subregional qualifiers in July and August. The top two juniors in each age/gender division then competed at the regional level in September and October. Regional qualifying was held at 10 courses around the country, including multiple U.S. Open and PGA Championship venues.
The top finishers from each regional site's age/gender divisions – a total of 80 finalists – earned a place in the National Finals at Augusta National Golf Club, which will be broadcast live on Golf Channel. All local, subregional and regional qualifiers were conducted by the 41 Sections of the PGA of America, with PGA of America Golf Professionals providing support at each facility hosting a qualifier.
Notes from regional qualifying:
All scoring at the local, subregional and regional qualifiers is based on a 25-point-per-shot basis, with each participant taking three shots per skill. Each participant accumulated points per shot in all three skills (maximum of 75 points per skill = 25 points per shot x 3). The overall winner in each age category was determined by the participant with the most points accumulated across all three skills (maximum of 225 points = 75 points per skill x 3).
For each skill, the point system is based in incremental distance measurements, rewarding accuracy and distance in the drive skill, and proximity for chipping and putting skills.
At the 10th annual National Finals, one champion will be named from each age/gender division. Each National Finalist will be scored based on a 30-point system, offering the player with the best drive 10 points, the player with the closest cumulative chips 10 points and the player with the nearest cumulative putts 10 points, in each separate skill. The highest total composite score will determine the winner.
For more information, please visit www.DriveChipandPutt.com and follow Drive, Chip and Putt on Facebook, X, Instagram, TikTok and YouTube.
Copyright 2023 WRDW/WAGT. All rights reserved.