Report: Victim ended up under car after vehicle crashed through Myrtle Beach post office
Published: Oct. 1, 2023 at 11:08 AM EDT
|
Updated: Oct. 2, 2023 at 6:29 PM EDT
MYRTLE BEACH, S.C. (WMBF) – An incident report is providing more information on what caused a car to crash through a Myrtle Beach post office.
The report states that car was pulling into a parking spot on Friday at the post office located along 67th Avenue North. But instead of stepping on the brake, the driver stepped on the accelerator, drove over the curb and into the building, according to the report.
The car crashed through the windows and hit people standing in line.
Jayne Workman provided the picture to WMBF News showing the whole car inside of the post office, along with damage to the building. Workman said luckily, she was checking her PO Box and not standing in line, so she was not hurt.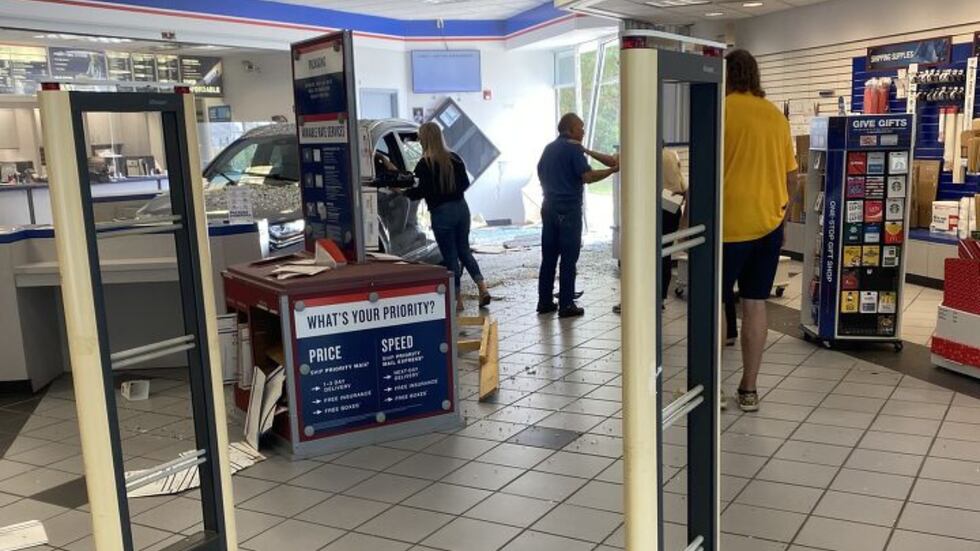 The incident report shows one victim ended up under the car and complained of pain in her right leg and her entire left side was in pain. She was taken to the hospital.
The report also reveals there was a second victim who suffered a cut on her left wrist and had pain in her right leg. But the second victim refused medical transport and said she would go to the doctor herself to get checked out.
Meanwhile, the post office opened back up on Monday following the crash.
The Myrtle Beach Fire Department said it made sure the building was structurally sound before people were allowed back inside.
The United States Postal Service said its management team is working to finalize the necessary repairs to the building.
The location will continue to operate while these repairs are being made.
"We apologize for any inconvenience this may cause and appreciate our customers' patience," a statement from USPS reads.
A completion date for the repairs has not been set.
The full statement from USPS can be viewed below:
The Postal Service appreciates its customers. The safety and well-being of both postal customers and employees is of the utmost importance. Regarding facility conditions at the Live Oak Post Office at 820 67th Avenue North, Myrtle Beach, SC, we can confirm that local management has secured the building. In addition, they continue to assess and make necessary repairs to certain parts of the structure damaged during a vehicle accident on September 29. At this time, we will continue to focus on finalizing repairs; however, a date for the completion of repairs has not been determined. We are continuing to operate our retail operations as normal, as it is deemed safe to do so. We apologize for any inconvenience this may cause and appreciate our customers' patience.
Copyright 2023 WMBF. All rights reserved.