Here are the details on fairs in Augusta, Aiken and elsewhere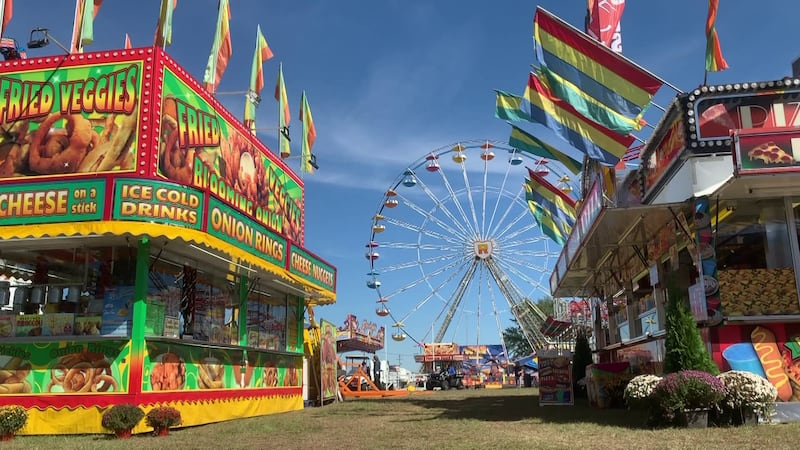 Published: Oct. 2, 2023 at 12:39 PM EDT
AUGUSTA, Ga. (WRDW/WAGT) - The Georgia-Carolina State Fair will be celebrating 100 years when it opens in a little under two weeks – and if you're craving a fair on the South Carolina side of the river, the Western Carolina State Fair will also open Oct. 13.
In Augusta
Since 1923, the Exchange Club of Augusta has put on the fair in Augusta, and this year's will take place from Oct. 13-22 at the fairgrounds, 308 Hale St.
Among the highlights:
Livestock shows featuring beef, swine, sheep, dairy and goats. Cash prizes are awarded in each category.

The 2023 Miss Georgia-Carolina State Fair will be crowned, with the top three contestants receiving cash prizes and the fair queen competing at the state level in Atlanta.

Carnival rides and midway games provided by Strates Shows, which is also celebrating its 100th year.

Unforgettable fair food.
Gates will open at 5 p.m. weekdays and noon Saturdays and Sundays. Admission is $10 and anyone 17 or under must be accompanied by an adult.
Funds raised by the Georgia-Carolina State Fair are donated to various charities in the CSRA which provide goods and services to the many needy people, most especially children, within our community.
In Aiken
Aiken's Western Carolina State Fair will also run from Oct. 13-22 at 561 May Royal Drive.
Tickets, including the discounted Mega Pass for unlimited rides, are on sale now at letsrideaiken.com or locally at The Aiken Standard, AllStar Tents and Events, Security Federal Aiken County branches and Osbon's Laundry & Cleaners on Pendleton Street.
Gates open at noon on Saturdays and Sundays, and 5 p.m. on weekdays.
Fair food days, featuring free gate admission and the fair's best food, are 11 a.m. to 2 p.m. Oct. 18-20.
Gate admission is $8 in advance or $10 at the gate, and children 10 and under are free.
The Mega Pass, including gate admission, is available for $30 online until Oct. 12.
Children 16 and under must be accompanied by an adult 25 or older.
For patron safety, only clear bags will be admitted.
This year's fair, which benefits local charities through the WCSF Foundation and is operated by Reithoffer Shows, features a demolition derby with the Budweiser Beer Garden at 7:30 p.m. Oct. 15, Oct. 18 and Oct. 19.
Shows and attractions include K9s in Flight with amazing dog acrobatics, Magic Man T.J. Hill, and Pretty Bird Paradise, an all-day attraction.
The Ken Treadway Bronc & Bull Riding event is scheduled for 7 p.m. Oct. 21 and 4 p.m. Oct. 22, featuring the Budweiser Beer Garden.
Special promotions include opening day free gate admission with the donation of 10 nonperishable food items per person or a donated item to Children's Hospital of Augusta. See the wish list on letsrideaiken.com.
On Oct. 16, the fair admits each car (legally seatbelted) for $70, including unlimited rides for up to eight.
On Oct. 17, a $15 unlimited ride band is available, admission not included.
On Oct. 22, admission is free with a church bulletin, and military, public safety and emergency professionals get in for half price.
Seniors (55 and older) with an ID also qualify for half-price.
An unlimited ride band is available on the last day for $25, admission not included (until 2 p.m.).
Other fairs coming up
The South Carolina State Fair returns to Columbia, S.C., from Oct.11-22, with 13 new foods and drinks and two traveling exhibits: "Princess Diana: Accredited Access Exhibition" and "Remembering Our Fallen."
The Columbia County Fall Fair will take place from Nov. 2-12 at 5462 Columbia Road in Grovetown. The fair will be marking 58 years with rides, competition, entertainment and more.
Copyright 2023 WRDW/WAGT. All rights reserved.