'Lovable, kind, genuine': Many mourn Strom Thurmond teacher
Published: Sep. 27, 2023 at 1:22 PM EDT
|
Updated: Sep. 28, 2023 at 6:21 PM EDT
JOHNSTON, S.C. (WRDW/WAGT) - Friends and colleagues are remembering a English teacher who unexpectedly passed away last week.
Jacqueline Ballard passed away on Sept. 20. She was in her third year of teaching at Strom Thurmond High School, where her teaching career began.
As her family, friends, and colleagues remember her, they're reflecting on the legacy she's leaving on everyone she knew.
"I would describe Jackie as lovable, kind, genuine, book guru, because she loved literature. And Jackie was just an amazing person," said her best friend, Dr. Denise Campbell-Gartrell.
It's what everyone's saying about Jacqueline who they affectionately called "Jackie."
Diahan Krahulek, colleague, said: "I don't think people realize how funny she was. It was a wicked sense of humor and just super intelligent. Very, very intelligent."
Those who knew her well, knew she was a lover of Mexican food.
Campbell-Gartrell said: "She loved going to La Fogata. She would get the Texas fajita."
She was a huge lover of literature, too, and even had a few wise words herself.
"I would always think of her being brilliant. She said to me a lot was that there are so many people in society that know so much, but they're too afraid to share with other people," said Campbell-Gartrell.
Now, a sign saying "forever in our hearts" sits right outside of her classroom, with sweet messages from her students and colleagues.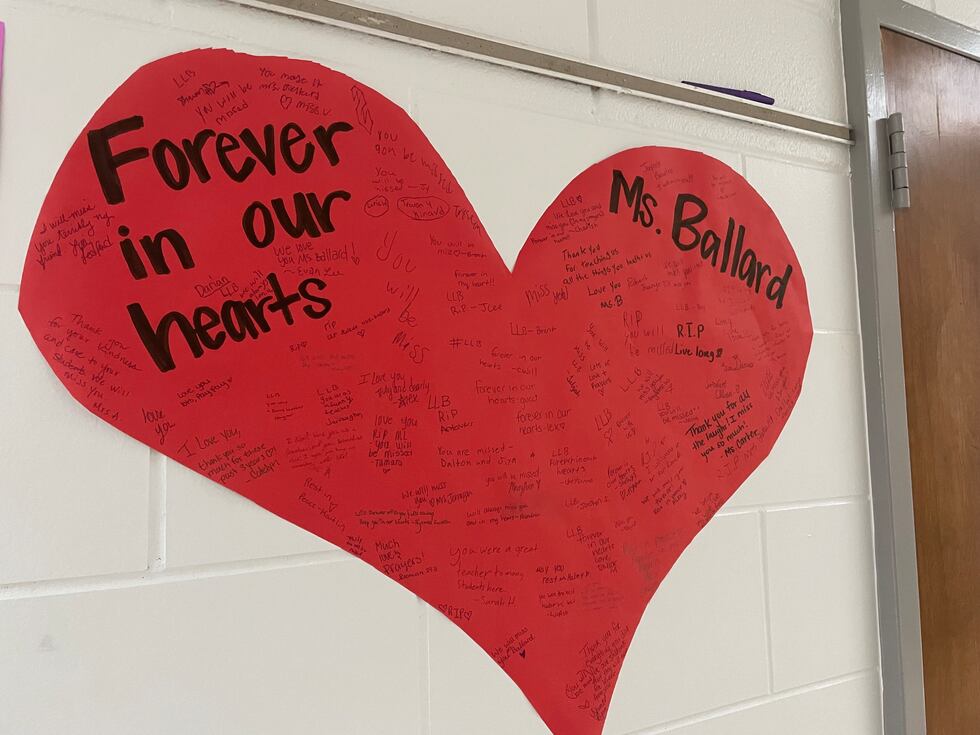 Through her selflessness, her intelligence, and her love, they're looking ahead to how they'll let her legacy live on in their hearts and in the hallways of Strom Thurmond.
Funeral services were held on Tuesday at 11 a.m. at the Evening Light Church of God in Graniteville.
The Edgefield County School District says Jacqueline Ballard will be remembered for many things, especially the kindness and compassion she shared with everyone.
Dr. Denise Campbell-Gartrell and Ballard became friends when they taught in Saluda County.
"She was like my little sister," said Campbell-Gartrell, English to Speakers of Other Languages Coach at Strom Thurmond High School. "We treated each other as sisters, and if there was something going on in her family, I knew about it, and if something was going on in my family, she knew about it as well. Her friendship was genuine and sincere. Her love for her friends was always evident by her actions."
Strom Thurmond High School Multilingual Learner Program Specialist Kendra Price says they connected intellectually and shared a special bond she will always treasure.
"Our connection as coworkers may have been small, but it was authentic, and it meant so much to me," said Price. "She was always thinking of others and doing everything she could to help them."
Ballard ran a small business, Jackball Creations. She created T-shirts, cups, key chains, coasters, and other items.
"Jackie was always learning, exploring and trying new things," said Campbell-Gartrell. "She wasn't afraid to share her knowledge with others. Jackie once said that's the problem with society today, so many people know so many things that could benefit others, but they are too afraid to share it. Jackie wasn't that way. She wasn't jealous or envious of others. She wanted to see others achieve greatness."
Copyright 2023 WRDW/WAGT. All rights reserved.