I-TEAM: What personnel files tell us about fired deputies
Published: Sep. 28, 2023 at 11:48 AM EDT
|
Updated: Sep. 28, 2023 at 5:54 PM EDT
AUGUSTA, Ga. (WRDW/WAGT) - The personnel files of two recently fired Richmond County deputies shed light on the work history of the pair who lost their jobs for reportedly lying about an inappropriate relationship.
Capt. Brandon Beckman – who was one of the Richmond County Sheriff's Office's top managers – and one of his subordinates, Investigator Allison "Allie" Walker, lost their jobs Sept. 18.
They were fired not for the inappropriate relationship but for lying about it, sources told News 12.
We requested their personnel files under open-records laws, and aside from a few bumps, they're mostly glowing for both former officers, giving little indication of what was to come.
We also requested the portion of the files noting the terminations – and we received those Thursday for both Beckman and Walker. Those forms note: "TERMINATION. SEE ATTACHED DISCIPLINARY REPORT."
Officials didn't include those disciplinary reports.
EARLIER COVERAGE:
The scandal is among the latest at an agency that, among other issues, has seen the arrests of 33 jail officers over three years.
Last week brought the demotions of two other officers, Melissa Allen and Aunarey Herbert, for a separate reason. This week, Deputy Jacob Lamberth was terminated.
And two weeks ago, Investigator Brian Manecke fatally shot himself while under investigation. Parents complained he'd posted photos of young girls in a Facebook group called Taboo.
What the personnel files tell us
The personnel file for Beckman shows that before his firing, his last employment change had been a promotion to captain on Sept. 4, 2021, at a salary of $70,000 a year.
He climbed up to that rank after being hired as a jailer, ultimately working 24 years for the agency.
His personnel file showed that as a captain with the criminal investigation division, he supervised, trained, counseled, evaluated and disciplined division personnel.
That's relevant because he's accused of lying about an inappropriate relationship with a subordinate.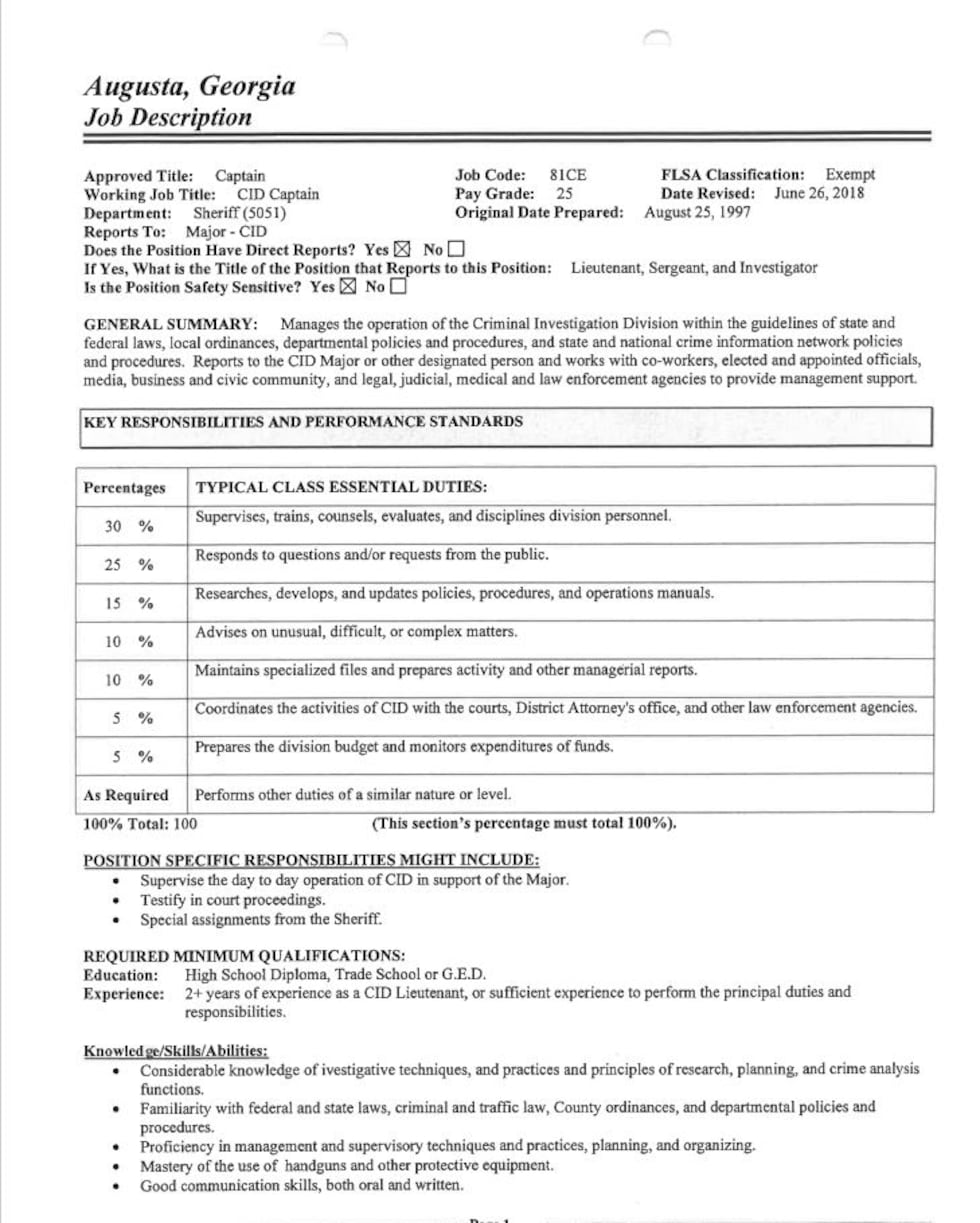 Beckman's most recent review was on Jan. 1, 2022. On the first page, it states he has "a position of trust and strives to maintain a code of ethics needed for his position."
The form offers a glowing review for him, with nothing negative.
His evaluation in 2017 notes his "superior" service.
But when we look back further, there are a few blemishes through the years:
Unsatisfactory performance on May 1, 2001, resulting in two days of suspension.

Property recovered on Nov. 26, 2001, and employee to be truthful, resulting in eight days of suspension.

Two offenses of failure to operate vehicle in compliance with policy, once on May 2, 2007, resulting in four days of suspension and once on Dec. 4, 2010, resulting in two days of suspension.
The 2010 suspension was due to him hitting a parked vehicle with his patrol car. He was off duty and had taken his daughter to get something to eat. He said his wife was out of town and took their personal vehicle.
The 2007 suspension was for joining in the pursuit of a stolen vehicle. There were already two marked vehicles actively pursuing the suspect, so when he joined in, he violated office policy.
The 2001 suspension was the biggest one.
According to the report, he was checking out a suspicious vehicle and found three ammunition clips inside. The subject told Beckman he found them and, apparently, where he found them because Beckman went to that location and found another clip.
An investigator specifically asked Beckman if he found any clips, and Beckman said no. Later, the clips turned up in the trunk of his patrol car. The investigator said he specifically heard Beckman found them, so that's why he asked. The investigator went to Beckman's house to get the ammo. Beckman said he had been working a lot and forgot.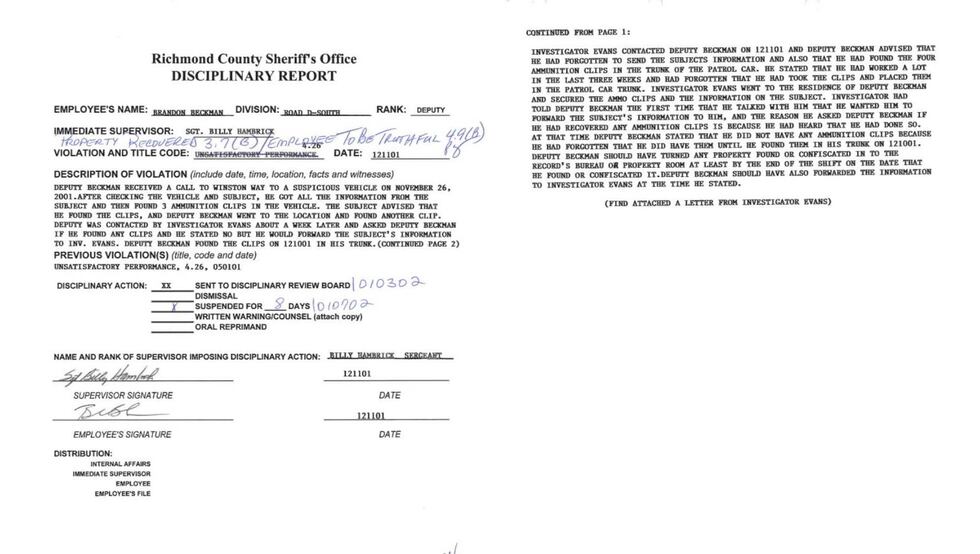 Looking all the way back to May 1, 2001, we learn that Beckman was suspended for two days when he responded to a burglary alarm at Augusta Turf and Specialty Vehicle on Peach Orchard Road.
He conducted a perimeter check and said he found no signs of vandalism to the fence.
Beckman said he was at the property for 10 minutes.
The owner later discovered 15 battery chargers, valued at $3,000, were stolen when the alarm went off.
The thieves were able to get in by cutting a hole in the fence.
Beckman did not properly check the location and missed the hole in the fence.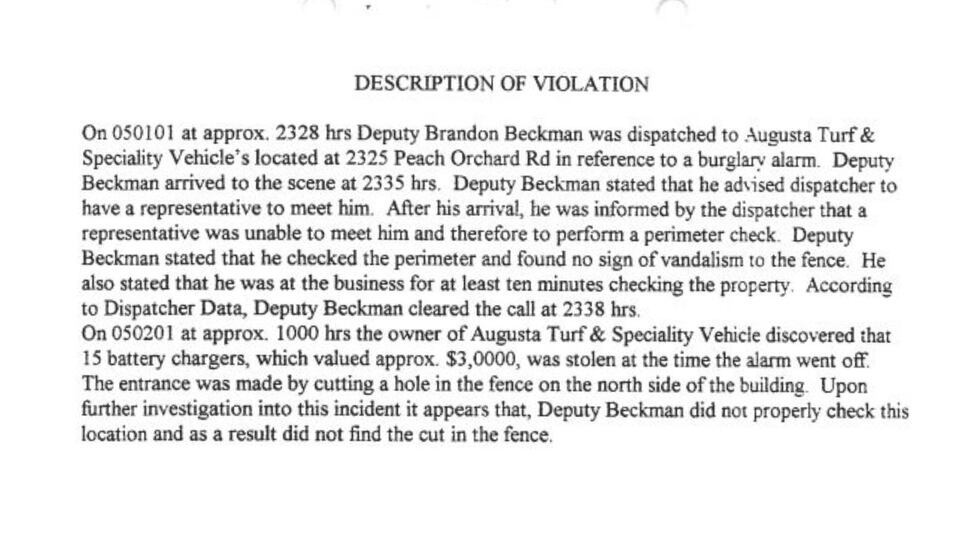 Beckman's background check when he applied with the Richmond County Sheriff's Office showed he'd been suspended once when working in a management position at Walmart "for fraternization with hourly employees."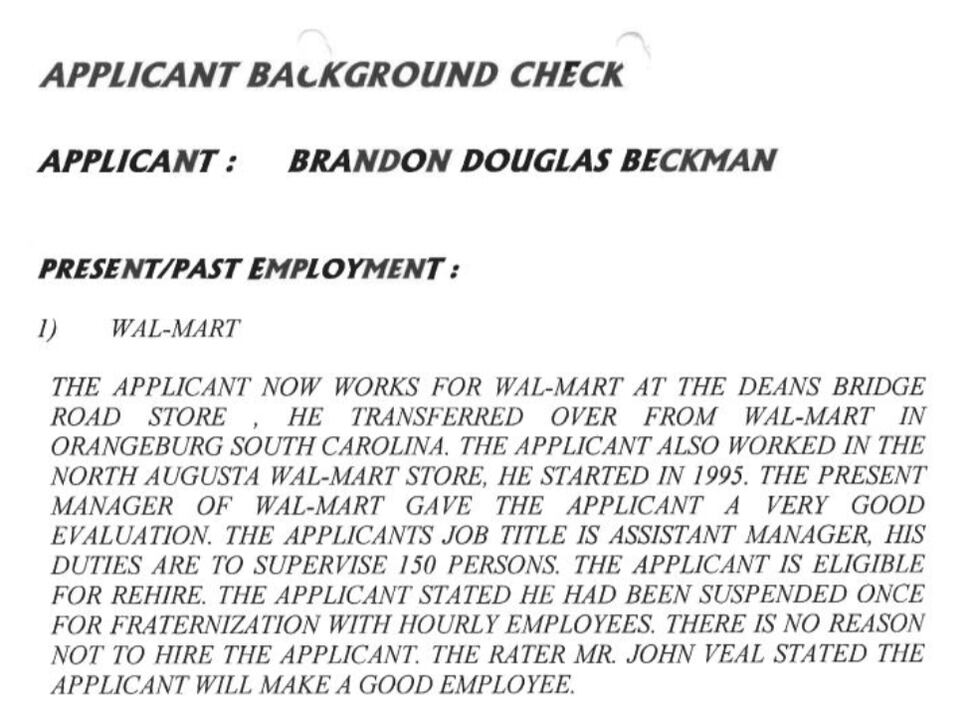 Walker was hired by the Richmond County Sheriff's Office on Jan. 27, 2020, as a peace officer, according to the Georgia Peace Officer Standards and Training Council.
In her annual review this past January, it's noted, "She has proven to be honest and can be depended on to tell the truth." That's relevant because she was fired for allegedly lying.
On Page 2 of her annual review, it's noted she "takes responsibility for her actions" and demonstrates "a satisfactory adherence to policy." That's relevant because not disclosing relationships is against policy.
Page 3 of her annual review shows she "makes sound decisions for the best outcome." That's relevant because the alleged lie could call into question her decision-making skills.
Closing out the personnel files for Beckman and Walker are forms from the city of Augusta human resources department noting the terminations and the effective dates.
TERMINATION DOCUMENTS:
OTHER FILES ON BRANDON BECKMAN AND ALLISON WALKER:
Investigators from Georgia Peace Officers Training Council look at all officer firings, and the matters could be forwarded to the Probable Cause Committee for further action or recommendations.
These actions could include everything from probation to suspension to revocation of a law enforcement officer's certification.
The fate of that investigation could determine whether Beckman or Walker can continue to work as law enforcement officers in the state.
Another investigation by the I-TEAM ...
Copyright 2023 WRDW/WAGT. All rights reserved.