It's fall, y'all, so here's what we can expect for foliage colors
Fall foliage and fall temperatures.
Published: Sep. 27, 2023 at 6:11 PM EDT
|
Updated: Sep. 28, 2023 at 6:29 PM EDT
AUGUSTA, Ga. (WRDW/WAGT) - One of the most recognizable signs of fall is the changing color of leaves.
It reminds us of football, Thanksgiving and sweater weather. Let's take a look at when the CSRA can expect peak foliage for those perfect picture opportunities.
The map below shows the current fall foliage for the United States and the CSRA is still experiencing no change from the summer foliage. That is looking to change over the course of the next month.
Peak fall foliage will hit the CSRA the last week of October and is expected to last into the first week of November.
We reach peak foliage when cooler weather moves in and helps break down chlorophyll (makes the leaves green) within the leaves. We see brighter colors (red, yellow, orange) when we experience a drier end to the summer season and have sunny conditions through the fall.
Cooler nights also help the chemical balance to favor the more colorful leaves. Temperatures for the past few weeks have dipped into the 50s overnight but we still have a mix of 60s as we transition into the fall season.
The outlook for the next two weeks is reading above-average afternoons. Will this stop us from having a fall foliage? The answer to that is no, BUT it could shorten the length of the foliage IF the trend continues warmer.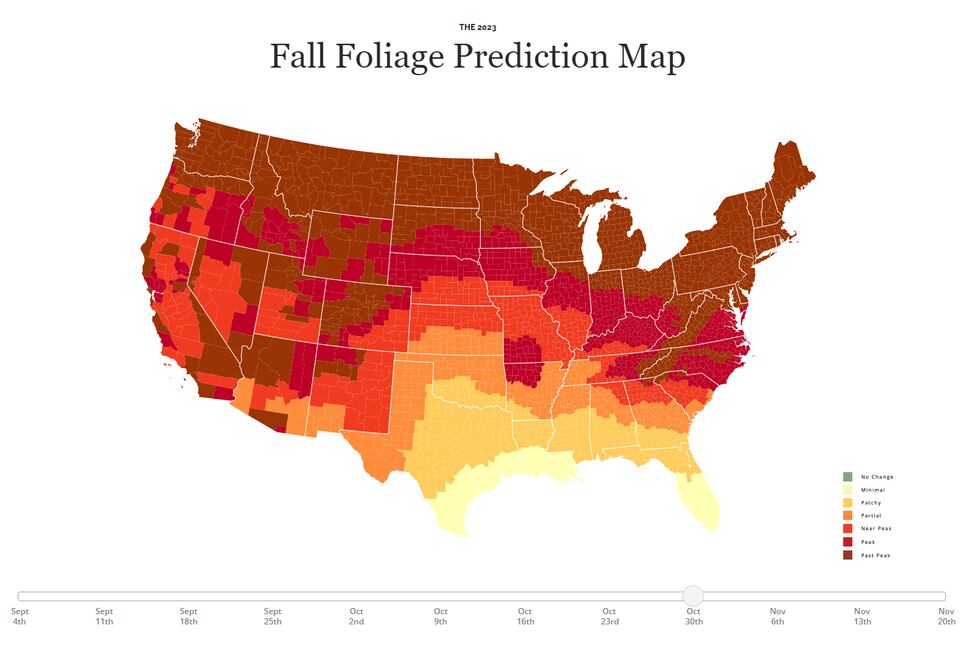 Once we hit the middle of November the cooler air will take over and the leaves will turn brown and eventually fall off.
Below are a few examples from past fall foliage across the southeast. If you want to check out the fall scenery in the state of Georgia the Georgia Department of Natural Resources has a full list on their website.
Copyright 2023 WRDW/WAGT. All rights reserved.