Aiken County deputy shoots suspect with beanbag round after rampage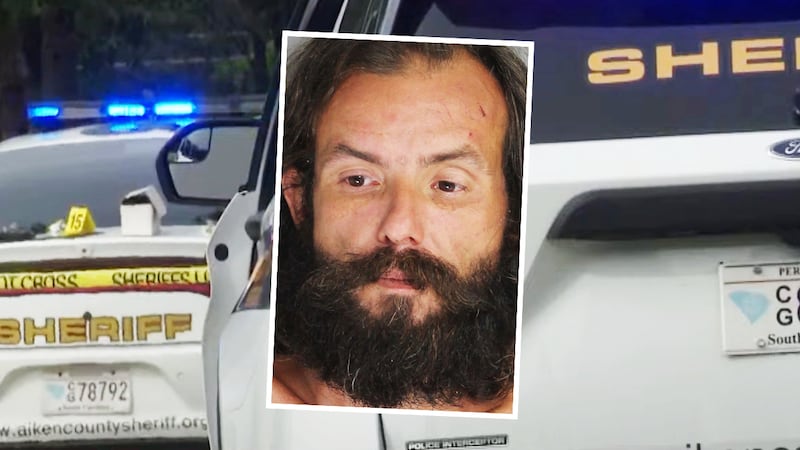 Published: Sep. 27, 2023 at 9:54 AM EDT
|
Updated: Sep. 27, 2023 at 10:25 AM EDT
BATESBURG, S.C. (WRDW/WAGT) - An Aiken County deputy shot a suspect twice with a beanbag round after he went on a window-breaking rampage with a baseball bat, according to authorities.
It all unfolded around 6 p.m. Monday after deputies were called to the 200 block of Old Chalk Bed Road.
A driver told deputies he'd seen a man in the middle of the road with what appeared to be a license plate.
The driver slowed down and the man in the road, identified as Kit Gunter, 37, kicked the driver's side rear window and the rear quarter panel, deputies said.
Gunter walked back into his house and came out with a baseball bat and a couple of knives, according to deputies.
Gunter hit a passenger window with a bat, breaking it and threatening to cut the driver before he walked back inside.
After a deputy arrived, Gunter came out of his house with a steak knife and threatened to kill officers from about 150 feet away.
A deputy drew his gun and asked dispatchers to send more deputies quickly.
As more officers arrived, Gunter walked outside with the bat, threatening to kill the officers again, then went back inside and broke out of the front window of his house, deputies said.
Gunter eventually came outside with the bat and walked toward the officers while threatening to kill them, officials say.
When Gunter was 50 to 60 feet away from the officers, a deputy drew his less-lethal weapon and shot Gunter once in the hand and once in the abdomen with a beanbag round, according to authorities.
Gunter went back inside, where he remained until deputies, supported by a SWAT team, went inside to arrest him.
After being treated at a hospital, Gunter was booked into Aiken County jail on seven counts of threatening the life of law enforcement, assault and battery of an aggravated nature, malicious injury to property, disorderly conduct and littering, according to jail records.
Copyright 2023 WRDW/WAGT. All rights reserved.