'Her smile was everything': Parents remember teen who died
Published: Sep. 26, 2023 at 7:21 PM EDT
THOMSON, Ga. (WRDW/WAGT) - One Thomson family was getting ready for a sweet sixteen, but now are suddenly preparing to bury their child.
Nylah Tutt, 15, died suddenly on Monday.
Family and friends say she was a joy to everyone she met.
Her death comes just months after the loss of two other students. High schooler Megan Ebenroth also passed suddenly after she got a rare infection from a brain-eating amoeba, and Thomson-McDuffie Middle Student Jace Simmions died by suicide.
MORE TOP STORIES FROM NEWS 12:
"She was put here for a reason," said Nylah's mom, Melinda Hudson. "I think her reason was to bring light, bring happiness, and bring joy to others."
Nylah was a sophomore at Thomson High School. She was active in theater and ROTC and had big goals for her life.
"Her smile was everything," said Hudson. "I would come home from work and the first thing she would say was, 'How was your day?' even if I come home in a bad mood, 'My day was okay Nylah.' And she'd say, 'Don't sound it, like you got to smile.'"
She had a congenital heart defect and transposition of great arteries.
"You wouldn't think anything was wrong with her," said Hudson. "Nylah, when she came into this world, she came in with a lot of odds against her. It was adversity to us but it was survival to her. She defeated all of it. She may have not defeated it on paper, but physically and mentally it was defeated."
She was a fighter and everyone's queen.
Barry Tutt, Nylah's dad, said: "My queen."
Hudson said: "We were actually prepping for her sweet 16 birthday party. Her theme, because she loves TV and theater, was The Fresh Princess of Bel-Air."
Now Nylah is sitting on her forever throne.
"She served her purpose and fortunately she's with the lord right now," Hudson said. "Job well done, Nylah."
Thomson High School students, along with Nylah's family, were in front of Thomas High on Tuesday, decorating the rock to rally behind grieving families.
A balloon release will be held on Wednesday in honor of Nylah.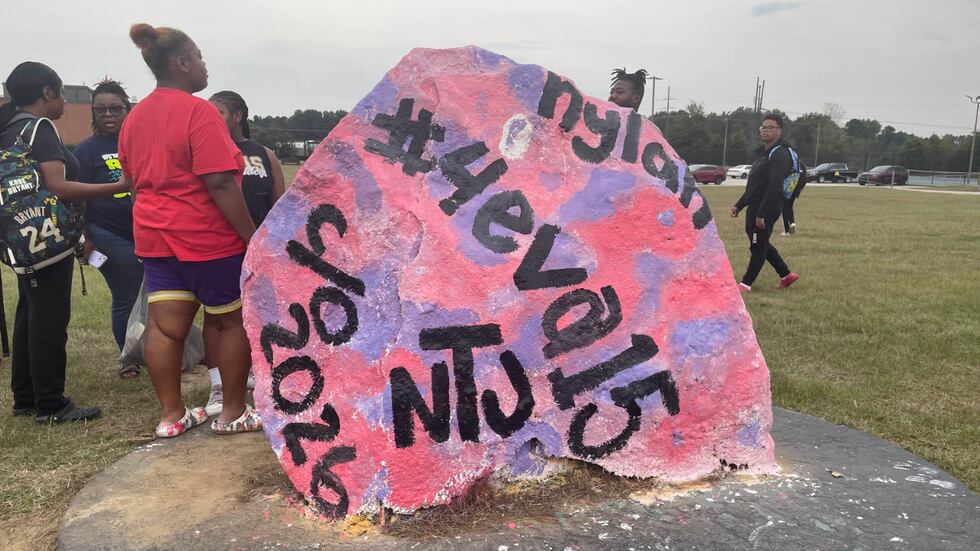 Copyright 2023 WRDW/WAGT. All rights reserved.