Mother thanks Georgia Chick-fil-A worker who saved choking girl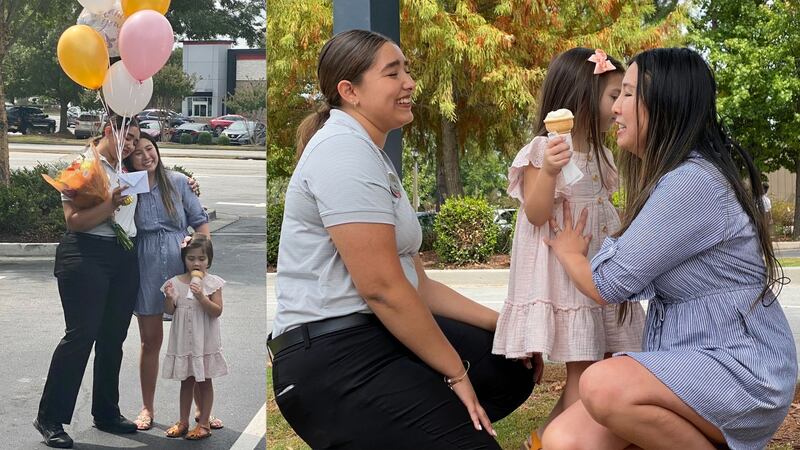 Published: Sep. 25, 2023 at 10:52 AM EDT
|
Updated: Sep. 25, 2023 at 10:50 PM EDT
ATLANTA, Ga. (Atlanta News First) - A Coweta County Chick-fil-A team member is being hailed a hero after helping a child who was choking in her restaurant's parking lot.
Mia Velez was working the drive-thru of the Chick-fil-A at Ashley Park Shopping Mall in Newnan when she saw the little girl struggling for air.
Atlanta News First spoke to Liliana Leahy, who said this happened to her three-year-old daughter, Theia Leahy.
It happened last Monday around lunchtime.
"She had pulled in this way, parked right here into this third parking spot. Her daughter's car seat was on the right-side passenger side and so she had came around, jumped directly over here and took her daughter out of the car seat and she was nailed down here in this little corner area trying to get her daughter's the little coin out of her mouth," Velez said.
"So, I just jumped, dropped my iPad, dropped my car reader from that pole over here, to directly over here to just help her daughter and with three thrusts of the Heimlich maneuver that coin was out of her mouth," Velez said.
Liliana Leahy, said originally, she wasn't going to stop at the restaurant.
"I came out from the gym, and we were about to go the store and I was just like thinking, like I was just going to go to the store and go home and something was telling me like hey go stop by Chick-fil-A Literally go stop by Chick-Fil-A," Liliana Leahy. "So, I parked and then like within like less than a minute and I could hear my daughter. She started like choking on something and I thought she was like eating something like bad or something," she said. "I ran outside, go to her car seat, grabbed her out of the car seat and I started to try to pat her on the back, trying to like get it out of her. I couldn't see anything and so at that point I just panicked. Nothing worked so I started to put her down and started screaming, "somebody help me!" My daughter is choking," she said.
Leahy said this only lasted minutes, but it felt like forever.
"It was about two minutes. It felt like forever. It felt a lot longer than it was," Leahy said. "I was just like freaking out," she said. "If Mia wasn't there actually, all I could think about was brain damage, because as far as I know--if you're choking you don't get oxygen to your brain," Leahy said.
Velez, who had just moved from California to Georgia over the summer, ran over to young Theia and began performing the Heimlich maneuver — a lifesaving procedure she learned in high school, according to a Chick-fil-A spokesperson.
"Back in high school I actually took sports medicine classes and in these sports medicine classes, you're always taught--here's how to learn CPR, here's how to do the Heimlich maneuver and you're just taught those things and you're learning those things but you never expect them to actually happen," Velez said.
Leahy said her family now views Velez as their hero.
"Grateful. Grateful, absolutely grateful," Leahy said.
"Thank you! Thank you! There's nothing that I can say other than an abundance of thank you to not only Mia but the company. I'm telling you when I went inside, they were like calming me down," Leahy said. "They went above and beyond for Theia," she said.
Theia and her mother later returned to the restaurant with balloons and flowers to thank Velez for coming to the rescue.
Velez said she's grateful that she was able to help.
"It's surreal. It's one of those moments--I did that," Velez said. "I genuinely believe it was God that told her to come to this Chick-Fil-A because something was going to be happening," Velez said.
Velez is encouraging others to be a helping hand in difficult times.
"Be that light for somebody else when we don't know when we don't know when something is wrong," Velez said. "I think just being a light to everybody, especially when you don't know what they're going through that you can as well do the same," she added.
Copyright 2023 WANF. All rights reserved.