Daily Forecast | The latest from First Alert Meteorologist Emily Acton
Beautiful weekend ahead with cooler mornings in the 50s. Rain free until next week.
Published: Sep. 23, 2023 at 7:09 PM EDT
AUGUSTA, Ga. (WRDW/WAGT) - Cooler nights and great sky conditions for the end of our weekend and into the work week. Sunday and Monday we will see an abundance of sunshine that will have us warm up to the middle and possibly upper 80s which is average for this time of the year.
Winds will be out of the northwest between 5-10 mph Saturday and turn out of the southwest Sunday between 5-10 mph.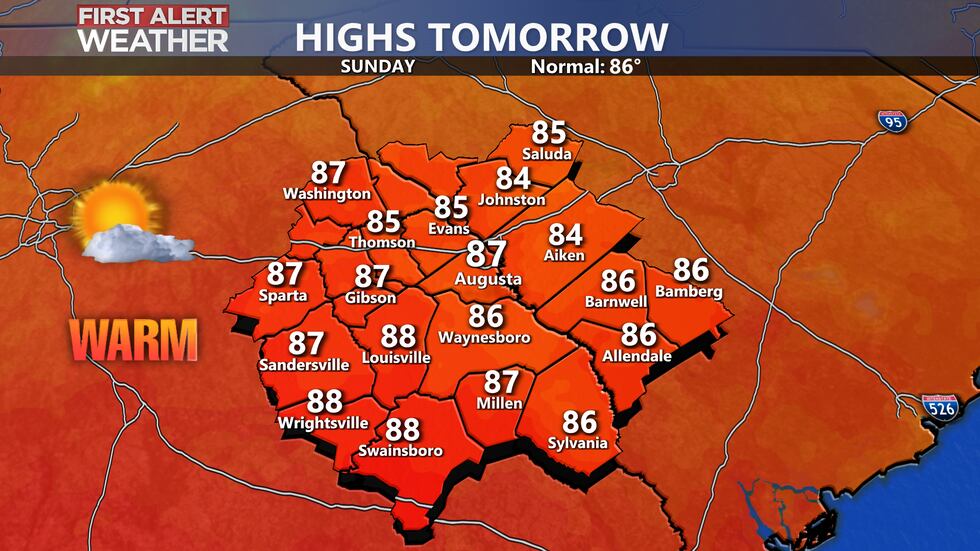 Early next week looks warmer with highs in the upper 80s Monday afternoon. Rain chances start to increase late Tuesday into the middle of next week.
Keep it here for updates through the weekend.
Stay up to date with the forecast by downloading our WRDW Weather App, available on Google Play or the Apple app store.
Copyright 2023 WRDW/WAGT. All rights reserved.