Delta hopes all-female flight to NASA will inspire next generation of women aviators
WING stands for Women Inspiring our Next Generation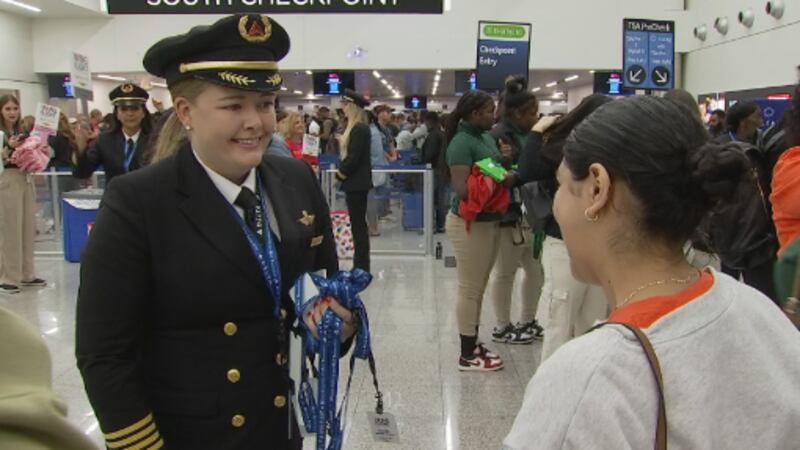 Published: Sep. 22, 2023 at 1:22 PM EDT
|
Updated: Sep. 22, 2023 at 6:24 PM EDT
ATLANTA, Ga. (Atlanta News First) - Delta celebrated women in aviation Friday with their seventh annual WING, or Women Inspiring our Next Generation, Flight.
What made the flight from Hartsfield-Jackson Atlanta International Airport to Florida so special is that everyone on board, nose to tail, was a woman. The pilot, the flight crew, gate agents and even the ground crew were all women.
"This inspires me to be a pilot of color," Leslie Santoseega, a Morrow High School student, said. ″I come from immigrant parents. So, for me to be an actual citizen to take these opportunities. I have to take the most I can of these opportunities."
The more than 130 young women passengers are metro Atlanta middle and high school students studying science, technology, engineering and mathematics (STEM).
Along with showing young aviation enthusiasts that the sky is the limit, Delta ultimately hopes WING will help close the gender gap in a male-dominated industry.
"At about age five, girls start making the assumption that their gender can't do everything that they want to. Just subtle things in society that make that happen," said Beth Poole, WING Flight organizer. "So, they don't look and say that I could be a pilot or a mechanic. They don't see girls in those roles so they don't know that they can aspire to that."
Most pilots are men, but the WING Flight program, which Delta started nine years ago, seems to be working. Though well below the number of men, Delta says its 2022 data shows about 6% of their pilots are women, a steady increase from 2020 and on par with trends in the rest of the airline industry.
"It's definitely inspiring," said Marisa Chavez, a Chattahoochee High School student. "I've always been interested in it, but then I realize I could do that as a career, which is so awesome."
To date, nearly a thousand female students have made their way through the WING Flight program. In fact, one of the women on board this year was a passenger on the very first WING Flight. Today, Gatlyn Ligon is a first officer with Delta and proof that representation matters.
"I think that visibility is very important because it shows them that they can be here," Ligon said. "For me, when I took this flight, the female pilots on the WING Flight were the first female pilots that I've ever seen."
In addition to the flight, the students also spent the day touring NASA's Kennedy Space Center, where the group listened to a women in STEM panel.
Copyright 2023 WANF. All rights reserved.