Non-native flathead catfish discovered in Ogeechee River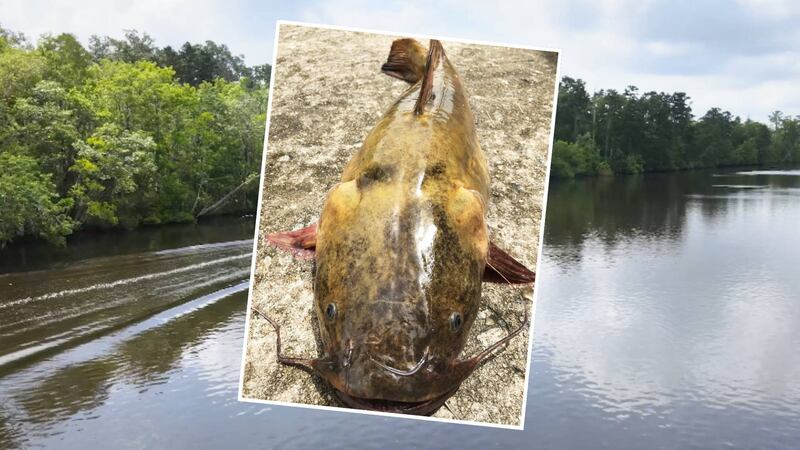 Published: Sep. 21, 2023 at 2:20 PM EDT
SOCIAL CIRCLE, Ga. (WRDW/WAGT) - Georgia Department of Natural Resources' Wildlife Resources Division staff recently captured non-native flathead catfish while sampling in the Ogeechee River.
The staff conducts annual catfish sampling in coastal rivers to monitor native species and detect any potential non-native species invasions.
In December 2021, a single flathead was caught by a commercial fisherman. Until this commercial catch, no flatheads had been reported in the Ogeechee.
MORE FROM NEWS 12:
Initially, hopes were that this was a single, isolated fish that made its way from the nearby Savannah River.
In response, the agency increased targeted flathead sampling efforts to determine if the species had spread further.
Although sampled extensively in 2021 and 2022, no additional flatheads were found in the Ogeechee River.
However, this August 2023, the staff captured one.
Since this collection, more than a dozen have been captured and removed in a segment above Interstate 95.
Flathead catfish are native to Northwest Georgia drainages but have established reproducing populations in several Atlantic drainages in Georgia, including the Satilla, Altamaha and Savannah Rivers.
When they enter new bodies of water, they can prey on native populations.
The agency urges anglers not to release fish in places where they aren't native.
Copyright 2023 WRDW/WAGT. All rights reserved.