Daily Forecast | The latest from First Alert Meteorologist Tim Strong
FIRST ALERT WEATHER DAY - Tracking Idalia for the potential of heavy rain, gusty winds, and isolated tornadoes. Much nicer for Labor Day weekend.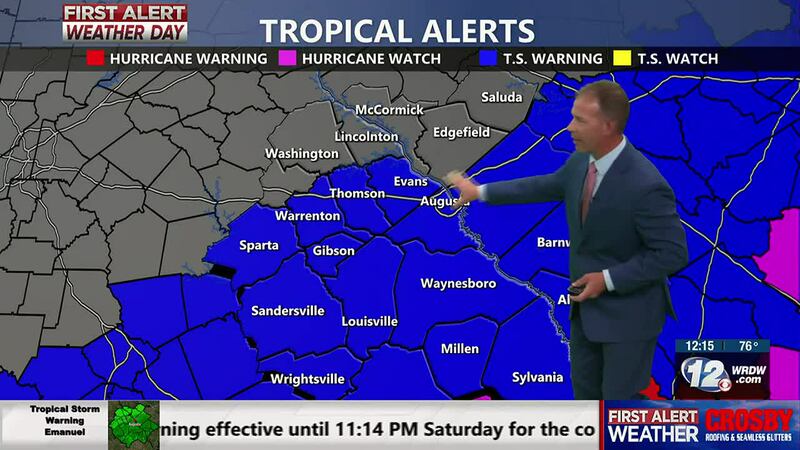 Published: Aug. 30, 2023 at 6:28 AM EDT
AUGUSTA, Ga. (WRDW/WAGT) - Idalia will continue to rapidly strengthen before making landfall on the Gulf Coast of Florida today as a major hurricane. Heavy rain and wind are expected in portions of the CSRA this afternoon and tonight. Heavy rain leading to flooding will be the primary concern for the CSRA along with the threat for a few isolated tornadoes in our southern counties.
Current Alerts in effect for the CSRA: ALERTS
WEDNESDAY - IDALIA IMPACTS
Idalia is expected to bring impacts to the entire CSRA - especially the southern and eastern CSRA. These impacts are expected during the day, rain will be all day, strong winds will be mainly in the afternoon lasting through the evening. Isolated tornadoes also cannot be ruled out for our southern counties. We have issued a FIRST ALERT WEATHER DAY for the threat of 3-6″ (Isolated 6″+) of rain causing flooding issues, 40-50 mph gusts knocking down trees and power to some areas, and a low-level severe threat. Be sure to stay updated on the forecast because this can change!
MORE FROM NEWS 12: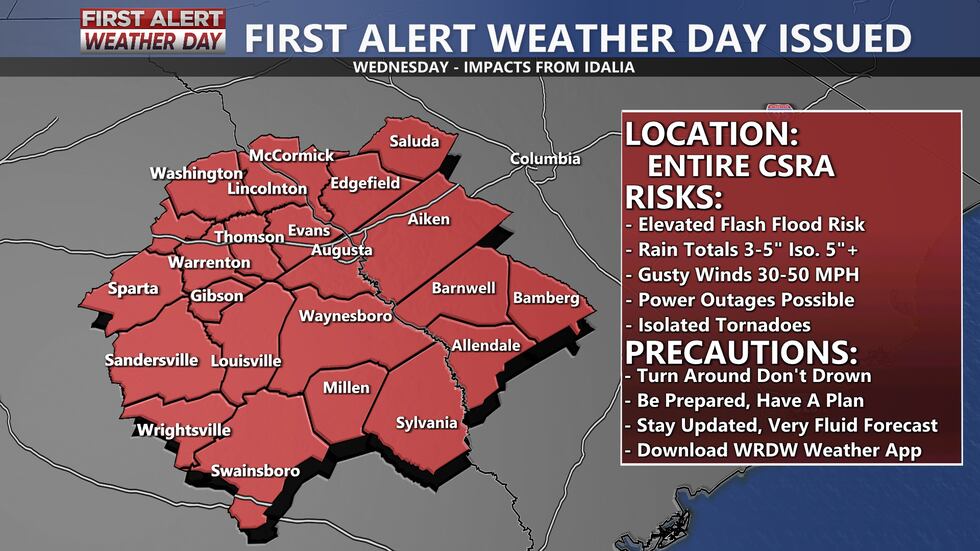 THURSDAY - WEEKEND
As Idalia moves north and east of the CSRA tonight - we will see beautiful weather in it's wake Thursday through the Labor Day Weekend. Cooler mornings in the low 60s are expected early Friday through the weekend. Afternoon highs will be in the mid to low 80s Thursday through Sunday with low humidity across the region and plenty of sun.
Stay up to date with the WRDW Weather App, available on Google Play or the Apple app store.
Copyright 2023 WRDW/WAGT. All rights reserved.