Daily Forecast | The latest from First Alert Meteorologist Tim Strong
Intense heat again Tuesday - but not as hot Wednesday. Storm chances remaining very low for the workweek.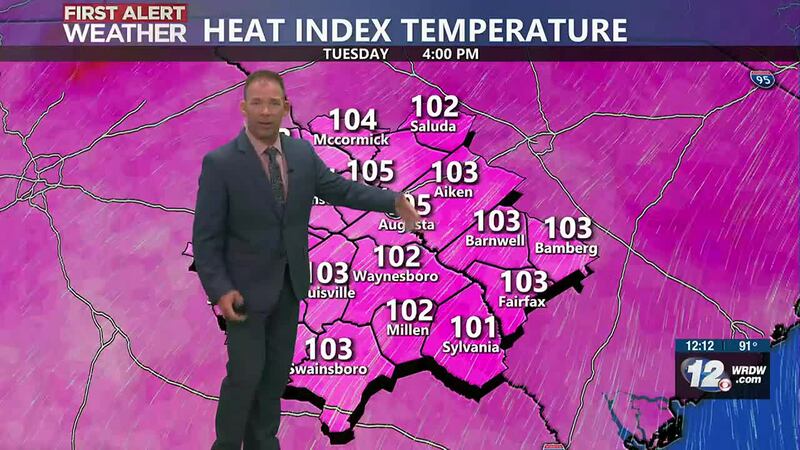 Published: Aug. 22, 2023 at 6:35 AM EDT
AUGUSTA, Ga. (WRDW/WAGT) - An intense upper level ridge is creating a heat dome over the central and eastern US - bringing some of the hottest temperatures of the year to the region through Tuesday. Mostly clear tonight with muggy lows in the mid-70s by early Tuesday. Winds will be calm overnight.
Tuesday is forecast to be the hottest day of 2023 for Augusta so far with highs in the upper 90s to near 100. Mostly sunny skies are expected during the day with northeast winds between 5-10 mph.
A backdoor cold front heads our way Wednesday and will knock down the heat for the CSRA and usher in lower humidity. Morning lows Wednesday will be warm in the mid-70s - but as the cold front moves through during the day - humidity should drop and highs will remain near average in the low 90s. Winds will be out of the east-northeast between 5-12 mph.
Thursday morning should feel great with sunrise temperatures in the mid to upper 60s. Sunny skies Thursday with highs a littler above average in the mid-90s.
Temperatures will get close to 100 again Friday and Saturday with humidity also increasing. Isolated storms are possible Saturday afternoon as our next front gets close to the region. The front will show up Sunday and bring the chance for widely scattered storms and cooler highs in the low 90s. The front that moves through Sunday should knock down highs into the 80s by early next week. Keep it here for updates during the week.
Stay up to date with the WRDW Weather App, available on Google Play or the Apple app store.
Copyright 2023 WRDW/WAGT. All rights reserved.