Daily Forecast | The latest from First Alert Meteorologist Tim Strong
Heat Advisory in effect today. Low severe risk Tuesday with storms. Not as humid midweek.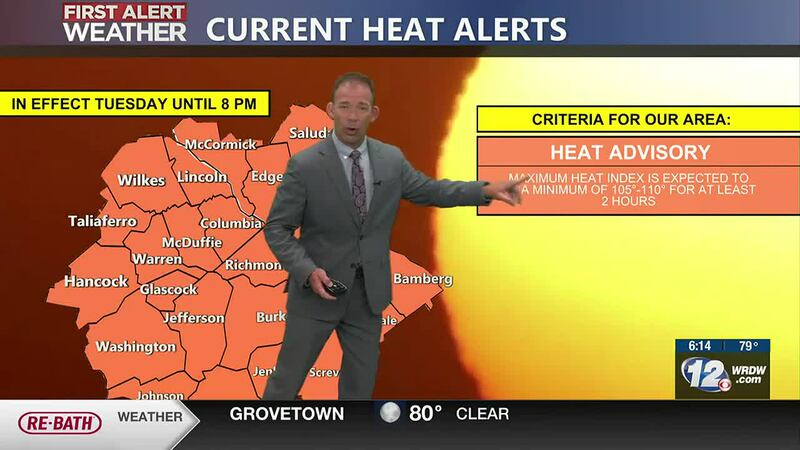 Published: Aug. 15, 2023 at 6:34 AM EDT
|
Updated: Aug. 15, 2023 at 12:27 PM EDT
AUGUSTA, Ga. (WRDW/WAGT) - The News 12 weather team is issuing a FIRST ALERT today for a heat advisory in effect across the CSRA and low risk for severe storms. The heat index - that's how hot it actually feels - could rise to as high as 110+ degrees in some places.
Stay up to date with the WRDW Weather App, available on Google Play or the Apple app store.
A stray shower or storm is possible this evening into early tonight. Temperatures will stay muggy tonight in the mid-70s.
Tropical-like humidity levels can be expected again today, which will put feels heat index values in the 108° to 112°. A cold front moves into the area late today providing a good chance of thunderstorms and bringing temperatures back into the lower 90s with lower humidity Wednesday and Thursday. The relief will not last long, as humidity returns and temperatures warm back into the middle 90s again Friday into next weekend. There is a low severe risk with storms moving through this afternoon-evening. Main concern with storms is flooding and damaging winds. Stay weather aware when storms are rolling through.
Not as humid Wednesday behind the cold front - dew points should drop to the 60s - which will feel nicer. A stray shower or storm is possible in the eastern CSRA Wednesday but the rest of us should stay dry. Highs will be slightly cooler near 90.
Thursday will be similar to Wednesday with isolated storm chances in the eastern CSRA and highs near 90. Humidity looks to stay comfortable with dew points remaining in the 60s.
Humidity and temperatures start to increase again late in the week into the weekend. Highs Friday through Sunday will be in the mid-90s, storm chances look to be isolated those afternoons. Keep it here for updates during the week!
Copyright 2023 WRDW/WAGT. All rights reserved.