Daily Forecast | The latest from First Alert Meteorologist Tim Strong
Heat Advisory, Excessive Heat Warning in effect today. Afternoon storms possible today and Tuesday.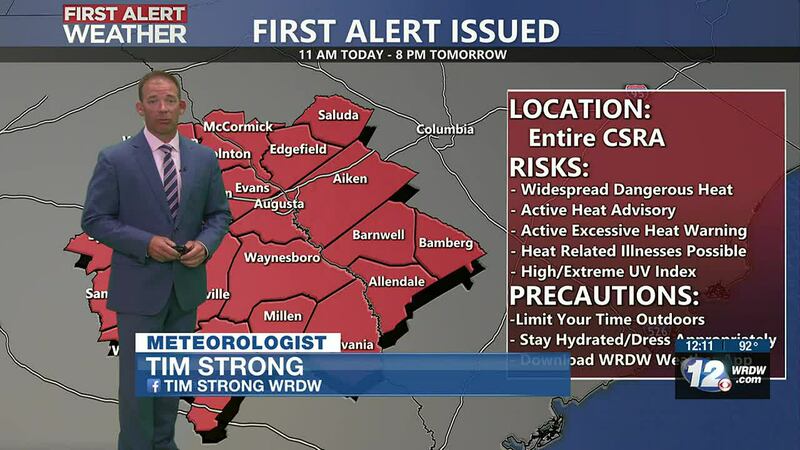 Published: Aug. 14, 2023 at 6:33 AM EDT
|
Updated: Aug. 14, 2023 at 11:50 AM EDT
AUGUSTA, Ga. (WRDW/WAGT) -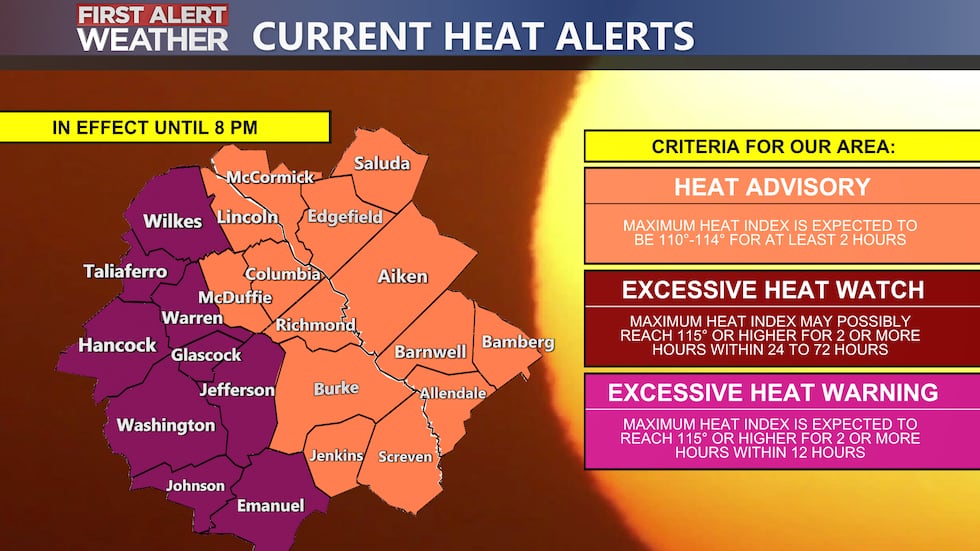 The News 12 weather team is issuing a first alert today for the extreme temperatures already being felt in our area.
The heat index - that's how hot it actually feels - could rise to as high as 110+ degrees in some places.
A Heat Advisory and Excessive Heat Warning is in effect for the CSRA today. Highs across the region will reach the mid to upper 90s, which is not unusually hot in our area this time of year; however, heat indices will reach dangerous levels in excess of 110 degrees today and possibly even Tuesday.
Stay up to date with the WRDW Weather App, available on Google Play or the Apple app store.
Today will start off on a sunny and very hot note. Sunny skies early on will take highs into the upper 90s, then scattered thunderstorms will become a possibility around 3 p.m. into the evening. Winds will be from the west at 3 to 8 mph. More rain is expected Tuesday as a cold front will push through the CSRA. This will drop our high temperatures into the lower 90s for the middle of the week.
The hottest weather so far in 2023 is here and will stick around for the next few days. Making matters worse will be tropical-like humidity levels, which will put feels heat index values in the 108° to 113° range through Tuesday. The reason for the hot temperatures will be an upper-level dome of high pressure and westerly winds that will suppress rain chances and create dangerous heat and humidity levels. A cold front moves into the area late Tuesday providing a good chance of thunderstorms late in the day and bringing temperatures back into the lower 90s with lower humidity Wednesday and Thursday. The relief will not last long, as humidity returns and temperatures warm back into the middle 90s again Friday into next weekend.
Keep it here for updates!
Copyright 2023 WRDW/WAGT. All rights reserved.