What to expect as detour along I-20 begins, and who'll be impacted
Published: Aug. 9, 2023 at 11:33 AM EDT
|
Updated: Aug. 10, 2023 at 9:14 AM EDT
NORTH AUGUSTA, S.C. (WRDW/WAGT) - As the new detour on the South Carolina side starts Thursday night, learn about what to expect and who will be mostly impacted on the road.
Driving over the state line may get messy once more for about two months, as crews work to build more lanes from exit one, right across the Savannah River bridge on I-20.
The I-20 construction project at the state line is nearing its fourth full year.
The Georgia Department of Transportation is warning you to slow down as you're approaching Exit 1.
Although the detour will only apply to people visiting the welcome center, it could cause delays for anyone exiting eastbound I-20 at Martintown Road in North Augusta.
MORE FROM NEWS 12:
The detour will start overnight Thursday and is planned to last around two months as part of the I-20 and Savannah River bridge improvements.
As weather allows, crews will close the auxiliary lane to continue work on the roadway.
People leaving the welcome center will need to use Exit 1 at Martintown Road, make a slight left onto Martintown and continue right onto I-20.
The roadwork will only affect trucks and cars stopping at the welcome center. So if you aren't stopping, one lane will still be open.
But if you are trying to get off I-20 at Exit 1, Martintown Road, there will be a backup, so it's important to slow down, officials say.
The welcome center will remain open and accessible during this time, according to officials.
DETOUR PLAN: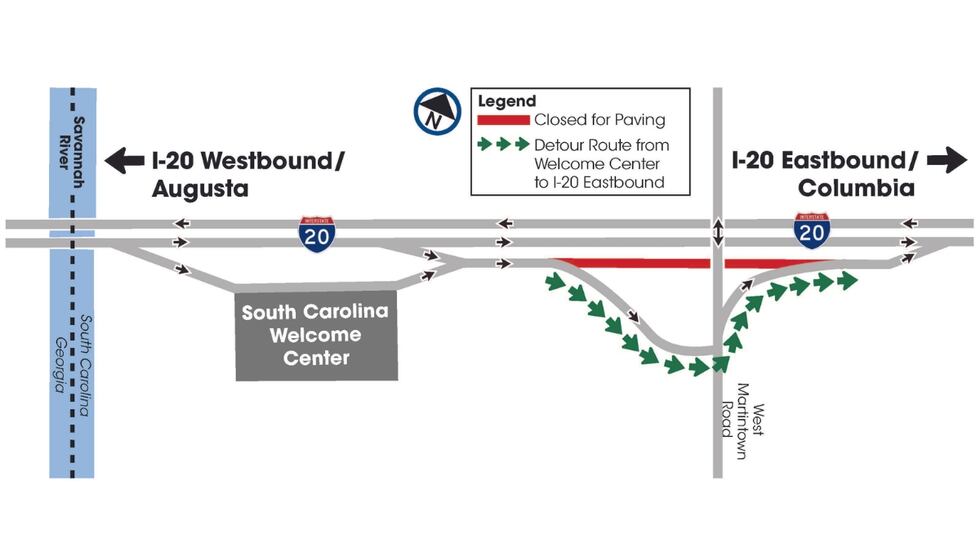 We talked to some who say this roadwork will be messy.
"They're doing road work and bridge work. And so, the exit for this location is very narrow and has the potential for accidents. It's hard to see. And it's very easy to miss," said Skip Playford.
Exit 1 is known lately for its narrow cement barriers and large supply of orange barrels. With constant construction, Playford says it's a route he tries to avoid.
"They changed it, and they're fixing to change it again. So, the memory thing doesn't always work unless you travel it a lot. And I think at this point, I've decided to try to avoid that area, you know, just altogether," said Playford. "I wish there was another way they could do it. But I understand roads need repairing, replacing, because we complain about the roads enough. And we want people that we want to do something about it. But they also need to do it in a safe manner."
Georgia Department of Transportation say within the next two months they are grading for new roadway, asphalt and concrete paving and putting up barrier wall replacements.
The change will cut off the ability to merge back onto I-20 from the rest stop, diverting drivers to Exit 1 to get back on I-20. It's something Playford says if drivers from this area don't pay attention to, there will be issues.
"Somebody's not paying attention, going too fast for conditions. If they hit one of those barriers, they are designed to bounce the car back over, so you don't go over them. They work very well. But they almost work too well, because you'll end up pinballing back and forth. And if other cars are involved, it's just a mess," he said.
In Augusta
Drivers can expect issues in downtown Augusta, too.
Officials say 13th Street between Telfair and Walker streets is closed to thru traffic due to repair work on the bridge over the Augusta Canal that started over the weekend.
All traffic will be detoured using 12th Street for the rest of the year.
Try to find alternate routes and expect heavy traffic delays.
Also downtown, CSX will close the railroad crossing between Twiggs and Fifth streets from 9 a.m. Aug. to 5 p.m. Aug. 18. The railroad will install a new switch near the crossing.
In Columbia County
There are also a few ongoing and upcoming lane closures in Columbia County:
Due to utility installation, Washington Road at North Belair Road will have intermittent, temporary lane closures from 9 a.m. to 4 p.m. Thursday and Friday.

There will be intermittent, temporary lane closures on County Line Road from Sawdust Road to East White Oak Road from 8 a.m. to 6 p.m. through Sept. 21.

There are temporary lane closures on Furys Ferry Road between Evans to Locks Road and Blackstone Camp Road from 9 a.m. to 2:30 p.m. through Friday.

There's a temporary lane closure on Southern Pines Drive at Furys Ferry Road from 9 a.m. to 2:30 p.m., through Friday.
Copyright 2023 WRDW/WAGT. All rights reserved.